Houghton Festival 2020

on Thursday 6th - Sunday 9th August 2020

For the most up-to-date information about this event, please go here: Houghton Festival Guide
An art and music festival curated by Craig Richards and produced by Gottwood.
Described in some quarters as setting a new benchmark for music festivals, Houghton returns on the 6th-9th August 2020 with its simple refined approach.
There are already high levels of anticipation for next year's celebration, our collective excitement is held gently in suspension. With the benefit of a full dress rehearsal, we will return with an even greater sense of purpose.
The spirit of Houghton is stronger than ever.
2020 Line Up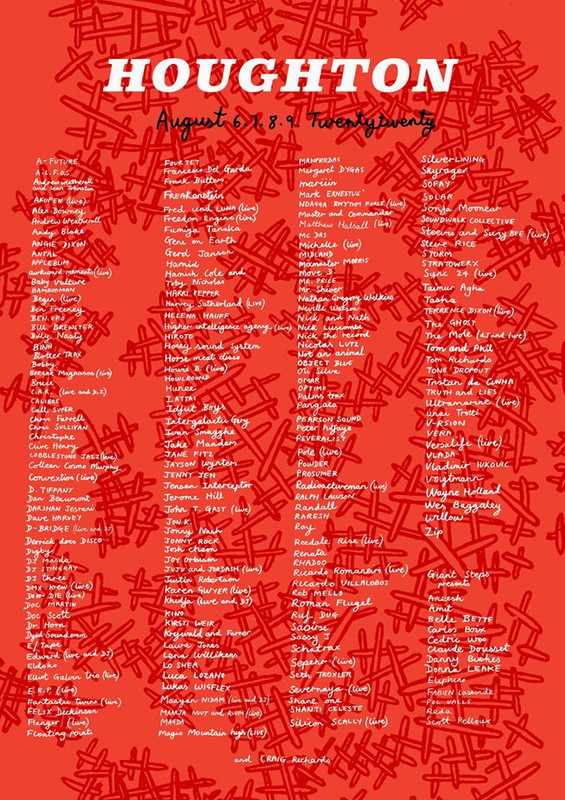 A- Future
A.L.F.O.S
Akufen
Alex Downey
Andrew Weatherall
Andy Blake
Angie Dixon
Antal
Appleblim
Awkward Moments
Baby Vulture
begin
Ben UFO
Bill Brewster
Billy Nasty
Binh
Biosphere (live)
Blotter Trax
Bobby.
Borgar Magneson (live)
Bruce
Calibre
Call Super
C.A.R.
Chris Farrell
Christophe
Chris Sullivan
Clive Henry
Cobblestone Jazz
Colleen 'Cosmo' Murphy
Convextion (live)
D-Bridge DJ + Live
D. Tiffany
Dan Beaumont
Darshan Jesrani
Dave Harvey
Derrick Carter does Disco
Digby
DJ Masda
DJ Stingray
DJ Three
DMX Krew (live)
Do or Die
Doc Martin
Doc Scott
DR Horn
Dyed Soundorom
E/Tape
Edward (dj set and live special set)
eLDOKO
Elliot Galvin Trio
Fantastic Twins
Felix Dickinson
Flanger (live)
Floating Points (live)
Four Tet
Francesco Del Garda
FREAKENSTEIN
Fred und Luna
Freedom Engine
Fumiya Tanaka
Gene On Earth
Gerd Janson
Hamid
Hamish & Toby
Harri Pepper
Harvey Sutherland (live)
Helena Hauff
Hiroto
Honey Sound System
Horse Meat Disco
Howie B (live)
Hunee
Intergalactic Gary
Itchy Rich
Ivan Smagghe
Jake Manders
Jane Fitz
Jayson Wynters
Jenny Jen
Jensen Interceptor
Jerome Hill
John T Gast
Jon K
Jonny Rock
Josh Cheon
Joy Orbison
Juju & Jordash (live)
Justin Robertson
Karen Gwyer
Khidja (live & DJ)
Kino
Kirsti Weir
Kongo Dia Ntotila
Krywald & Farrer
Laura Jones
Lena Wilikens
Lo Shea
Luca Lozano
Lukas Wigflex
Maarja Nuut & Ruum (live)
Magda
Magic Mountain High (live)
Manfredas
Margaret Dygas
Mariiin
Mark Ernestus
Mark Ernestus N'Daggas (live)
Matthew Halsall (live)
Maayan Nidam
MC DRS
Michelle
Midland
Mixmaster Morris
Move D
Mr Price
Mr Shiver
Nathan Gregory
Neil Landstrumm
Neville Watson
Nick & Nath
Nick Luscombe
Nick The Record
Nicolas Lutz
Not An Animal
object blue
Oli Silva
Omar
Optimo
Palms Trax
Pangaea
Pearson Sound
Peter Adjaye
Peverelist
Pole (live)
Powder
Prosumer
Skyrager
Radioactiveman (live)
Randall
Ralph Lawson
Raresh
Reedale Rise
Renata
Rhadoo
Ricardo Romanerio (live)
Ricardo Villalobos
Howlround / Robin The Fog
Tom Richards
Simonsound / Ben Freeney
Bambooman / Kirk Barley
Rob Mello
Roman Flügel
Ruf Dug
Saoirse
Sassy J
Schatrax
Sepehr
Seth Troxler
Shackleton
Shane One
Shanti Celeste
Silicon Scally
Skyrager
Sofay
Solar
Sonja Moonear
Soundwalk Collective (live)
Steve Rice
Stevio & Susybee (live)
Storm
Stratowerx
Sync 24 (live)
Taimur Agha
Tasha
Terrence Dixon
The Ghost
The Mole (Live & (dj set))
Tom & Phil
Tone Dropout
Tristan da Cunha
Truth & Lies
Ultramarine
Unai Trotti
Vera
Versalife/Severnaya
Vlada
Vladimir Ivkovic
Voigtmann
VRSION
Wayne Holland
Wes Baggaley
Willow
Zip
Amit
Aneesh
Belle Bette
Carlos Boix
Cedric Woo
Claude Dousset
Danny Bushes
Donna Leake
Eliphino
Fabian Lassonde
Pol Valls
Reda
Scott Pelloux
Music Genres:
Acid House, House, Minimal Techno, Tech House, Techno

Please note: The event information above has been added by the organiser. Whilst we try to ensure all details are up-to-date we do not make any warranty or representation as to the accuracy or completeness of the information shown.
Houghton Hall Norfolk : Nearby Hotels & Airbnbs
Need a place to stay? Compare every available hotel deal and Airbnb near Houghton Hall, so book today to secure the best price!.
Please note, venue location is plotted according to the venue's postcode which is provided by the event organiser. We do not check the accuracy of venue or hotel locations or dates so please check before booking or travelling
King's Lynn,,
Norfolk,
PE31 6UE
Tel: 01485 528 569