This event has already happened!
This event occurred in September 2018. If you're looking for a upcoming event, try the links below:
Reviews of this event
Click here to view all reviews or add your own »
SONDER Music & Arts Festival Manchester

on Thursday 27th - Sunday 30th September 2018

For the most up-to-date information about this event, please go here: Sonder Festival Guide

SONDER Festival 2018 will take place from the 27th September to the 30th September across some of Manchester's best venues. This year will see well over 100 bands, artists, poets and comedians perform across our festival stages. The festival will again bring together creative talent from across the region and beyond as well as also supporting some amazing causes.

This years charity partners are Future Perfect, The Christies and White Ribbon. We work alongside White ribbon whose aim is to end violence against women and Future Perfect which is an arts based charity ran by the Christie Cancer Hospital.

This years festival boasts the biggest lineup to date with over 200 acts performing over the festival.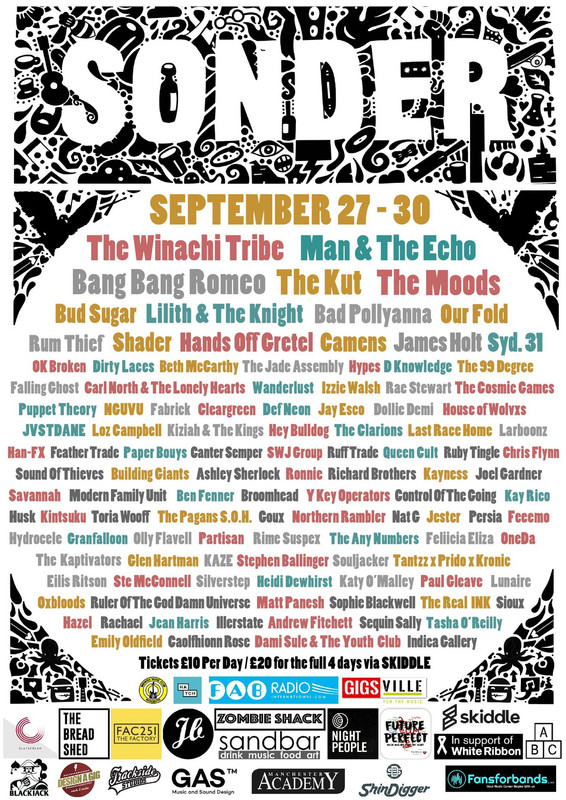 LINEUP
Andrew Fitchett
Apollo Junction
Ashley Sherlock
Bad Pollyanna
Bang Bang Romeo
Ben Fenner
Beth McCarthy
Broomhead
Bud Sugar
Building Giants
Camens
Canter Semper
Caolfhionn Rose
Carl North & The Lonely Hearts
Chris Flynn
Cleargreen
Control Of The Going
D Knowledge
Dami Sule & The Youth Club
Dollie Demi
Def Neon
Dirty Laces
Eilis Ritson
Emily Oldfield
Fabrick
Falling Ghost
Feather Trade
Feeemo
Feliicia Eliza
Glen Hartman
Goux
Granfalloon
Han-FX
Hands Off Gretel
Hazel
Heidi Dewhirst
Hey Bulldog
House of Wolvxs
Husk
Hydroccic
Hypes
Illerstate
Indica Gallery
Izzie Walsh
James Holt
Jay Esco
Jean Harris
Jester
Joel Gardner
JVSTDANE
Katie O'Malley
Kayness
Kay Rico
KAZE
Kintsuku
Kiziah & The Kings
Larboonz
Last Race Home
Lilith & The Knight
Loz Campbell
Lunaire
Man & The Echo
Matt Panesh
Modern Family Unit
Nat G
New York Tourists
NGUVU
Northern Rambler
OK Broken
Olly Flavell
OneDa
Oxbloods
Our Fold
Paper Buoys
Partisan
Paul Gleave
Persia
Puppet Theory
Queen Cult
Rachael
Rae Stewart
Richard Brothers
Rime Suspex
Ronnie
Ruff Trade
Ruby Tingle
Ruler Of The God Damn Universe
Rum Thief
Savannah
Sequin Sally
Shader
Silverstep
Sioux
Sophie Blackwell
Souljacker
Sound Of Thieves
Stephen Ballinger
Ste McConnell
SWJ Group
Syd.31
Tantzz x Prido x Kronic
Tasha O'Reilly
The Any Numbers
The Clarions
The Cosmic Games
The Jade Assembly
The Kaptivators
The Kut
The Moods
The Pagans S.O.H
The Real INK
The Winachi Tribe
The 99 Degree
Toria Wooff
Wanderlust
Y Key Operator
Please note: The event information above has been added by the organiser. Whilst we try to ensure all details are up-to-date we do not make any warranty or representation as to the accuracy or completeness of the information shown.