This event has already happened!
This event occurred in June 2017. If you're looking for a upcoming event, try the links below:
Reviews of this event
Be the first to leave your review of this event »
SONDER Music & Arts Festival Manchester

on Friday 30th June - Sunday 2nd July 2017

For the most up-to-date information about this event, please go here: Sonder Festival Guide

SONDER Festival is a three day music, comedy and arts festival based in Manchester's iconic Northern Quarter. The festival looks to bring together creative talent from across the region and also supports some amazing causes while doing so.


Our aim at SONDER is to create an incredable festival while also being able to stay at a price that is inclusive and offers great value for attendees. This year SONDER is showcasing some of the best rising talent around with a plethera of artist who have performed on BBC Introducing, Radio 1, Radio 6 Music, BBC Radio 1 Xtra, XFM and many more...

An average ticket price in Manchester city center could easily set you back £8+, here at SONDER we have created a festival which allows attendees to see more acts for less! At just £10 for a full day ticket and £15 for the full three days we have created a festival that is not only affordable but is also fantastic value for money.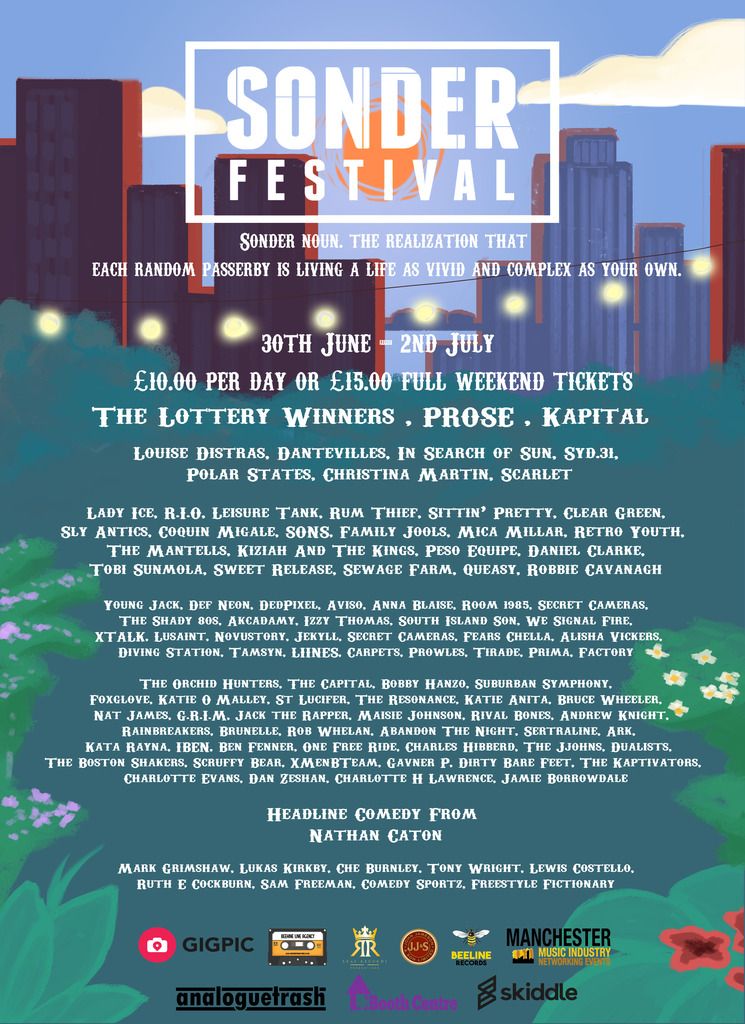 Sonder Festival 2017
The Lottery Winners
Prose
Kapital
Louise Distras
Dantevilles
In Search of Sun
Syd.31
Polar States
Christina Martin
Scarlet
Lady Ice
R.I.O
Leisure Tank
Rum Thief
Sittin' Pretty
Clear Green
Sly Antics
Coquin Migale
Sons
Family Jools
Mica Millar
Retro Youth
The Mantels
Kiziah and the Kings
Peso Equipe
Daniel Clarke
Tobi Sunmola
Sweet Release
Sewage Farm
Queasy
Robbie Cavanagh
Young Jack
Def Neon
DedPixel
Aviso
Anna Blaise
Room 1985
Secret Cameras
The Shady 808
Akcadamy
Izzy Thomas
South Island Son
We Signal Fire
Xtalk
Lusaint
Novustory
Jekyll
Secret Cameras
Fears Chella
Alisha Vickers
Diving Station
Tamsyn
Liines
Carpets
Prowles
Tirade
Prima
Factory
The Orchid Hunters
The Capital
Bobby Hanzo
Suburban Symphony
Foxglove
Katie O'Malley
St Lusifer
The Resonance
Katie Anita
Bruce Wheeler
Nat James
G.R.I.M
Jack the Rapper
Maisie Johnson
Rival Bones
Andrew Knight
Rainbreakers
Brunelle
Rob Whelan
Abandon the Night
Sertraline
Ark
Kata Rayna
IBEN
Ben Fenner
One Free Ride
Charles Hibberd
The Jjohns
Dualists
The Boston Shakers
Scruffy Bear
XMenBTeam
Gavner P
Dirty Bare Feet
The Kaptivators
Charlotte Evans
Dan Zeshan
Charlotte H Lawrence
Jamie Borrowdale
Comedy Headliner
Nathan Caton
Music Genres:
Alternative, Electronic, Grime, Hip Hop, Rock

Please note: The event information above has been added by the organiser. Whilst we try to ensure all details are up-to-date we do not make any warranty or representation as to the accuracy or completeness of the information shown.