Buy tickets securely
Neo-Soul Night @ TAM

on Monday 3rd April 2023
TICKETS
From £5 - Online
From £7 - Door
Inspired by honest  life experiences, John Hatt brings a groovy mix of nostalgic and dreamy sounding songs with aims to connect with people at their highest and lowest points, through an interesting blend of Soul/R&B and Jazz.
19 year old RnB-Pop singer inspired by the likes of Daniel Caesar, Summer Walker - Sandy'smusical journey started in Belgium where she was classically trained on piano, her journey continues in London where she is now studying.
Manveer is influenced by the likes of Erykah Badu and Amy Winehouse. He uses his poetic lyrics and his incredible vocals to transport the audience through intricate Neo-Soul.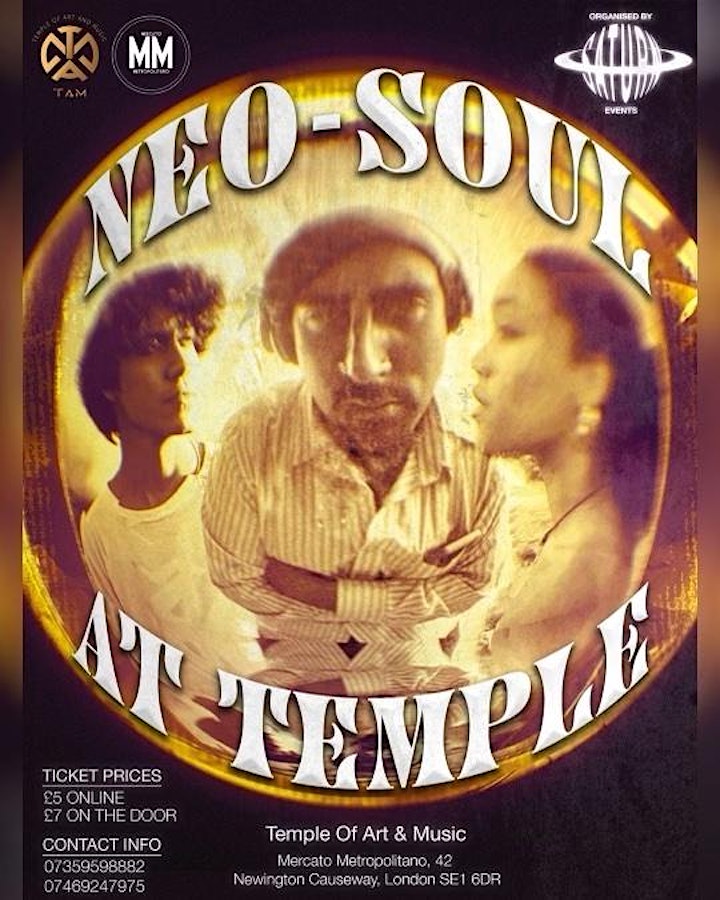 About TAM
Here at TAM, we are more than simply a place to watch brilliant live music. We are a social enterprise which provides an alternative to Spotify for musicians to earn a living whilst building and reaching new audiences, delivering live music across London 7 nights a week. Please book your musician support tickets to help keep live music thriving and support emerging musicians.
Visit TAM.TV for more
*DISCLAIMER: Due to the nature of live performances, all running times are subject to change. Although we will do our best to keep you informed of any cancellations, it is the ticket holders' responsibility to establish whether an event has been cancelled and the date and time of any rearranged event.*
Music Genres:
Jazz, Pop, R&B, Soul
Entry Prices
Entry price (public): (Additional fees may apply)
Please note: The event information above has been added by the organiser. Whilst we try to ensure all details are up-to-date we do not make any warranty or representation as to the accuracy or completeness of the information shown.
The Temple Of Art And Music London: Nearby Hotels & Airbnbs
Need a place to stay? Compare every available hotel deal and Airbnb near The Temple Of Art And Music, so book today to secure the best price!.
Please note, venue location is plotted according to the venue's postcode which is provided by the event organiser. We do not check the accuracy of venue or hotel locations or dates so please check before booking or travelling
The Temple Of Art And Music in London
42 Newington Causeway ,,
London,
SE1 6DR