Buy tickets securely
Fire In Her Eyes

on Thursday 6th April 2023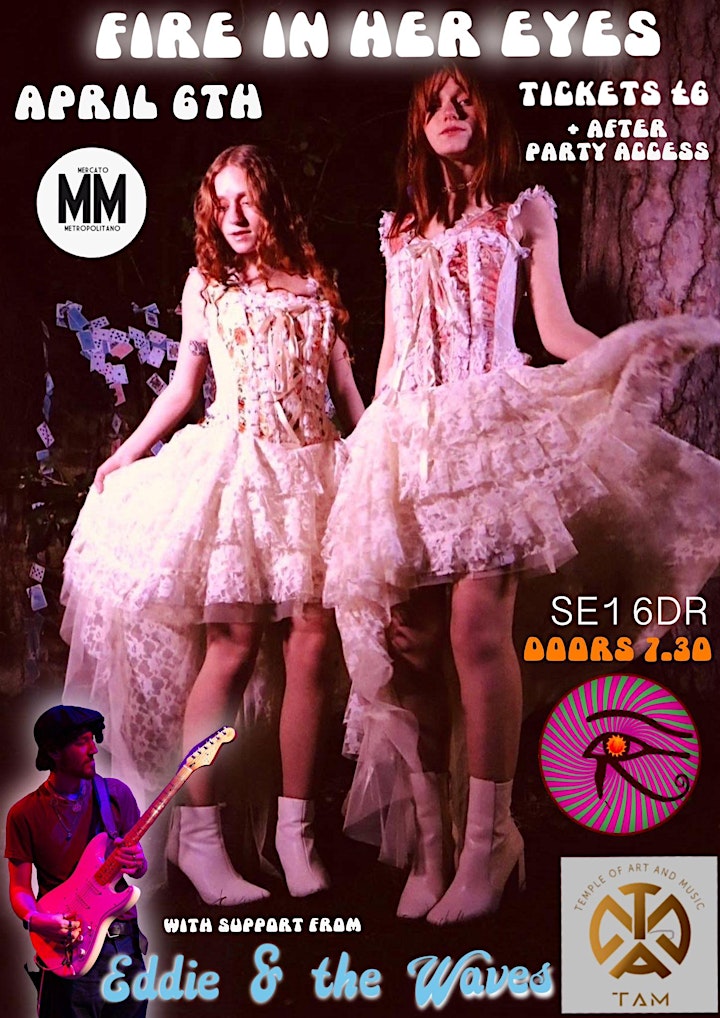 The best bands create their own worlds. Explore the work of the acclaimed London group Fire In Her Eyes and you'll go on a special journey.
The core of the lineup is bonded by blood, with 25-year-old Daniella Livingstone (stage name Topaz), (piano/guitar/flute/percussion/ harmonium/sitar/vocals) and 21-year-old sister Natasha Livingstone (bass/ keys/percussion/guitar/vocals) bonding a rare synergy from the age of two.
Formed in 2016, Fire In Her Eyes have known both sun-kissed triumph and desperate hardship on the road to their forthcoming debut album 'We Are Fire', set to be released this Summer Solstice... From psych-folk and progressive rock to pop and soulful jazz, the sisters invite you to share their vision. Track them down on the live circuit and you might find a lineup dressed straight out of Woodstock with a modern twist, accompanied by homemade visuals and original paintings, blurring the lines between art forms - @fireinhereyesofficial
Eddie & The Waves are a modern folk roots and alternative rock band coming out of north London, led by singer-songwriter and multi-instrumentalist Eddie Ogle -@eddieandthewaves
Following the show, the bands will be heading to TAM's newest venue in Smithfield for a late-night jam session/ DJ After Party until 6 am courtesy of DJ REDPEPPA (@djredpeppa) & DJ Spacekid (@spacekid.111)!
About TAM
Here at TAM, we are more than simply a place to watch brilliant live music. We are a social enterprise which provides an alternative to Spotify for musicians to earn a living whilst building and reaching new audiences, delivering live music across London 7 nights a week. Please book your musician support tickets to help keep live music thriving and support emerging musicians.
To discover more head over to tam.tv
*DISCLAIMER: Due to the nature of live performances, all running times are subject to change. Although we will do our best to keep you informed of any cancellations, it is the ticket holders' responsibility to establish whether an event has been cancelled and the date and time of any rearranged event.*
Music Genres:
Alternative, Blues, Folk, Indie, Rock & Roll
Entry Prices
Minimum age: 18
Entry price (public): (Additional fees may apply)
Please note: The event information above has been added by the organiser. Whilst we try to ensure all details are up-to-date we do not make any warranty or representation as to the accuracy or completeness of the information shown.
The Temple Of Art And Music London: Nearby Hotels & Airbnbs
Need a place to stay? Compare every available hotel deal and Airbnb near The Temple Of Art And Music, so book today to secure the best price!.