GALA Festival 2020

on Saturday 23rd - Sunday 24th May 2020

Five Years of GALA!

Returning to Peckham Rye Park for the fifth edition on Bank Holiday 23rd & 24th May 2020 to kick off summer with another unparalleled celebration of independent music, food & drink

Here are your stage hosts for GALA 2020 - we hope you're as excited as we are to see these incredible artists in a truly intimate festival setting.

Saturday:
Gerd Janson / Running Back
Job Jobse / Strangelove
Worldwide FM
GALA / Main Stage

Sunday:
Horse Meat Disco
Jayda G / JMG Sessions
Bradley Zero / Rhythm Section
GALA / Main Stage

Despite 2019's edition selling out several months in advance, we made a conscious decision not to increase capacity on site for next summer. Instead we felt it more fitting - given the DNA of GALA - to extend our time in the park and in doing so enhance our ability to deliver an even more complete festival experience for you from both a programming and production perspective.

The full lineup across music, food and drink will be announced in the new year, stay tuned...

GALA x


How last year went down...

Mixmag: 'GALA Festival is fast becoming one of dance music's happy places.'

Ransom Note: 'A day that is quickly becoming my favourite of the year just down to the excellent design and organisation of the festival just flat-out delivered."

Wonderland: "When it comes down to it, size does matter. And the fact of the matter is, wouldn't you rather be enjoying the music than traipsing from stage to stage? Here GALA wins hands-down when it comes to an intimate feel."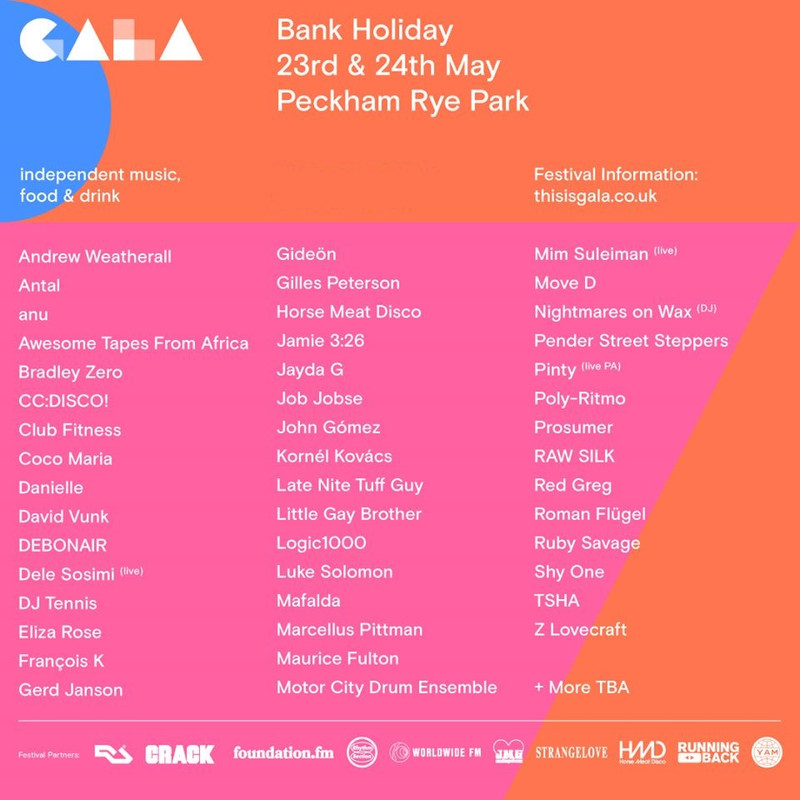 Music Genres:
African, Disco, House, Techno, World Music

Please note: The event information above has been added by the organiser. Whilst we try to ensure all details are up-to-date we do not make any warranty or representation as to the accuracy or completeness of the information shown.
Peckham Rye Park London: Nearby Hotels & Airbnbs
Need a place to stay? Compare every available hotel deal and Airbnb near Peckham Rye Park, so book today to secure the best price!.
Please note, venue location is plotted according to the venue's postcode which is provided by the event organiser. We do not check the accuracy of venue or hotel locations or dates so please check before booking or travelling
34 Straker's Rd,
London,
SE15 3UA