Buy tickets securely
ABODE In The Park 2018

on Sunday 23rd September 2018

For the most up-to-date information about this event, please go here: ABODE In The Park Festival Guide
LWE presents... ABODE in the Park
Sunday 23rd September 2018
Finsbury Park, London
Event Times
Opens: 12.00pm
Closes: 10.00pm
Last entry: 6.00pm
Abode in the Park Line Up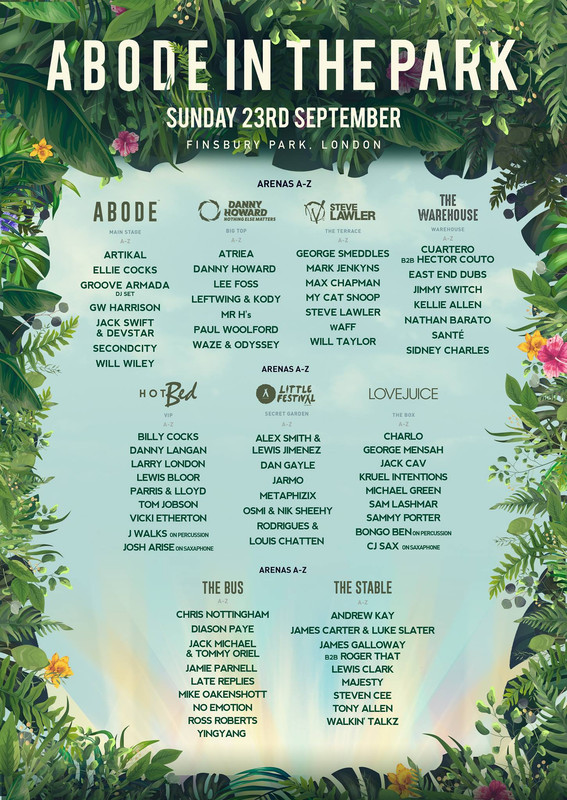 Arenas A-Z
Line up:
ABODE
(Main Stage)
Artikal
Ellie Cocks
Groove Armada (DJSET)
GW Harrison
Jack Swift & Devstar
Second City
Will Wiley
Danny Howard's Nothing Else Matters
(Big Top)
Atriea
Danny Howard
Lee Foss
Leftwing & Kody
MR H's
Paul Woolford
Waze & Odyssey
Steve Lawler's Warriors
(The Terrace)
George Smeddles
Mark Jenkyns
Max Chapman
My Cat Snoop
Steve Lawler
wAFF
Will Taylor
The Warehouse
(Warehouse)
Cuartero B2B Hector Couto
East End Dubs
Jimmy Switch
Kellie Allen
Nathan Barato
Santé
Sidney Charles
Hot Bed
(VIP)
Billy Cocks
Danny Langan
Larry London
Lewis Bloor
Parris & Lloyd
Tom Jobson
Vicki Etherton
J Walks (on percussion)
Josh Arise (on saxophone)
Little Festival
(Secret Garden)
Alex Smith & Lewis Jimenez
Dan Gayle
Jarmo
Metaphizix
Osmi & Nik Sheehy
Rodrigues & Louis Chatten
Love Juice
(The Box)
Charlo
George Mensah
Jack Cav
Kruel Intentions
Micheal Green
Sam Lashmar
Sammy Porter
Bongo Ben (on percussion)
Cj Sax (on Saxophone)
The Bus
Chris Nottingham
Diason Paye
Jack Micheal & Tommy Oriel
Jamie Parnell
Late Replies
Mike Oakenshott
No Emotion
Ross Roberts
Yingyang
The Stable
Andrew Kay
James Carter & Luke Slater
James Galloway B2B Roger That
Lewis Clark
Majesty
Steven Cee
Tony Allen
Walking' Talkz
Festival season is back, and much like last year, it ends at Finsbury Park with ABODE in the Park being the curtain call. We're building on the foundations of last year's debut to bring you an altogether more rounded festival. We have compiled a line-up that reflects our musical identity, preaches to our audience and looks to the future whilst acknowledging our heritage. This is ABODE in the Park 2018.
Music Genres:
Tech House

Please note: The event information above has been added by the organiser. Whilst we try to ensure all details are up-to-date we do not make any warranty or representation as to the accuracy or completeness of the information shown.
ABODE In The Park 2018 news