This event has already happened!
This event occurred in February 2023. If you're looking for a upcoming event, try the links below:
Reviews of this event
Click here to view all reviews or add your own »
NTIA Night Time Economy Summit 2023

on Thursday 9th - Friday 10th February 2023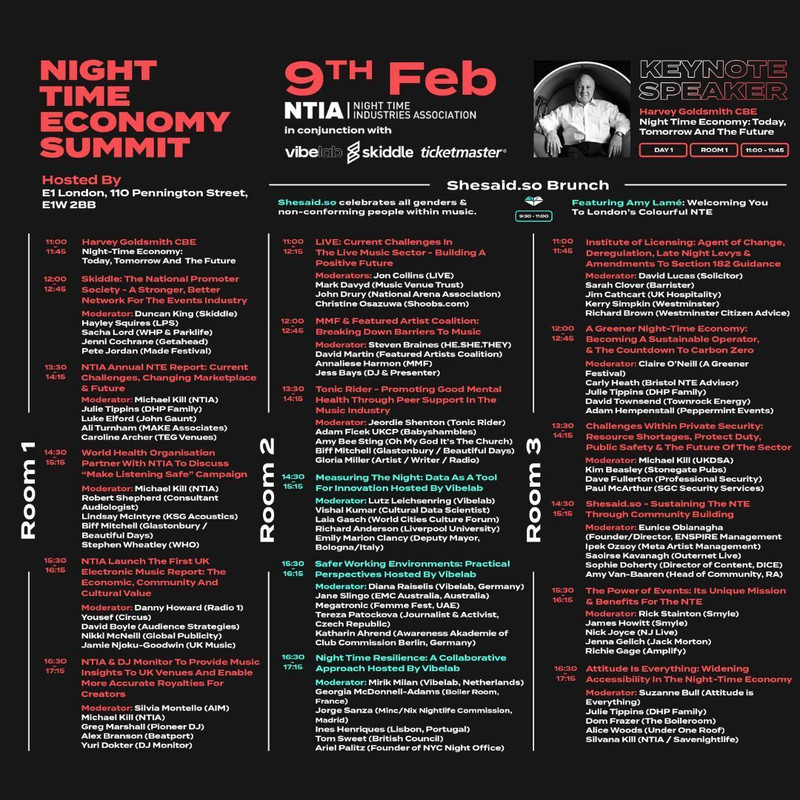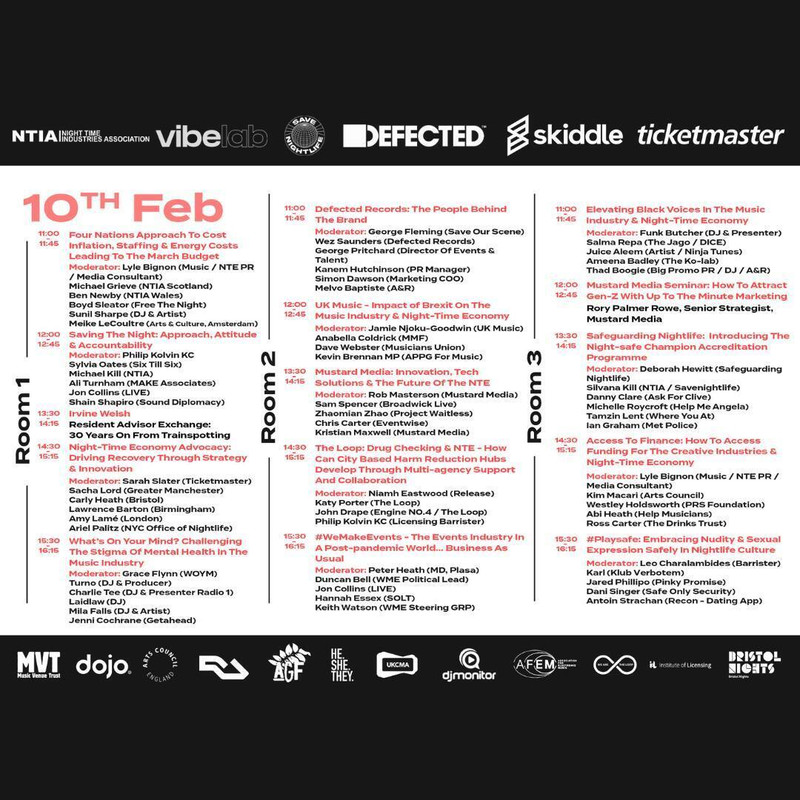 The NTIA & Savenightlife in conjunction with Vibe Lab & Defected are proud to anounce the second Night Time Economy Summit in London at E1 venue in Wapping. 
The conference looks to bring together key stakeholders from across the UK and internationally to discuss best practices, historical and present challenges as well as future considerations. The development of new technology around music rights through Pioneer DJ and DJ Monitor, as well as A Greener festival discussing the challenges in meeting net zero by 2030 with small changes making big differences.
Over two days we will see panels and keynotes from UK and international representatives ranging from Police, local authorities, DJ's, promoters and many more. The Night Time Economy Conference is the first of its kind in the UK, and brought together over 600 delegates in its first event in Bristol, with over 800 delegates expected in the capital this year.
Some of the Panelists and Speakers for 2023 include..
Harvey Goldsmith CBE / Sacha Lord / Mirik Milan / Claire ONeill / Silvia Monetllo / Lawrence Barton / Duncan King / Ali Turnham / Philip Kolvin KC / Rob Masterson / Mustard Media / Ben Newby / Mike Grieve / Boyd Sleator / Katy Porter / Lutz Leichsenring / Jeordie Shenton / Sarah Clover / David Lucas / Graeme Park / Wes Sounders / Biff Mirchell / Turno / Chalie Tee / Laidlaw / Mila Falls / Steven Braines / Carly Heath / Yousef / Nikki Mc Neill / Jamie Njoku-Goodwin / Peter Heath / Yuri Doktor / David Boyle / Jon Collins / Dan Davies / Amy Lame / SIA / Home Office / NPCC / Mark Burtonwood / Professor Fiona Measham / Kim Beasley / Christine Osazuwa / Dave Fullerton / Suzanne Bull / Deborah Hewitt / Rick Stainton / Silvana Kill / The Loop / Institute of Licensing / DCMS / Pioneer / Adam Ficek / DJ Monitor / Arts Council / Carl Stevens / PRS Foundation / Natinal Lottery etc..
Says NTIA CEO Michael Kill:
'Throughout the pandemic and the current crisis we have grown as a community across the UK, and in 2021 we started a journey to bring the best of our industry together once a year to share our challenges and network amongst our peers.
'An opportunity for operators, regulators, creators, entrepreneurs to come together and share, learn and build a stronger, more resilient industry for the future."
The two day event will include over 100 speakers with panels and workshops featuring innovators and entrepreneurs both within the UK and internationally from across the sector.
TRAVELLING TO THE EVENT
Our 2023 Summit will be hosted at the E1 club, London. Please see their travel advice which covers guidance for tube, bus, car, and other methods of travel:
Travelling by Train
The nearest public transport stations are Shadwell (Overground, DLR), and Wapping (Overground). Shadwell is an 8 minute walk, and provides step-free access from the train to the club when arriving with the DLR.
The venue is also a 17 minute walk from Tower Hill station (Circle, District lines) and a 30 minute walk from London Bridge station (Jubilee line, and National Rail).
Travelling by Night buses
The venue is well served by multiple night bus routes, listed below. Click on each one to view the full route on the TfL website.
N551 (Trafalgar Square, City, Poplar, Canning Town)
N253 (Aldgate, Bethnal Green, Hackney, Clapton)
N205 (Paddington, Kings Cross, Shoreditch, Mile End, Stratford)
N25 (Soho, City, Mile End, Bromley by Bow, Ilford)
Parking
Parking is not available outside E1. The nearest car park is Minories Car Park, 1 Shorter Street, E1 8LP . Consult the map below for walking directions from the car park to E1. Please do not park on Pennington Street or Artichoke Hill as you may be clamped.
Taxis
Please see the phone numbers listed below for reputable taxi companies to help plan your journey.
When arriving and leaving, please be quiet and respectful. E1 is in the heart of a residential area and we do not want to disrupt our neighbours.
If arriving or leaving in a taxi, please use the following address:
E1 London, 110 Pennington Street, E1W 2BB
United Cars: 0208 981 9922
GNR Taxi: 0207 739 9522
Whitechapel Cabs: 0207 377 1111
We are also well-served by a range of external taxi firms including Uber, Bolt etc.
Hotels
The nearest hotels are:
Leonardo Royal Hotel, Tower Bridge
Town Hall Hotel, Bethnal Green
Please note: The event information above has been added by the organiser. Whilst we try to ensure all details are up-to-date we do not make any warranty or representation as to the accuracy or completeness of the information shown.