Buy tickets securely
Pre-match Legend Meal LFC vs Leicester City

on Saturday 31st December 2022

Enjoy the ultimate pre-match experience of an LFC home game together with a Liverpool legend and an exclusive group in our Players' Lounge with access to our delightful terrace. We are only 200 meters from Anfield Stadium.

The event includes meet & greet by a Liverpool legend who will talk about the upcoming match, the current team as well as share some stories from their own successful days playing in the famous Liverpool shirt.

A welcome drink, a three course buffet and a free bar for 2 hours is included too.
Please email us at least a week prior to the event if you have any dietary requirements/ food allergies at: hospitality@hoteltia.co.uk.
Please be on time as we start the event with the Liverpool legend entertainment.
* The time and date of this event may change if the time and date of this LFC fixture changes due to TV rights. If the date changes, your ticket is valid on the new date/ time.  We always start our pre-match events 4 hours before kickoff (unless it is an early 12.30 kickoff - then we start 3.5 hours before.)
Be aware that the pictures are only illustrations of previous events and the legend for this match will be booked closer to time.
Welcome!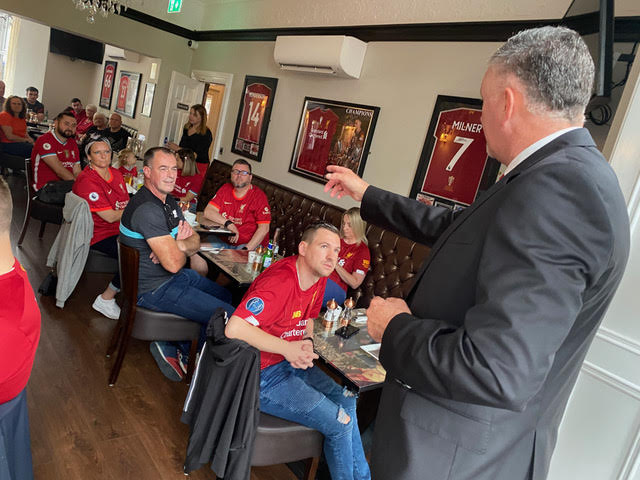 This event has Covid secure measures in place
Please note: The event information above has been added by the organiser. Whilst we try to ensure all details are up-to-date we do not make any warranty or representation as to the accuracy or completeness of the information shown.
Hotel Tia Liverpool: Nearby Hotels & Airbnbs
Need a place to stay? Compare every available hotel deal and Airbnb near Hotel Tia, so book today to secure the best price!.
Please note, venue location is plotted according to the venue's postcode which is provided by the event organiser. We do not check the accuracy of venue or hotel locations or dates so please check before booking or travelling
21 Anfield Road,
Liverpool,
L4 0TE
Tel: 01512847034