This event has already happened!
This event occurred in May 2019. If you're looking for a upcoming event, try the links below:
Reviews of this event
Click here to view all reviews or add your own »
Liverpool Disco Festival 6 - Jungle Boogie!

on Sunday 5th May 2019

For the most up-to-date information about this event, please go here: Liverpool Disco Festival Guide

Liverpool Disco Festival 6 - Jungle Boogie

Bank Holiday Sunday 5th May 2019.

(12am - 12pm)

Tickets :

skiddle.com/e/13374439

After a fabulous sold out birthday party we return for the 6th Instalment of

Liverpool Disco Festival

with a 'Jungle Boogie' decor theme throughout.

// Live //

Melba Moore

Performing: Loves Comin' Atcha', Standing Right Here, This Is It, You Stepped into my life & More.

+

The Voice of 'FIRST CHOICE':

Rochelle Fleming

Performing: Let No Man Put Asunder, Dr. Love, Love Thang, Double Cross, The Player, Love and Happiness, Armed and Extremely Dangerous & More)

// Djs //

Joey NegroSoul ClapMaurice FultonJohn MoralesKarizmaFolamourDJ RahaanMafaldaJamie 3:26 Mark Grusane MusicMarcel VogelAl KentMendelGet Down EditsNatasha Kitty KattCraig CeeDog SmithGroove AssassinJames MorganRonnie HerelTerry Jones Queen & DiscoYoung Pulse Paul Bozak Morrissey No FaKin DjsDarryl MarsdenPadraic DisconautStephen TitmusMichael WilliamsRoBaSca

+

MTBA!

Exploring The roots of Disco through:

Disco / Boogie / House / Funk / Soul / Hip-Hop

IMPORTANT NOTE: The main event is on the Bank Holiday Sunday but we will also have our traditional 'Welcome To The Disco' party on Saturday 4th May and the Finale send off Party on Bank Holiday Monday 6th May. Now is the time to lock in your tickets & accommodation free of charge via sites like

Booking.com

and

Airbnb.co.uk.

for what will be a busy Bank Holiday Weekend.

Brought to you by Hustle ,

SUNcéBeat

,

Southport Weekender

& in association w/

Salsoul Records

&

West End Records

.

(Powered by

Bozak 'Audio For The Soul'

).

Venues:

Camp and Furnace

,

24 Kitchen Street

,

District

,

Love Lane Brewery, Bar & Kitchen

@ & More TBA.

Love Is The Message.

LDF x
Liverpool Disco Festival 6 line up so far...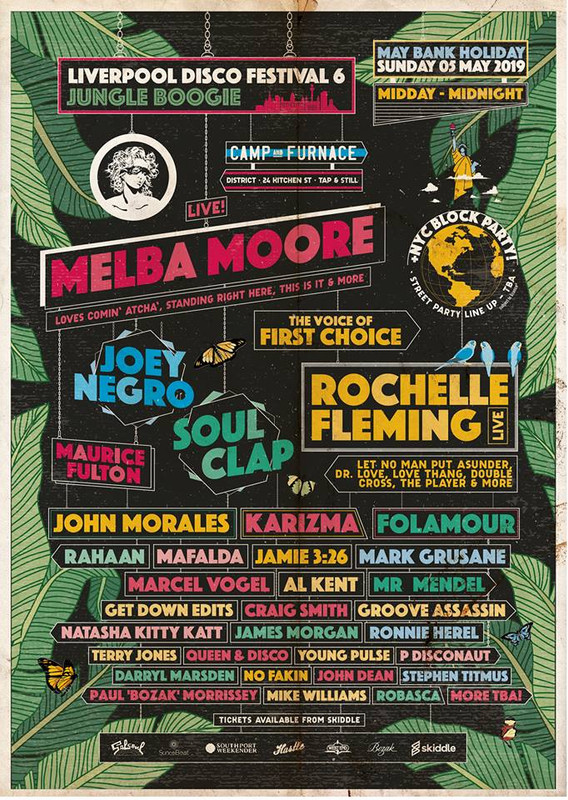 Al Kent
Craig Smith
Folamour
Get Down Edits
Groove Assassin
James Morgan
Jamie 3:26
Joey Negro
John Morales
Karizma
Mafalda
Mark Grusane
Maurice Fulton
Melba Moore
Mr Mendel
Natasha Kitty Katt
No Fakin DJ's
Paul 'Bozak' Morrissey
P Disconaut
Rahaan
Robasca
Rochelle Flemming
Ronnie Herel
Terry Jones
The Voice Of First Choice
Soul Clap
Young Pulse
Music Genres:
Deep/Soulful House, Disco, Funk, Soul

Please note: The event information above has been added by the organiser. Whilst we try to ensure all details are up-to-date we do not make any warranty or representation as to the accuracy or completeness of the information shown.
Liverpool Disco Festival 6 - Jungle Boogie! news