Buy tickets securely
Baltic Weekender - September Edition

on Friday 27th - Saturday 28th September 2019

For the most up-to-date information about this event, please go here: Baltic Weekender - September Edition Festival Guide

Baltic Weekender returns for Autumn 2019!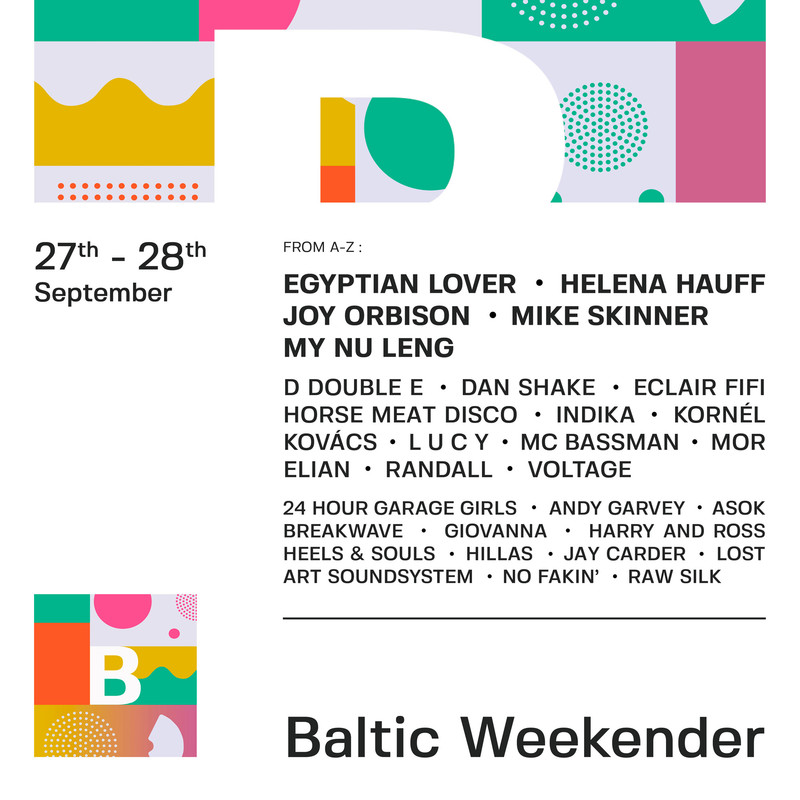 Egyptian Lover
Helena Hauff
Joy Orbison
Mike Skinner
My Nu Leng
D Double E
Dan Shake
Eclair Fifi
Horse Meat Disco
Indika
Kornél Kovács
Lucy
MC Bassman
Mor Elian
Randall
Voltage
24 Hour Garage Girls
Andy Garvey
ASOK
Breakwave
Giovanna
Harry and Ross
Heels & Souls
Hillas
Jay Carder
Lost Art Sound System
No Fakin'
Raw Silk
Personal Assistant / Essential Companion Information:
For this event, we're using the Skiddle Access Scheme by offering Personal Assistant tickets for customers who need to be accompanied. A Personal Assistant ticket is to be offered for free or discounted when somebody with a disability requires a carer to be in attendance with them. To automatically be eligible, please provide a copy of one of the following pieces of documentation listed below.
- Front page of DLA / PIP (no specific rate)
- Front page of Attendance Allowance letter (no specific rate)
- Evidence that registered severely sight impaired (blind)
- Recognised Assistance Dog ID card
- Credability's Access Card
If this applies to you then, please book the tickets you require (not including the Personal Assistant ticket) and contact the Skiddle Customer Care team with your documentation along with your 16-digit order reference number by submitting a support request here: https://help.skiddle.com/hc/en-us/requests/new
Music Genres:
Acid House, Bass Music, Grime, House, Techno

Please note: The event information above has been added by the organiser. Whilst we try to ensure all details are up-to-date we do not make any warranty or representation as to the accuracy or completeness of the information shown.