Selling fast!
Last tickets booked: less than 3 minutes ago.
Buy tickets securely
Kings of the Beats w/ Krafty Kuts, Plump DJs, Freestylers + more

on Saturday 28th May 2022

Acme Bass x Kanteena presents……….. Kings of the Beats

//Krafty Kuts//

//Plump DJs//

//Freestylers//

//Acme Bass DJs//

A romper stomper of a day. Two rooms. Beer garden party. 15 DJs. BBQ. The finest craft beers.

Krafty Kuts is the multi-award winning DJ/producer and the undisputed King of breaks. Krafty is a living legend of electronic music, his multi-genre sets, dexterity on the decks and dedication to dancefloor hedonism have earned him hierarchy status in every genre of electronic music.

Waiting in the wings we also have Plump DJs, Freestylers & Acme Bass DJs will be bringing you the finest beats, breaks, hip hop, funk & DnB. Don't miss this, this circus won't be in town for a while!!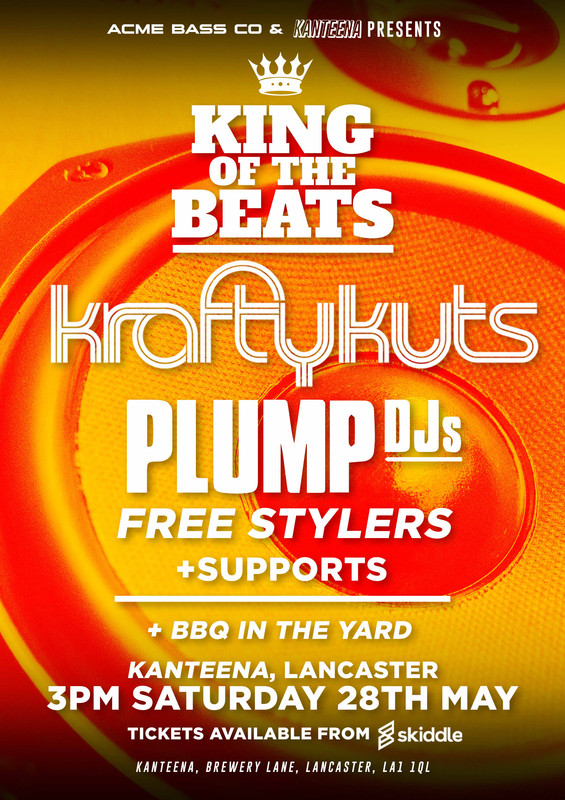 Music Genres:
Breaks, Drum n Bass, Electronic, Grime, Hip Hop
Entry Prices
Minimum age: 18
Entry price (public): From £15 (Additional fees may apply)
This event has Covid secure measures in place
physical distancing
Staff follow all safety protocols as directed by local authorities
Please note: The event information above has been added by the organiser. Whilst we try to ensure all details are up-to-date we do not make any warranty or representation as to the accuracy or completeness of the information shown.
Kanteena Lancaster: Nearby Hotels & Airbnbs
Need a place to stay? Compare every available hotel deal and Airbnb near Kanteena, so book today to secure the best price!.