Buy tickets securely
Independent Venue Week: Run Logan Run & Archipelago

on Sunday 6th February 2022

Lancaster Jazz Festival presents a special double headed gig from Run Logan Run & Archipelago as part of Independent Venue Week at Kanteena, Lancaster.

𝗥𝘂𝗻 𝗟𝗼𝗴𝗮𝗻 𝗥𝘂𝗻 - are an alchemical fusion of surging, polyrhythmic alt-breakbeats and screaming guttural saxophone. Propelled by
the kinetic ferocity of Matt Brown's drums and guided by soul deep melodies, motifs and cries unfurled from Andrew Neil Hayes' tenor, the music that emerges is fiercely committed, questing and risk-taking.
The duo have toured the UK extensively, sharing stages with the likes of Colin Stetson, Melt Yourself Down, Shabaka Hutchings, and The Bad Plus, and have performed at many European Jazz Festivals. In 2019 they received the Montreux Jazz Talent Award and in 2020 they were invited back to Switzerland as fellows of the Montreux Jazz Academy to play a special concert with John McLaughlin and members of Snarky Puppy. They have also worked with Danalogue & Betamax (The Comet Is Coming), Riaan Vosloo (Nostalgia 77),
Dilip Harris (Brownswood / Ninja Tune) Matthew Bourne (Leaf Label) and Ill Considered.

𝗔𝗿𝗰𝗵𝗶𝗽𝗲𝗹𝗮𝗴𝗼 - are a genre-defying trio of adventurous musicians, formed out of the North East of England's creative musical underground. Fronted by saxophonist, clarinetist, singer and composer Faye MacCalman and completed by John Pope (Bass) and Christian Alderson (Drums); their sound is a dreamlike collision of otherworldly atmospheres, heartfelt song-writing and energetic off-kilter rhythms. Moving between instruments and effects to create the illusion of a much larger ensemble, before peeling back to their raw, improvisational trio form, Archipelago's uncompromising refusal to fit in one genre makes for a fully-charged musical experience.

With influences stretching from Joni Mitchell to Don Cherry to Esperanza Spalding, Archipelago draw on a deep pool of sonic references and the diversity of their individual musical histories.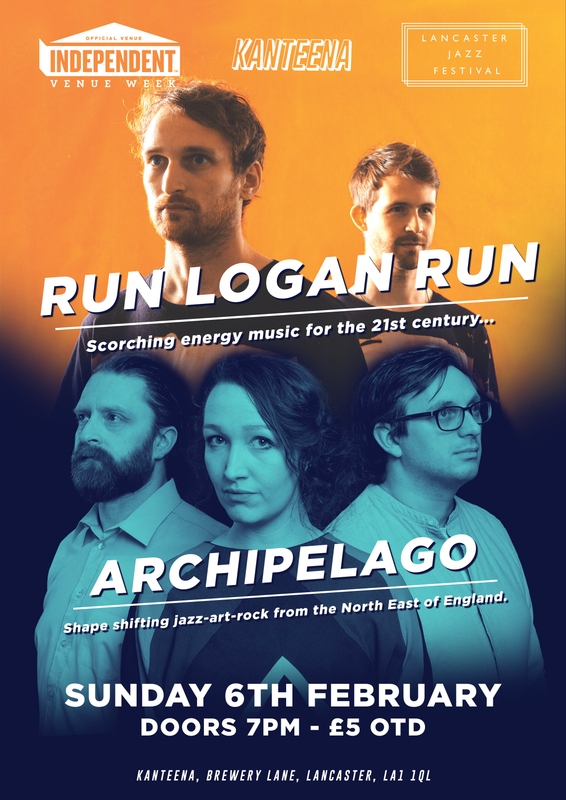 Music Genres:
Jazz, Soul
Entry Prices
Entry price (public): From £5 (Additional fees may apply)
This event has Covid secure measures in place
physical distancing
Staff follow all safety protocols as directed by local authorities
Please note: The event information above has been added by the organiser. Whilst we try to ensure all details are up-to-date we do not make any warranty or representation as to the accuracy or completeness of the information shown.
Kanteena Lancaster: Nearby Hotels & Airbnbs
Need a place to stay? Compare every available hotel deal and Airbnb near Kanteena, so book today to secure the best price!.
Please note, venue location is plotted according to the venue's postcode which is provided by the event organiser. We do not check the accuracy of venue or hotel locations or dates so please check before booking or travelling
Brewery Lane,
Lancaster,
LA1 1QL