Buy tickets securely
Fleetwood Bac

on Friday 27th October 2023

Fleetwood Bac are the world's first and best Fleetwood Mac Tribute Band, endorsed by Mick Fleetwood himself, the only Mac tribute to authentically replicate the classic 'Rumours' line-up. Over the last few years they have received rave reviews from 'The Stage' newspaper, the U.K.s leading Fleetwood Mac fansites, the official Stevie Nicks website; and from ecstatic audiences wherever the band played, wowing audiences as far afield as Dubai, St. Tropez, the Cayman Islands and Monte Carlo, and twice selling out the world-famous Minack Theatre in Cornwall.

Fleetwood Bac have also been rated by The Times newspaper as one of the U.K.'s top 5 tributes, alongside The Bootleg Beatles, Bjorn Again and the Counterfeit Stones.

Fans include original Mac bassist and biographer Bob Brunning, who joined the band several times on stage, and Peter Green's official biographer Martin Celmins.

The sound, the look, the mystical atmosphere and on-stage chemistry are all portrayed with the passion and energy that got the seal of approval from 'Big Daddy' Mick, and built up an excellent reputation amongst Mac fans through numerous tours, festival appearances, corporate events and TV and radio slots all over the U.K. and Europe.

The Fleetwood Bac show focuses on the 'Rumours' era of the band (still the 5th biggest-selling album of all time). It also features several songs from the Peter Green days, plus some of Stevie's biggest solo hits, in either a theatrical 2-hour show, including costume-changes and an acoustic section, or a one-hour Greatest Hits Show, specially tailored for corporate events.

Songs featured (all UK and US hit singles) include: Dreams, Don't Stop, Go Your Own Way, You Make Loving Fun, Tusk, Gypsy, Everywhere, Oh Well, Rhiannon, Little Lies, Black Magic Woman, Seven Wonders, Say You Love Me, Big Love, Oh Diane, Stop Draggin' My Heart Around, Albatross, Sara, Man Of The World, Hold Me, Green Manalishi, Need Your Love So Bad, The Chain etc…

What people have said about Fleetwood Bac:

' Keep up the good work! Much luck.' Mick Fleetwood

'Loved the show, really enjoyed playing with you.' Bob Brunning, original Fleetwood Mac bass player, and author of 'Fleetwood Mac: Rumours And Lies'

'Stevie looks fabulous… Lindsey's act is well sussed… Mick is entertaining to watch throughout… Christine is unbelievably accurate… first-rate.' Martin Celmins, Peter Green's official biographer

'Musical archaeologists reconstruct their favourite rock mammoth with painstaking accuracy.' The Times

'Spot on. A thoroughly professional and entertaining evening. Fans of the real thing will certainly not be disappointed.' The Stage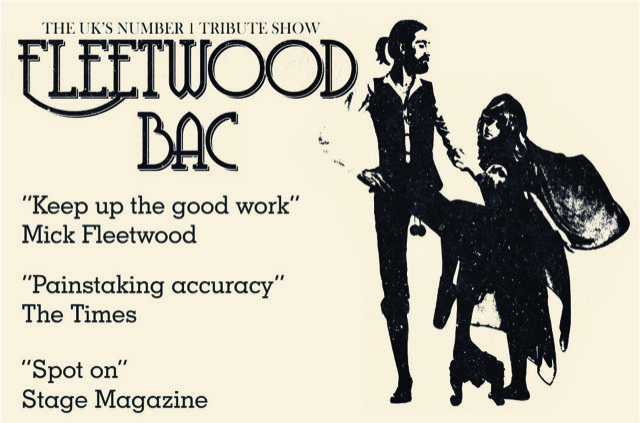 Music Genres:
Blues, Pop, Rock
Entry Prices
Minimum age: 18
Entry price (public): From £17.50 + BF (Additional fees may apply)
This event has Covid secure measures in place
physical distancing
Staff follow all safety protocols as directed by local authorities
Please note: The event information above has been added by the organiser. Whilst we try to ensure all details are up-to-date we do not make any warranty or representation as to the accuracy or completeness of the information shown.
Kanteena Lancaster: Nearby Hotels & Airbnbs
Need a place to stay? Compare every available hotel deal and Airbnb near Kanteena, so book today to secure the best price!.
Please note, venue location is plotted according to the venue's postcode which is provided by the event organiser. We do not check the accuracy of venue or hotel locations or dates so please check before booking or travelling
Brewery Lane,
Lancaster,
LA1 1QL