Buy tickets securely
Flash: A Tribute To Queen

on Thursday 17th November 2022

Flash: A Tribute To Queen on the 17th November at Kanteena, Lancaster 2022



Flash : A Tribute to QUEEN, established in 2001 brought together the finest musicians from several other Queen Tribute shows to form a 'best of the best' live Tribute to the musical legacy of Freddie Mercury and Queen. Every member of the group has been creatively and technically inspired by Queen, each using replica equipment, adding that extra sound characteristic and an obvious visual treat, they take great satisfaction and pride in producing a show that's performed in authentic costumes, bringing back all the magic that made every Queen concert so special.

Soon to enter their 47th year, Queen amassed a huge back catalogue of hit records and it's been hard work trying to construct a show that captures their creative history in such a small amount of stage time but we guarantee the show to be a non-stop jukebox of the very best of Queen, hit after hit, anthem after anthem, with audience participation at a high from the very start.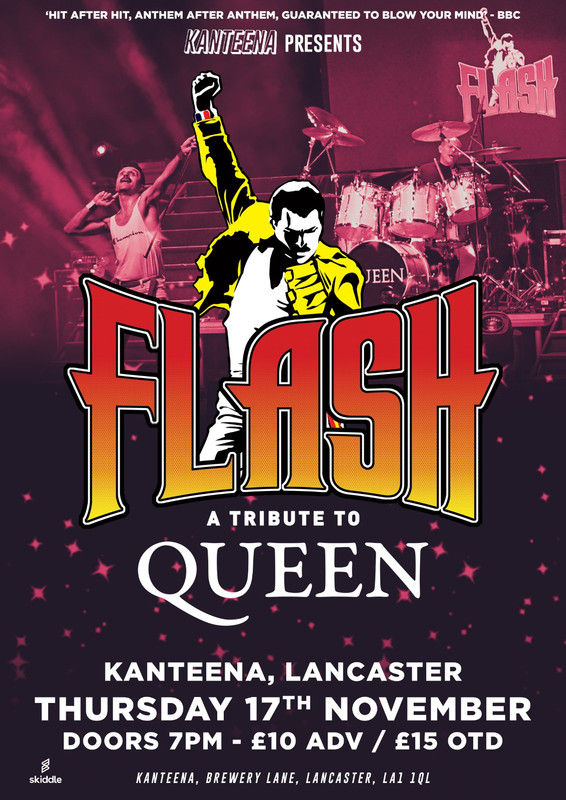 Music Genres:
Rock
This event has Covid secure measures in place
physical distancing
Staff follow all safety protocols as directed by local authorities
Please note: The event information above has been added by the organiser. Whilst we try to ensure all details are up-to-date we do not make any warranty or representation as to the accuracy or completeness of the information shown.
Kanteena Lancaster: Nearby Hotels & Airbnbs
Need a place to stay? Compare every available hotel deal and Airbnb near Kanteena, so book today to secure the best price!.