This event has already happened!
This event occurred in May 2023. If you're looking for a upcoming event, try the links below:
Reviews of this event
Click here to view all reviews or add your own »
Proper filth

on Saturday 27th - Sunday 28th May 2023

MY STORY

THE OLD SKOOL 
THE OLD SKOOL LEGEND ALEX P
May 1990 Alex P packed his Bags and left behind a host of residencies in the UK to travel to Ibiza! He had been many times before and fell in love with the Island, his mission was not to bring the sounds of Ibiza back to the UK but to take his sounds and visions to Ibiza!
After a laborious period of arriving with his record boxes at many clubs and getting turned away still convinced he had something to offer the island persistence eventually got Alex a break in a bar in San Antonio Bay, where after a hard sell he hosted his own night calling it with typical Peezee humour Eyebeeria after a few weeks with endless hours of PR'ing with Paul Dwyer who was working with the tour companies there was a queue around the block and Ibiza local News Paper La Presena was keen to interview him.
Alex had momentum now Eyebeeria moved to Summun a bigger beautiful venue, then came a Monday Night residency at Ku the biggest club on the Island and possibly the world at that time! Ku later became Privilege and was the home for Manumission in Ibiza where Alex often DJ'd.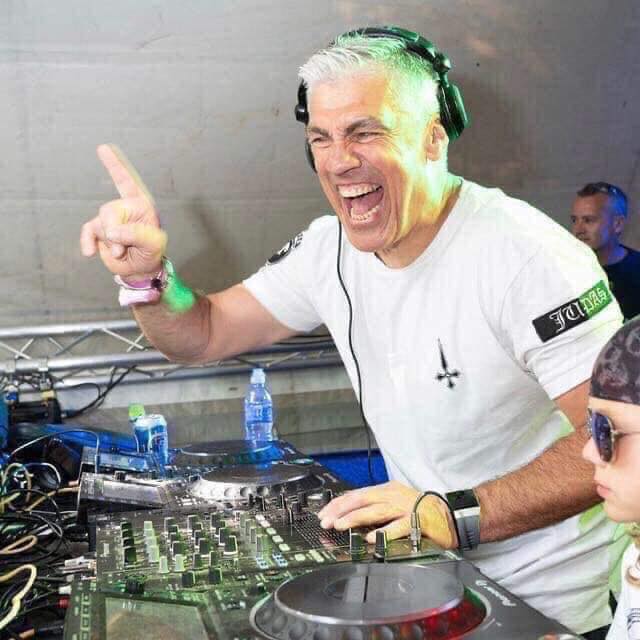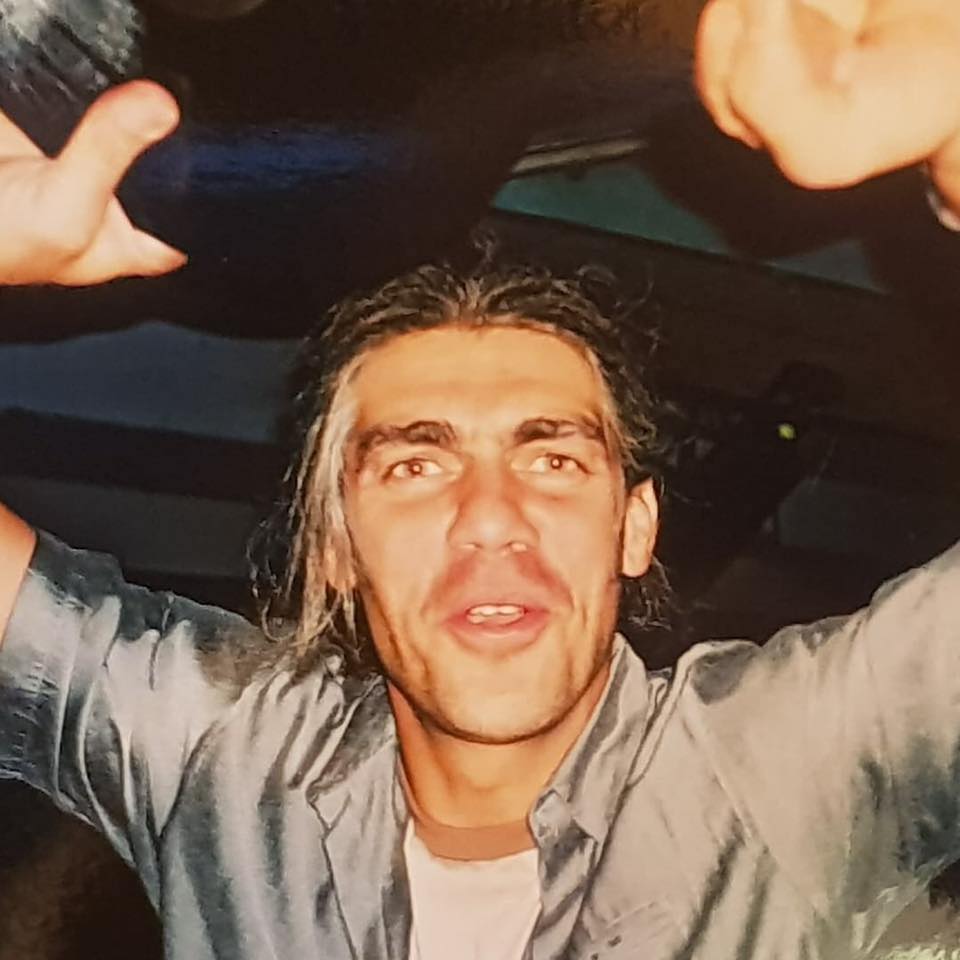 RESIDENCY AT AMNESIA IBIZA
Amnesia Ibiza came next and offered Alex a full residency which meant DJing every night in the club way before the invasion of the British Promoter and clubs held their own themed nights which now seems like an eternity away.
Alex DJ'd at the closing party this summer it was attended by all the Islands glitter arty musicians and celebrities and it remains to this day as one of his memorable sets on the island wrapping up around 3 in the afternoon!!
Later that year Amnesia was sold and had a different vision to Alex now, so they parted company. He was then introduced to Pepe the owner of Space Ibiza who offered Alex the Summer Residency.
THE SPACE TERRACE
This was to change Alex's life completely he put his heart and soul into this and was so happy to have got the Residency inside.
There was only one room in Space which played mainly trance/techno sounds with some Balearic influences Alex loved the club and was keen to introduce the deeper English warehouse Sounds to this vibe which worked like a dream at this time Space had only 3 Dj's working the whole summer 7 nights a week Alex, Reche and Giovani two incredible local Djs from Ibiza even though the language barrier was hard and Alex was the outsider all 3 respected each other and learnt from their contrasting styles this helped shape the image of Space and it's identity.
Alex later influenced the Club to bring in guest Dj's which at first had a mixed response from all involved but is now the president on how the club functions!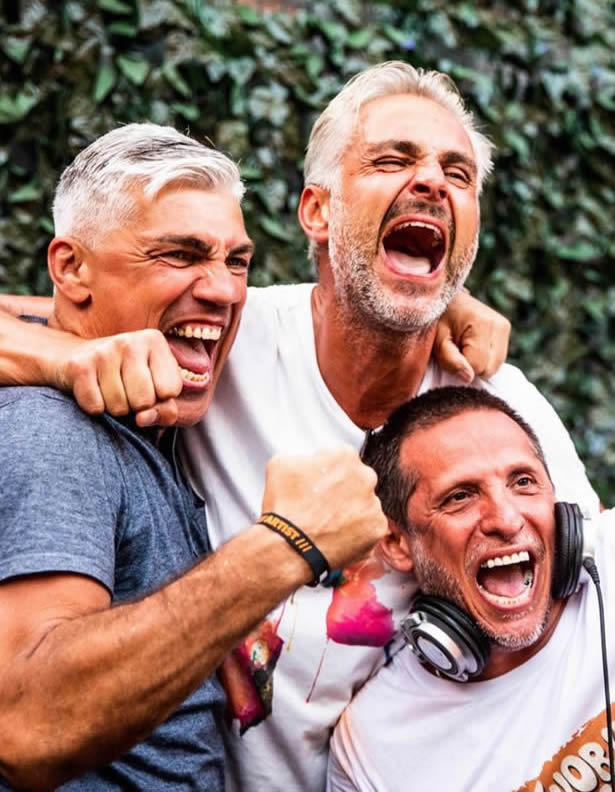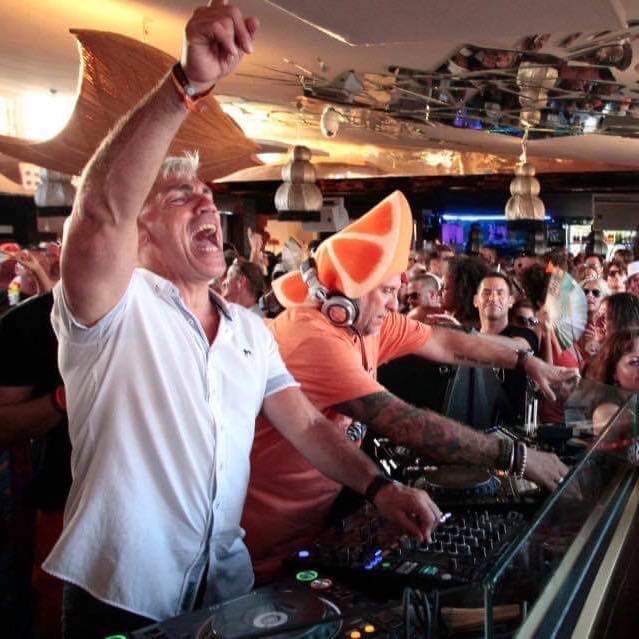 Back to the Terrace after Alex landed the Space residency best friend James Mitchell decided he want to spend the summer in Ibiza and after a suggestion from Alex and some brainstorming the boys came up with a plan.
Alex approached Pepe with the Idea of turning the outside area at the front of the building into a dance area where Alex could express his Funkier style of music and James no stranger to promoting with fronting Sunrise and Crazy club under his belt it seemed the perfect plan, bright and happy outside to the contrast of deep and dark inside. Pepe not completely convinced it would work agreed and the lads got a very good deal.
A lot of work was needed to get them outside to look like a club many hours of painting, whitewashing, plumbing in bars and sound systems and a little elbow grease got them to where they wanted to be and Space Terrace was born.
After an unsuccessful first summer, James had other things on the table in the UK and wasn't keen to come back for the whole summer Alex under a lot of pressure had faith and believed it would work so he bought James out. Running it on his own managing the bar organising the PR and DJing inside and out became hard work as the Terrace was getting some notoriety as a destination on the island and running later and later, Alex would manage the bar and DJ sometimes 12 hours a day most days it was his life he loved it but the success was becoming too much! That's when he decided he needed help there was only one name on the shortlist as it required a certain kind of person that lived and breathed the scene with a desire to entertain at all costs! Alex had to call upon the services of Brandon Block.
Alex with Brandon Block set the island on fire! The rest is history Space Terrace became Europe's dance capitol and one of the most talked-about party destinations on the planet. Space had the biggest DJ's around the world come for guest spots some friendships were built on mutual respect and a love for the music and Alex got invitations to take his sounds around the world.
Alex still has the same love for music and the desire to push the house scene forward he holds residencies with a few major brands and is busy with global guest spots and with his own night Funkadelic.
CENTRE FORCE RADIO 883
Alex is currently a DJ/Presenter on the World's No. 1 house music station Centre Force Radio 883 Here he gets to pioneer new music and hosts Funkadelic, two successful shows Tuesday 2-5 pm with guests, Thursday 2-4 pm solo.
Music Genres:
House

Please note: The event information above has been added by the organiser. Whilst we try to ensure all details are up-to-date we do not make any warranty or representation as to the accuracy or completeness of the information shown.