Event has been postponed until 20th Aug 2021.
Info: re-scheduled to 20-22nd August 2021.
If you have purchased tickets for this event, please check your email or order history for further information
Weyfest 2020

on Friday 21st - Sunday 23rd August 2020

Please note, this event has been postponed until 20th Aug 2021.

For the most up-to-date information about this event, please go here: Weyfest Festival Guide

Weyfest is rated a 5-Star festival by our audience.

Imagine ....

A music festival without mud.

Where people open gates for you, say 'excuse me' and move aside to let you to the bar. Where the tantalising aromas of great food mix with the nostalgic smell of steam from the resident railway, conjuring up memories of a bygone industrial age.

Where both young and old come to share new music experiences, together.

Where the sound of live music is everywhere whilst you wander through a fascinating museum dedicated to life in Rural England.

And where fans laugh, smile and nod to each other with a familiarity gained only from their mutual annual pilgrimage.

Sound too good? Not so. That's Weyfest.
2020 line up announced so far...
Friday
The Feeling
The Dualers
Xander & The Peace Pirates
Georgia & The Vintage Youth
Indya
Marcus Bonfanti
Grizzly & The Grasshoppers
The Fitts
Saturday
UB40
Brother Strut
Dreadzone
Austin Gold
Elles Bailey
China Bears
Finding Kate
Sweet Georgia Boys
Blooms
Stables
Backwoods Creek
Sunday
Soul II Soul
Nik Kershaw
Republica
Tankus The Henge
Jon Allen
Mason Hill
Lake Folks
Daxx & Roxane
Off The Record
Mantic Muddlers
The Farleys
Jackie Lynton
Jungle Brew
Brobed Stills
-----------------------------------------------------------------------------------
Weyfest is more like a mini-holiday than a music festival. It is a stress-free weekend in the country, with over 30 hours of the finest music, camping, posh loos, friendly staff and plenty to occupy the kids with music, drama and creative arts workshops, train rides and the many attractions offered by the open-air museum which is the venue itself - The Rural Life Centre, Tilford, set in the outstanding natural beauty of the Surrey Hills.
You can stretch out your picnic rugs or wander around the site to the 4 stages with your camping chairs. Sit and watch your favourite band or discover new artists from the eclectic mix on offer, or just find a quiet spot to watch the world go by.
The festival attracts new people every year - many of whom have not been to a festival for years for fear of mud and rude or drunken behaviour (there's none of that here!) and many who have never even been to a music festival before! Most have made new friends and now return each year for a reunion.
The venue itself is also a major reason for Weyfest's increasing popularity. The Rural Life Centre is a working museum, littered with artefacts of past country life and craft displays throughout the venue. Is there another festival in the world with a working light railway, running both steam and diesel trains around the perimeter of the venue? And because the venue is so compact, everything is within easy reach. No trudging for miles from the car park or campsite, no long walks between stages ... and no major journey to reach the excellent food and bars!
Once bitten you will truly be smitten!!!
Personal carer, essential companion information:
We assume that, whereas the disabled person wants to come to Weyfest, the carer may not and so, on production of proof of disability at the box office on arrival, the carer will be entitled to purchase a carer ticket at half of the gate price. This is limited to one carer for disabled persons over the age of 16 for festival entry only and does not include camping or campervan passes. Where it is imperative that a second carer is necessary to accompany the disabled person, documentation to that effect must be presented to the Box Office staff on arrival. All discount carer passes are sold at the discretion of the Box Office staff following receipt of an acceptable form of proof of disability.
Acceptable forms of proof of disability are:
Eligibility for Middle or Higher rate DLA (for care or mobility) or
Receipt of enhanced rate PIP.
A disabled parking badge, disabled railcard or any concession other than those listed above is not valid.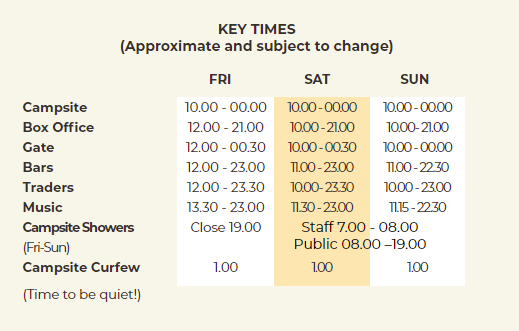 FACEBOOK: www.facebook.com/Weyfest/
TWITTER: @Weyfest
Music Genres:
Blues, Country/Americana, Folk, Rock, Rock & Roll

Please note: The event information above has been added by the organiser. Whilst we try to ensure all details are up-to-date we do not make any warranty or representation as to the accuracy or completeness of the information shown.
Weyfest 2020 news
Rural Life Centre Tilford Surrey Farnham: Nearby Hotels & Airbnbs
Need a place to stay? Compare every available hotel deal and Airbnb near Rural Life Centre Tilford Surrey, so book today to secure the best price!.