This event has already happened!
This event occurred in March 2020. If you're looking for a upcoming event, try the links below:
Reviews of this event
Click here to view all reviews or add your own »
Wee Dub Festival 2020

on Friday 13th - Sunday 15th March 2020

For the most up-to-date information about this event, please go here: Wee Dub Festival Guide

One of the UK's finest celebrations of dub, reggae and soundsystem culture returns to Edinburgh for their 10th Edition. Taking place across 4 main sessions and fringe events at various venues set throughout Edinburgh's historic Old Town, the Wee Dub Festival has grown to be an essential event on the UK's dubwise calendar. Line-up and tickets on sale now!

🔊 WEE DUB FESTIVAL 2020 - 10th EDITION!

🔊 O.B.F Sound System & Sr. Wilson
🔊 Mungo's Hi Fi & Charlie P
🔊 Channel One Sound System
🔊 Dubkasm
🔊 Chopstick Dubplate
🔊 EGOLESS (Live)
🔊 Sinai Sound System & Tom Spirals
🔊 Adam Prescott Music & Donovan Kingjay
🔊 Ayito & Natty Campbell MC
🔊 Messenger Sound System
🔊 PLUS MANY MORE!!

Full Line-Up & Programme: https://www.weedubfestival.co.uk/line-up.

Tickets now sale: https://www.weedubfestival.co.uk/tickets.
Access Scheme
For this event, we're using the Skiddle Access Scheme by offering Personal Assistant tickets for customers who need to be accompanied.
A Personal Assistant ticket is to be offered for free or discounted when somebody with a disability requires a carer to be in attendance with them.
To automatically be eligible, please provide a copy of one of the following pieces of documentation listed below.
- Front page of DLA / PIP (no specific rate)
- Front page of Attendance Allowance letter (no specific rate)
- Evidence that registered severely sight impaired (blind)
- Recognised Assistance Dog ID card
- Credibility's Access Card
If this applies to you then, please book the tickets you require (not including the Personal Assistant ticket) and contact the Skiddle Customer Care team with your documentation along with your 16-digit order reference number by submitting a support request here: https://help.skiddle.com/hc/en-us/requests/new
2020 line up announced so far...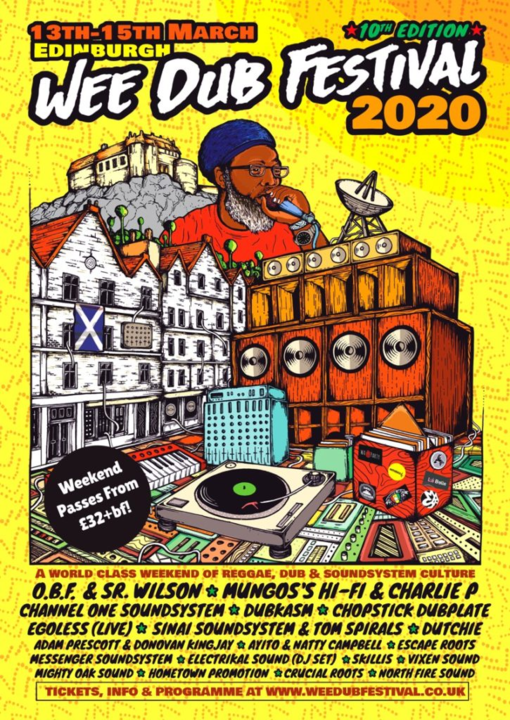 O.B.F & SR Wilson
Mungos Hi Fi
Charlie P
Channel One Soundsystem
Dubkasm
Chopstick Dubplate
Egoless
Sinai Soundsystem
Tom Spirals
Dutchie
Adam Prescott & Donovan Kingjay
Ayito & Natty Campbell
Escape Roots
Messenger Soundsystem
Electrikal Sound (DJ Set)
Skillis
Vixen Sound
Hometown Promotion
Crucial Roots
North Fire Sound
Music Genres:
Dancehall, Dubstep, Jungle, Reggae

Please note: The event information above has been added by the organiser. Whilst we try to ensure all details are up-to-date we do not make any warranty or representation as to the accuracy or completeness of the information shown.
Wee Dub Festival 2020 news