Buy tickets securely
Download Festival 2021

on Friday 4th - Sunday 6th June 2021

For the most up-to-date information about this event, please go here: Download Festival Guide

Retaining its title year after year as the only rock festival worth mentioning, Download Festival continues to hit all the right notes for true fans of rock music. Three days of heavy rock over five stages are what await the faithful who make the journey to the iconic location every year.

Previous headliners have included the likes of Marilyn Manson, Iron Maiden, Metallica, HIM, Black Sabbath, System of a Down, Tool, and Guns N' Roses to name a few.

With each year's improvement on the last, and the organizers staying true to the Donnington 'Monsters of Rock' ethos, rock music certainly has a spiritual home in the shape of Download Festival.

The bars stay open after the entertainment has finished, and running until 2am (Friday to Sunday) there'll be an after-hours Campsite Entertainment Zone, which has a cafe, beer stall, funfair rides, various shops, and a cinema.

At Download Festival 2021 there'll be a selection of markets which will include a variety of food from around the world, as well as clothes, jewellery, massages, piercing & tattoos, organic foods, souvenirs, merchandise, and loads more.

This is a festival purely for the rock enthusiasts, the loyal, and the dedicated.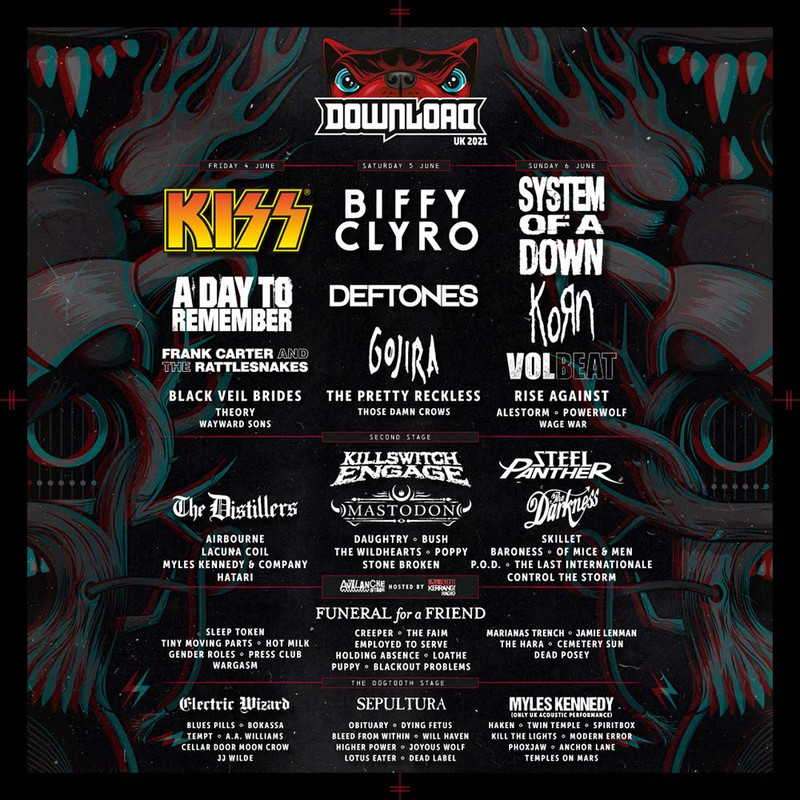 FRIDAY 4 JUNE 2021
KISS
A Day To Remember
Airbourne
Black Veil Brides
Frank Carter & The Rattlesnakes
Lacuna Coil
Hot Milk
Myles Kennedy & Company
The Distillers
Tiny Moving Parts
SATURDAY 5 JUNE 2021
Biffy Clyro
Creeper
Deftones
Funeral For A Friend
Gojira
Holding Absence
Killswitch Engage
Mastodon
Sepultura
The Pretty Reckless
SUNDAY 6 JUNE 2021
System Of A Down
Alestorm
Jamie Lenman
KORN
Of Mice & Men
Rise Against
Steel Panther
The Darkness
Volbeat
Wage War
Disabled Access Information
For those with access requirements – they can purchase a standard ticket and then for any requirements, carer passes etc they should email access@downloadfestival.co.uk. Please make sure they do not purchase a ticket for carers as we cannot refund any sales at a later point. "The application process for Download 2021 will be open in January, please refer to the website" Please email access@downloadfestival.co.uk for more information.
All disabled customers are welcome at Download Festival 2021, but as it is a greenfield site there are steep stony hilly sections of the site, meaning that sometimes access across the site is not that easy especially in bad weather conditions. Please bare this in mind when booking for the event. Stewards however, will be around to assist.
Live Nation provides a number of facilities in the arena and campsite to accommodate disabled customer's needs, please see the other headings on the left. Not all disabled customer's need use of these facilities but we will provide access to whatever is needed and/or a free carer/PA ticket where required to ensure your stay is comfortable and most of all enjoyable.
Due to Covid-19, some areas may have local restrictions in place. Travel and group sizes may be restricted depending upon Covid Alert Level.
Music Genres:
Alternative, Metal, Punk, Rock, Ska

Please note: The event information above has been added by the organiser. Whilst we try to ensure all details are up-to-date we do not make any warranty or representation as to the accuracy or completeness of the information shown.
Donington Park Derby: Nearby Hotels & Airbnbs
Need a place to stay? Compare every available hotel deal and Airbnb near Donington Park, so book today to secure the best price!.
Please note, venue location is plotted according to the venue's postcode which is provided by the event organiser. We do not check the accuracy of venue or hotel locations or dates so please check before booking or travelling
Castle Donington,
Derby,
DE74 2RP
Tel: 01332 862 409