Last few tickets
Fewer than 15% of tickets left for this event! Buy now to avoid disappointment!
Buy tickets securely
Cleethorpes Gathering 2019

on Saturday 22nd June 2019

For the most up-to-date information about this event, please go here: Cleethorpes Gathering Festival Guide

Cleethorpes Gathering was originally the brainchild of three local promoters, who all simply shared a passion for dance music and in 2017 all had a dream to create an event (not actually a festival at the time), which would showcase the best artists, across a spectrum of different electronic music genres and do it all under one roof!!

Fast forward 12 months and their initial plans of hosting an indoor music event had completely evolved into something much much bigger. Their original plans were not only only becoming a reality but had taken on a life of its own as a new festival format and Cleethorpes Gathering was born.

The festival saw clubbers and artists from every corner of the UK heading to our beautiful seaside town and it surpassed any and all expectations. The event was a complete SELL OUT and 1200+ clubbers from the house, trance, hard and the clubland scene and all partied together for the first time in Cleethorpes history!

Since then, the anticipation for a follow-up event has been huge and we are extremely excited to share our next chapter with you all. On Saturday 22nd June 2019 we will be back with a mahoooosive festival that is going to conquer anything that has EVER been hosted in the area before.

They'll be 3 large stage areas featuring House & Retro, Clubland / Dance Anthems and Trance & Hard Dance with 22 massive headline acts (yes 22!) including 4 live PA's and 3 International acts touching down in the Uk especially for this event is what is set to make history in Cleethorpes.

Plus we have an exclusive VIP stage & area with a Private Bar, Premium Toilets as well as the usual features of a festival experience with a full funfair, hot & cold street food stalls, 3 fully licensed bars, glitter painters, entertainers and lots more...

Get ready for the BIGGEST and most anticipated all day line up to ever hit the North East Coast...Welcome to Cleethorpes Gathering 2019!!!

Disabled toilets available on site. The site is all flat ground & easy to manoeuvre. Queue jump will be provided for any wheelchair users, please make yourslef know to staff on the day.
2019 line up announced so far...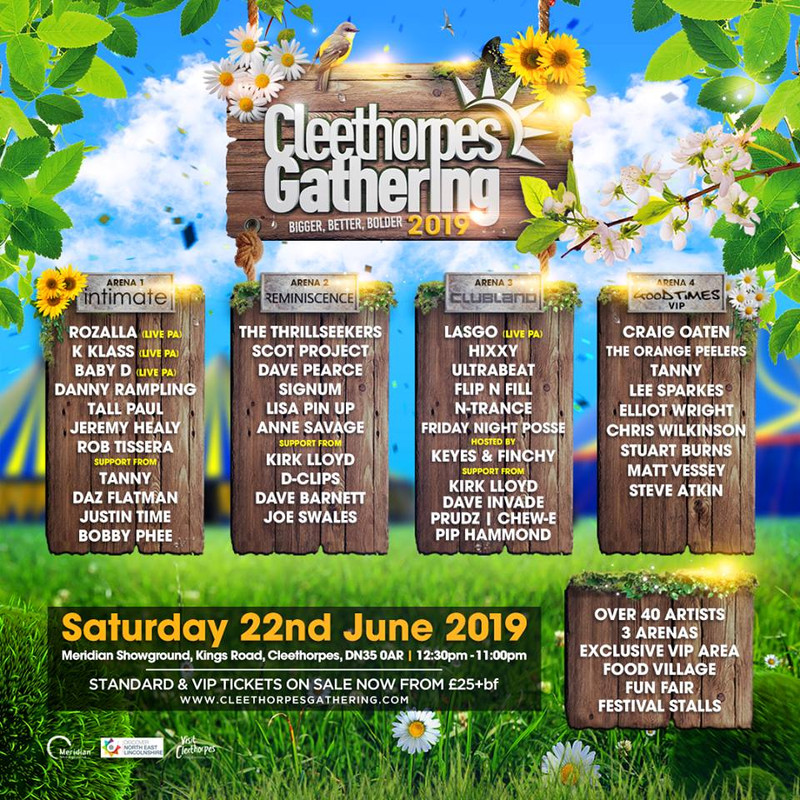 Lisa Pin Up
MC Finchy
MC Keyes
Tall Paul
Ultrabeat
A-Z
Anne Savage
Baby D
Dave Pearce
DJ HIXXY
DJ Tall Paul
Danny Rampling
Flip N Fill
Friday Night Posse
Jeremy Healy
K Klass
Lasgo
Lisa pin up
MC Finchy
MC Keyes
N-Trance
Rob Tissera
Rozalla
Scot Project
Signum
Tall Paul
The Thrillseekers
Ultrabeat
Music Genres:
Club Classics, Electronic, House, Old Skool, Tech House

Please note: The event information above has been added by the organiser. Whilst we try to ensure all details are up-to-date we do not make any warranty or representation as to the accuracy or completeness of the information shown.