This event has already happened!
This event occurred in November 2019. If you're looking for a upcoming event, try the links below:
Reviews of this event
Be the first to leave your review of this event »
Matchbox & Crazy Cavan Double Bill

on Saturday 16th November 2019

Fans of Old School Rockabilly and Rock'n Roll won't want to miss Saturday the 16th of November at Fiddlers in Bristol. The night will bring two of the absolute heavyweights to the same stage, namely; Matchbox and Crazy Cavan and the Rhythm Rockers!

Ignition will kick off the night with an explosion of hard hitting rockabilly rhythms, virtuous slap bass, and fast pickin' guitar licks. And for those of you who can't get enough, DJ Rock Ape will keep the party going in between bands until 2 am!

THE BANDS:

Matchbox
Formed in 1971 (with a few additions in the late 70s), Matchbox still consists of the original lineup that recorded smash hits like "Rockabilly Rebel", "When You Ask About Love", "Midnight Dynamos", and "Over The Rainbow". With more than 5 Million records sold across Europe, Australia, New Zealand as well as countless TV appearances and tours with names like Jerry Lee Lewis, Johnny Cash, and Chuck Berry - Matchbox have established themselves as one of the most influential bands on the British Rockabilly and Rock'n Roll scene.

Crazy Cavan 'n' the Rhythm Rockers
Regarded as the greatest Teddy Boy band of all time, Crazy Cavan 'n' the Rhythm Rockers have built a huge following throughout the UK, Europe, USA and Canada. These rock'n roll veterans from South Wales have been rocking stages since the mid sixties in various constellations. Since forming the original Crazy Cavan 'n' the Rhythm Rockers in 1970 and over the course of the last four decades, these rockers have delivered their non-compromising mix of Teddy Boy and Rockabilly on numerous records and countless live performances. With an occasional ballad added into the mix, they manage to keep their sets balanced and dynamic. — So make sure you bring you dancing shoes!

Ignition
Don't let the fact they were formed in 2017 fool you to think that Ignition are inexperienced newcomers on the Rock'n Roll scene. The quartet from Staffordshire came together from recognized Rockabilly bands to form a super group to replicate the Neo Rockabilly sound of the 1980s. Their debut album form 2018 proves that they deliver just that! Their fast paced, hard hitting Rock'n Roll combines references from the 50s up till to today into a potent Rockabilly mix that's certain to blow your hat off! The bands high energy live show has filled top venues across the UK, including The Ace Cafe in London — You are going to be in for treat at Fiddlers!


THE DOORS OPEN AT 19:00

LOCATION: Fiddlers, Willway Street, Bristol, BS3 4BG


SCHEDULE:
19:00 – Doors open
19:30 – Ignition
21:00 – Matchbox
23:00 – Crazy Cavan 'n' the Rhythm Rockers
DJ Rock Ape till 2am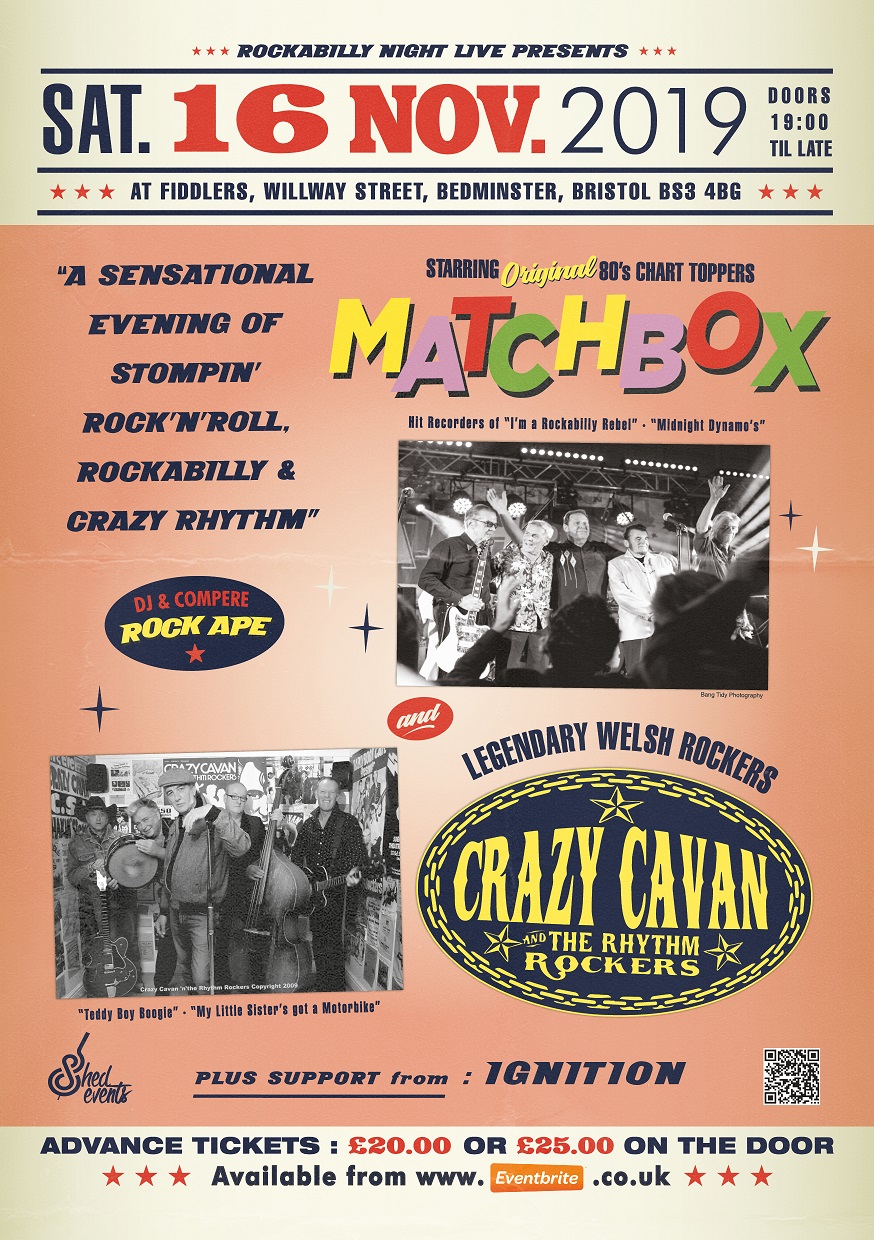 Music Genres:
70s, Country/Americana, Rock & Roll

Please note: The event information above has been added by the organiser. Whilst we try to ensure all details are up-to-date we do not make any warranty or representation as to the accuracy or completeness of the information shown.