This event has already happened!
This event occurred in July 2018. If you're looking for a upcoming event, try the links below:
Reviews of this event
Be the first to leave your review of this event »
Edinburgh Fringe Preview: Caroline Mabey & Lisanne Fridsma

on Friday 13th July 2018
CAROLINE MABEY LEAVES THE ROOM SLOWLY (work in progress)
This year, Caroline Mabey's husband/ boyfriend/ partner (whatever!) gave up his job as an accountant to train as a dog groomer. That's ok! Financial security is overrated -who needs to eat anyway! Apart from possibly their five year old daughter? And is Mabey really cut out to be the breadwinner? It's 2018, men and women are equal, but ... If being the breadwinner means following your dreams down whatever unseemly cul-de-sac they choose to lead you - including five Edinburgh Fringe solo shows resulting in various degrees of financial ruin (and critical acclaim)- then maybe she is. (She's not). One of the most inventive comic voices in Britain, Caroline Mabey ("Oddball genius" -Chortle) is gloriously silly, with a quick, sharp wit. She has recently appeared on Comedy Central as part of their Performance Anxiety campaign, and in Josh Howie's Losing It on BBC Radio 4. She has also written for Radio 4's News Quiz. She is one half of double act the Two Stupids, with multi-award-winning comedian Michael Legge, and co-hosts theSelf Renovators podcast.
"FUNNY AND TOUCHING AND BRILLIANT" –The Guardian
"A KOOKY, MISCHIEVOUS TALENT" – Time Out
"FANTASTICALLY DITZY AND SPECTACULARLY ABSURD…LEAVES YOU FEELING A LITTLE BIT DIZZY AND A BIG BIT HAPPY. A JOY TO BEHOLD." - The Skinny
'Imaginative, askew and always surprising…' (Comedy CV)
'Brilliantly funny... Wonderfully silly... Genuinely inspired' (Fringe Guru)
'Hints of Will Adamsdale, reminiscent of Greg Davies... entertaining and unique' (Chortle)
'Kooky, quirky and delicious' (Time Out).
Lisanne Fridsma: Fitting Image
How do you know where you are going in life? Are you ever done sorting yourself out? Lisanne was given the roadmap to her life at birth. Come and find out if she can follow the road to her destiny. Lisanne Fridsma, a Dutch cake loving introvert, serious about comedy. She has been living in the U.K. for 4 years now, and really makes an effort of fitting in. Her biggest ambition is that someday she'll be called quintessentially British. Not that she is, but she's very fond of the word quintessentially.
Finalist for Bath Comedy Festival New Act of the Year 2017
Semi-finalist for SYTYF Award 2015
Semi-finalist for Laughing Horse New Act of the Year 2015
Winner of Comedy Battle 2008 (Netherlands)
Winner of Rock Around the World 2008 (Netherlands)
Lisanne performs regularly at Angel Comedy in London and is the host of A Piece of Cake!, a monthly free comedy show with homemade cakes in the Bill Murray in London.
Throughout July from Thursday to Sunday we are lucky enough to have some amazing acts doing their Edinburgh Fringe Festival Previews for us here at The Secret Comedy Club. Brighton & Hove, Sussex. They are all just doing one show each so watch as many as you can because this line up is pretty awesome and you don't want to feel like you missed out after! You could literally watch all of these shows and it will still be cheaper than going all the way out to Edinburgh!

Doors 7pm / Start 8pm

With the caliber of acts we have on these shows will sell out fast so get your tickets while you can! (these are not Brighton based acts so you will not be able to see them often in Brighton, but you can now!)


BELOW YOU CAN FIND OUR FULL CALENDAR OF EDINBURGH PREVIEWS FOR THE MONTH. JUST CHOOSE THE SHOWS YOU WANT TO WATCH AND BOOK A TICKET FOR THAT DATE


IDActs PerformingDayDate1 Evelyn Mok Friday 22/06/2018 2 Julian Deane Saturday 23/06/2018 3 Louise Atkinson, Mickey Overman, Lisa Klevemark Thursday 28/06/2018 4 Sara Barron & Cassie Atkinson Friday 29/06/2018 5 Julian Deane Saturday 23/06/2018 6 Mike Sheer Thursday 05/07/2018 7 Aaron Simmonds & Daphna Baram Friday 06/07/2018 8 Thomas Green & Adam Hess Saturday 07/07/2018 9 Daniel Muggleton & Alex Kealy Sunday 08/07/2018 10 Caroline Mabey & Lisanne Fridsma Friday 13/07/2018 11 Loose Brie Saturday 14/07/2018 12 David McIver & Katie Pritchard Thursday 19/07/2018 13 Sarah Iles & Alistair Williams Friday 20/07/2018 14 Julian Deane Saturday 23/06/2018 15 John Pendal Saturday 21/07/2018 16 Dave Fensome w/ Dan Fardell & Al Lubel Thursday 26/07/2018 17 Zahra Barri & Stella Graham Friday 27/07/2018 18 Steve Bugeja & Sean McLoughlin Saturday 28/07/2018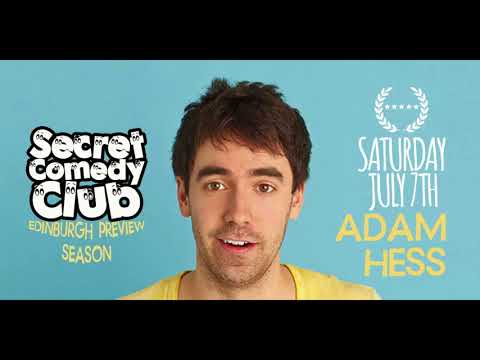 The Secret Comedy Club sells out regularly so priority seating is given to ticket holders who arrive by 7:30pm. If you arrive after 7:30pm and have a pre bought ticket we will still guarantee you a space but we cannot guarantee where you will be seated. Anyone arriving after 7:45pm will only be let in if there are still seats available. No refunds on tickets for late arrivals
Please note: The event information above has been added by the organiser. Whilst we try to ensure all details are up-to-date we do not make any warranty or representation as to the accuracy or completeness of the information shown.