Rescheduled event:
This event was previously scheduled to happen on Saturday 26th June 2021.
This event has already happened!
This event occurred in July 2021. If you're looking for a upcoming event, try the links below:
Reviews of this event
Click here to view all reviews or add your own »
The Boilerhouse Returns

on Saturday 24th July 2021

We are having a 💥💥💥💥💥💥💥'REUNION'💥💥💥💥💥💥💥

We are making the event 18 years of age and over. The event will be for those that remember when music seemed so much better. Check out some of the comments recently on The Boiler House facebook below

👍 Sam Egan You haven't lived if you haven't lost your life to boiler house every weekend!!! 🤪🤪

👍 Natalie Corcoran Absolutely best nights of my life every saturday without fail till 8am kickout sunday 😅😅😅😅

👍 Craig Boss Hutchinson The good old days. Loved this place, great music, amazing atmosphere.
Boilerhouse you are missed

👍 Keeley Jayne I would give anything for 1 more night xxx

👍 Samantha Bell God if this place was still here would be out every weekend what a place it was just great memories

We have listened to you, and felt the love from you over the last few months, and after chatting between DJ's from back in the day.


Only 600 Tickets.

You can take The Boilerhouse out of School Street' but you can't take 'The Boilerhouse out of the hearts of Bradford' 💃🏼🕺🏿✊✊🏿

The Boilerhouse...swimming against the main stream since 1998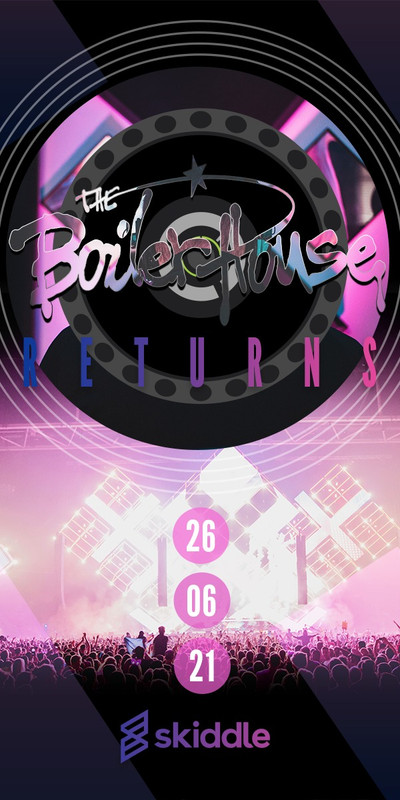 Music Genres:
Bassline

Please note: The event information above has been added by the organiser. Whilst we try to ensure all details are up-to-date we do not make any warranty or representation as to the accuracy or completeness of the information shown.