Beat-Herder Festival 2019

on Friday 12th - Sunday 14th July 2019

For the most up-to-date information about this event, please go here: Beat-Herder Festival Guide

Beat-Herder returns for 2019.

A unique dance festival providing the 'best party you've ever been to' is back for its 14th instalment in the beautiful Ribble Valley in Lancashire.

'Beat-Herder, a dance music festival at heart, is nothing short of amazing. There's not another place like Beat-Herder on Earth - The most spell-bindingly brilliant small festival in the land.'
2019 line up announced...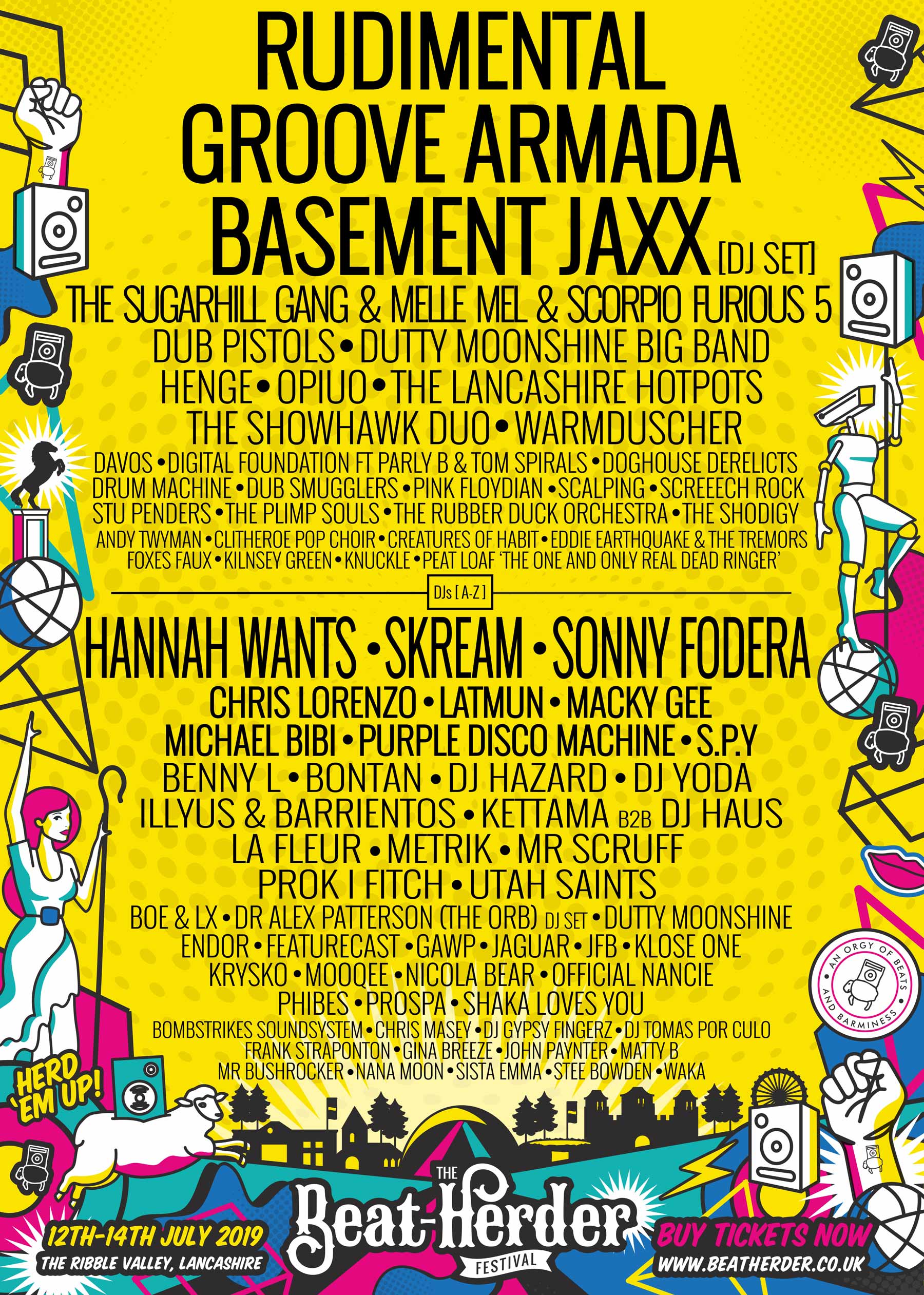 Rudimental
Groove Armada
Basement Jaxx (DJ Set)
The Sugar Hill Gang
Dub Pistols
Dutty Moonshine Big Band
Henge
OPIUO
The Lancashire Hotpots
The ShowHawk Duo
Warmduscher
Davos
Parly B
Tom Spirals
Drum Machine
Dub Smugglers
Pink Floydian
Scalping
The Plimp Souls
The Rubber Duck Orchestra
The Shodigy
Andy Twyman
Creature Of Habit
Peat Loaf
Hannah Wants
Skream
Sonny Fodera
Chris Lorenzo
Latmun
Macky Gee
Michael Bibi
Purple Disco Machine
S.P.Y.
Benny L
Bontan
DJ Hazard
DJ Yoda
Illyus and Barrientos
Illyus & barrientos
KETTAMA
DJ Haus
La Fleur
Metrik
Mr Scruff
Prok & Fitch
Utah Saints
ENDOR
Featurecast
GAWP
Jaguar
JFB
Klose One
Krysko
Nicola Bear
Official Nancie
Phibes
Shaka Loves You
Bombstrikes Soundsystem
Chris Massey
Gina Breeze
All Adult Tickets are subject to a £5 refundable litter bond. This will be refunded at the festival when the ticket holder presents a full bag of litter at a litter bond station in the campsite or campervan field. To ensure only one refund per ticket holder, a special wristband will be issued when you arrive at the event. Free bin bags will be provided at the festival.
In compliance with the festival's Child Protection Policy; Infant, Child and Youth tickets can only be purchased by persons over the age of 25. A MAXIMUM of 2 Youth, Child or Infant tickets, collectively, can be purchased with each Adult Weekend Ticket of any tier. Please see our terms and conditions for more information.
Music Genres:
Disco, Drum n Bass, House, Indie, Techno

Please note: The event information above has been added by the organiser. Whilst we try to ensure all details are up-to-date we do not make any warranty or representation as to the accuracy or completeness of the information shown.