Buy tickets securely
Farmfest 2019

on Thursday 25th - Saturday 27th July 2019

For the most up-to-date information about this event, please go here: Farmfest Festival Guide

... A MISCHIEVOUS MELTING POT OF MUSIC, ARTS, PARTY AND PEOPLE FOR THE FREE AND UNFETTERED.

WE'RE BACK...

Fully refreshed after a year off, Farmfest is back for 2019. AND we've introduced the Thursday night camping option for the first time. EEK.

As always, we've kept our pricing accessible with family tickets available and under 12s going for free.

One of our goals for 2019 is sustainability. As part of our #LoveTheLand scheme, we wish to do our utmost to leave the farm clean and tidy so the animals can go back to their home as quickly as possible. This year a refundable Litter Bond (£3) will be added to all camping tickets. This will be refunded when you produce one full bag of waste or recycling to the Litter Bond Deposit Point along with your Litter Bond ticket. The Litter Bond can be exchanged for a drink at the bar (value £4.50) or refunded in cash (face value). As Part of our Love the Land scheme, we wish to do our utmost to leave the farm clean and tidy so the animals can go back to their home as quickly as possible. More information on collecting your litter and returning your bond will be published in early 2019.

2019 line up announced so far...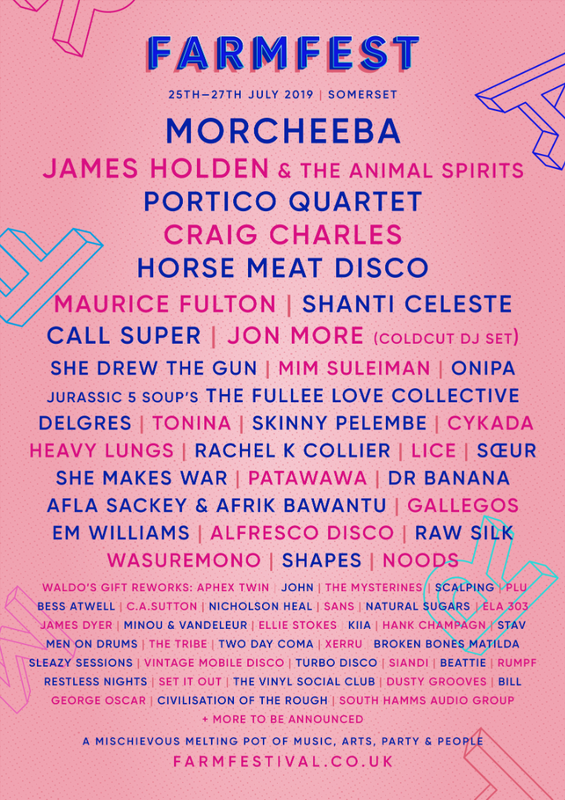 Recently added
James Holden & The Animal Spirits
Portico Quartet
Horse Meat Disco
Maurice Fulton
Call Super
Jon More (Coldcut DJ Set)
Mim Suleiman
Delgres
Cykada
Rachel K Collier
Patawawa
Dr. Banana
Afla Sackey & Afrik Bawantu
Gallegos
em williams
Alfresco Disco
RAW SILK
Shapes
Noods Radio
SCALPING
Plu
Bess Atwell
C.A. Sutton
SANS
Natural Sugars
Ela 303
James Dyre
Minou & Vandeleur
Ellie Stokes
Kiia
Hank Champagn
Stav
Men on Drums
The Tribe
Two Day Coma
Xerru
Broken Bones Matilda
Sleazy Sessions
Vintage Mobile Disco
Turbo Disco
Siandi
Beattie
Rumpf
Restless Nights
Set it Out
The Vinyl Social Club
Dusty Grooves
Bill
George Oscar
Civilisation of the Rough
South Hamms Audio Group
Previously added
Morcheeba
Craig Charles
She Drew The Gun
Jurassic 5's Soup Presents: The Fullee Love Collective
Shanti Celeste
Skinny Pelembe
Onipa
Heavy Lungs
Wasuremono
Tonina
Lice
Sœur
She Makes War
The Mysterines
Waldo's Gift Reworks: Aphex Twin
Nicholson Heal
John
Music Genres:
Disco, Electronic, House, Indie, World Music

Please note: The event information above has been added by the organiser. Whilst we try to ensure all details are up-to-date we do not make any warranty or representation as to the accuracy or completeness of the information shown.