Disclaimer: The article below has been contributed by the event promoter or somebody representing the event promoter. As such we take no responsibility for accuracy of the content and any views expressed are not necessarily those of Skiddle or our staff.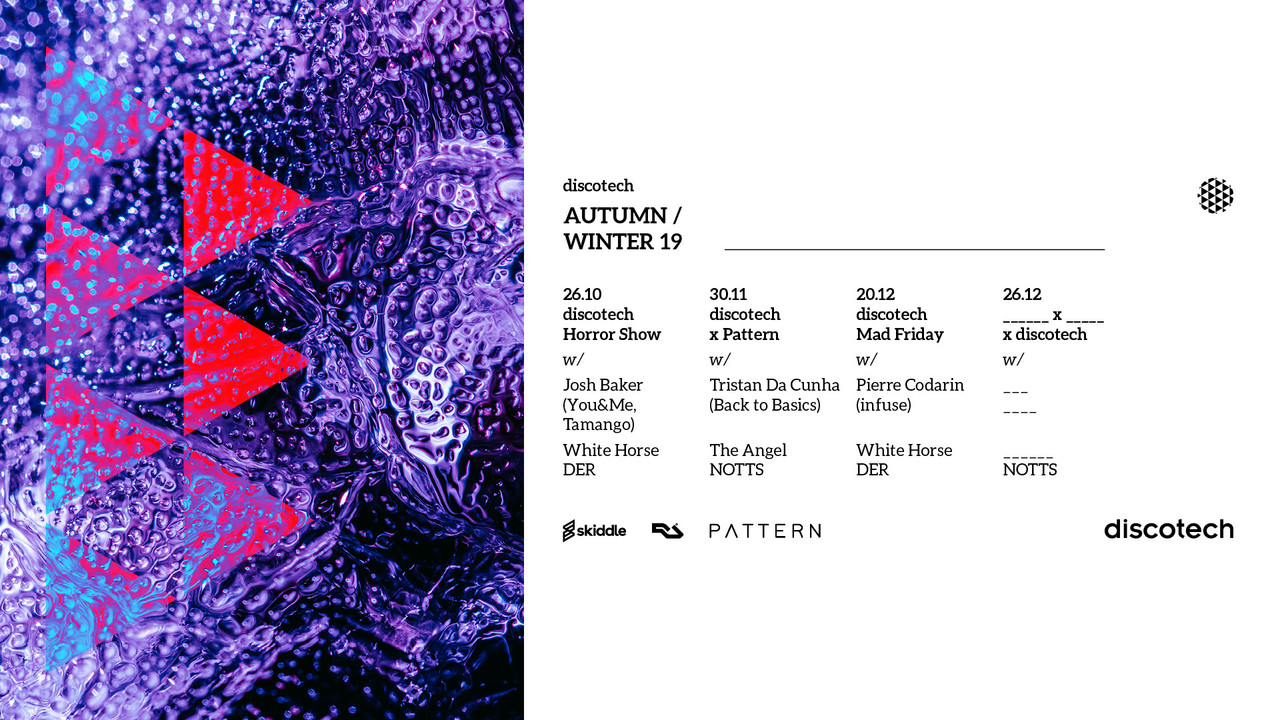 Discotech launches up it's next series of events including 4 parties across the Derby & Nottingham brining some of the UK's finest underground talent to the midlands. Discotech now in it's 7th year has welcomed the likes of Rossko, Seb Zito, Burnski, Subb-an, Adam Shelton and many more to the decks over the years championing a sound of all things minimal, garage and house.
In Derby discotech will be holding two parties in October and December at the infamous The White Horse terrace bringing in their new Pioneer XY System, which has recently been installed in fabric's 2nd and 3rd rooms.
They will kick things off in Saturday 26 October welcoming very special guest Josh Baker (You&Me). Josh is quickly gaining recognition from around the world with his releases been played out by the likes of Apollonia, Enzo Siragusa, Barac, Yaya, Ben Rau, Rich NxT and Richy Ahmed to name a few. His party You&Me has become a staple of clubbing in Manchester and beyond in recent years also.
Pierre Codarin graces the decks for their return trip to the venue for discotech's festive celebrations. Expect a perfect blend of garage, house and minimal; Pierre has recently brought out EP's on Infuse and Adult Only and supported by the likes of Enzo Siragusa, Apollonia and many more.
Nottingham side see's the party work with Pattern for a very special collaboration event with Leeds cult legend Tristan Da Cuhna providing the soundtrack. The Back to Basics resident is seen regularly on line ups at fabric, Houghton and Gottwood to name a few welcoming his unique blend of all things house and techno.
Discotech's fourth and final event will be announced later this year.
The Autumn / Winter season comes after a busy few month's where the lads have recently returned from Ibiza where they hosted the Rabbit Hole at the Zoo Project laying the way for their newest project discotech records. More will be dropping about this in the next couple of weeks.
Check out the parties for more info -> www.facebook.com/discotechonline
Tickets are no longer available for this event