A Love Affair with DJ EZ
Keep track of Bass Music Awards in Association with Skiddle events, tickets and news - all in one place. Join this group now for updates as they happen!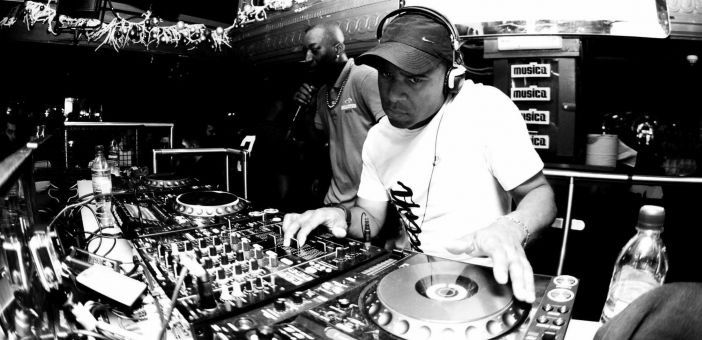 Becca Frankland reveals why she's an EZ lover in her recount of what makes the garage legend so special.
22nd Jan 2015
Image: DJ EZ
With four-to-the-floor beats favoured by some of the most in demand young artists, the house and garage trend shows no sign of slowing down. The latter genre, at least the UK flavoured version, has come full circle and one artist in particular has been at the forefront of its rise, fall and rise again. No other DJ in the world flies the flag for UKG with the same passion and finesse - DJ EZ is simply a master of his trade.
You know the drill when it comes to DJ backgrounds, they get their first pair of decks and the stars align, or something like that. It was a different ball game for EZ. At the tender age of 13 he started mixing on a portable tape player, meddling with the pitch speed and mixing from audio tape to audio tape, resulting in a deeper understanding of what is required to partner tracks together.
After buying a transmitter and soldering some audio leads, he broadcast his first show to a few streets in the area. Persistence paid off and he was eventually picked up by pirate station Dance 93FM.
After years of fluttering between other stations and making himself known within the London club circuit, EZ then became a guest on Kiss 100 in 1998 (listen to his first ever show below), and the rest was history.
DJ EZ - Kiss FM [First Ever Show] - 09/04/1998 by Getdarker on Mixcloud
EZ soon established himself as one of the genre's best DJs through his signature quick mixing and awareness of what the crowds and listeners craved. It's something that still makes his sets stand out from the rest.
The first time I had the pleasure of seeing EZ live was at Bugged Out Weekender 2014, in the smallest of the three rooms to a crowd of no more than 200 people. Kitted out in his trademark Nike tee and baseball cap, he took his position behind the decks. That signature "DJ EZ" female vocal intro beaconed the beginning of his set, and before I had time to think the room erupted.
He mixed ultimate garage classics like Daniel Bedingfield's 'Gotta Get Thru This' into the Element Z remix of Storm Queen's 'Look Right Through', a nod to current bangers and noughties hits. That sums EZ up, he's still completely in touch with the music being released today, but knows the full back catalogue of his genre filled with all the tracks that helped shape the sound.
He teases boisterous crowds, then goes straight into something mega like DJ Zinc's 'Blunt Edge' before offering a sing-a-long via Sweet Female Attitude's 'Flowers', turning even the most reserved ravers into lunatics. Attempting to keep up the pace with EZ is half the fun of seeing him live.
DJ EZ - best DJ in the world. I welcome your arguments.

— JACKMASTER (@jackmaster) January 19, 2013
EZ's technical prowess blows other DJs out of the water. He's like a snake charmer with a pair of CDJs. I've never seen an artist work the equipment and utilise what's in front of them the way EZ does, it's a delight to watch (check out his Boiler Room below to see what I mean, the two hour mark is a personal highlight). He's inspired a generation to start DJing, and is praised by the artists we love today (Jackmaster's tweet above is a prime example).
In September of last year he hung up his headphones at Kiss but this doesn't mark the end for EZ, just a new chapter. He's set to focus on touring, and from the smallest of venues to the biggest of festivals, from the UK to Asia, the reception is the same and more and more crowds will begin their love affair with the garage godfather.
Find upcoming DJ EZ tickets.
Disclaimer: The article above has been contributed by the event promoter or somebody representing the event promoter. As such we take no responsibility for accuracy of the content and any views expressed are not necessarily those of Skiddle or our staff.
« return to Bass Music Awards in Association with Skiddle news