Party at the Palace 2022 festival 2022 Tickets
About Party at the Palace 2022 festival 2022
Party At The Palace is back and bigger than ever in 2022. The Scottish festival is situated ideally between both Glasgow and Edinburgh in Linlithgow, making it easily accessible. Taking place on Friday 12 - 14th August 2022, the lineup boasts names from rock and pop such as Manic Street Preachers and newcomers The Snuts on the Saturday.
Sophie Ellis Bextor, hot off Kitchen Disco success will also be playing. On the Sunday it is the turn of Del Amitri, Hue and Cry and The Silencers to provide the music under the shadow of nearby Linlithgow Palace. The event caters for all and is family friendly, featuring kids activities, market stalls, a silent disco and a whole host of food and drink outlets.
Not only does Party At The Palace have a fine lineup of rock and pop acts, it also shows off some of Scotland's best bands. It's set to be a lively affair.
Friday Added!
The Biggest Party of the summer just got even bigger! We're opening our gates a day early on Friday 6th August for an evening of live comedy, food and a few beers. We've teamed up with Just The Tonic and rounded up some of the finest comedians in the country to bring them to Linlithgow. Featuring… Dara O'Briain, Rich Hall, Des Clarke, Flo & Joan, Tom Stade and hosted by the amazing Suzie McCabe.
Bolt On tickets for those who already have PATP tickets are only £20 or £25 without. There is a limited capacity of just 2,000 on the Friday night so get in quick if you fancy a laugh to kick off the biggest party of the year!
As some of the humour will no doubt be adult orientated, this one is aimed at grown ups – unless your kids are like mine and hear the odd sweary word on the school run.
Music genres: Rock, Pop, Indie, Folk, Country/Americana
Party at the Palace 2022 festival Reviews
Our visitors have reviewed Party at the Palace 2022 festival 42 times. Read reviews of this festival »
Average rating:
4/5
from 42 reviews
Party at the Palace 2022 festival line up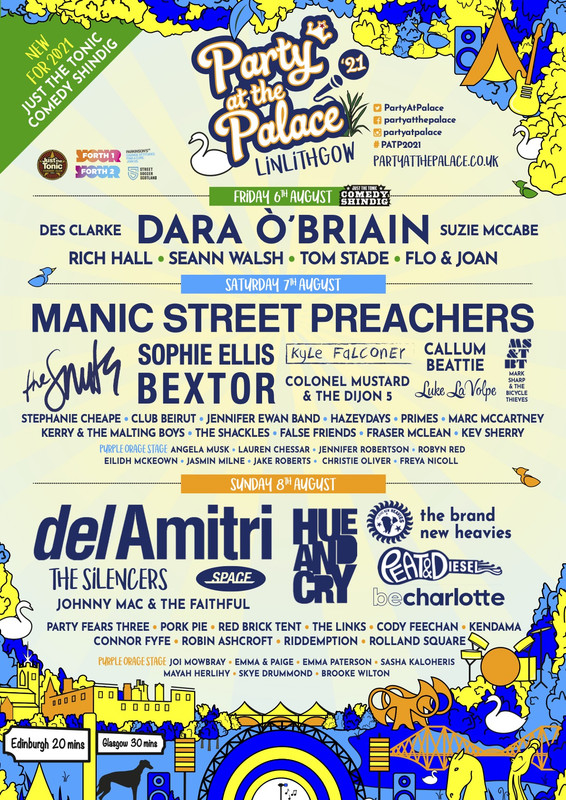 Callum Beattie / Hue and Cry / Manic Street Preachers / Space / Johnny Mac, Sophie Ellis-Bextor
Party at the Palace 2022 festival information & FAQs
Disabled Access Information
Travelling to/from the festival
Map of Hotels near festival site
Explore similar festivals to Party at the Palace 2022 festival
Find similar festivals by exploring the categories and classifications below:
Categories: Family Friendly festivals, Mainstream / Pop Music festivals, Budget festivals
Type: Music festivals, Family Friendly festivals
Size: Very Small sized festivals
Amenities: Toilets, Luxury Toilets