Legends In The City 2020 Line up
The lineup for Legends In The City can be found below:
2020 line up*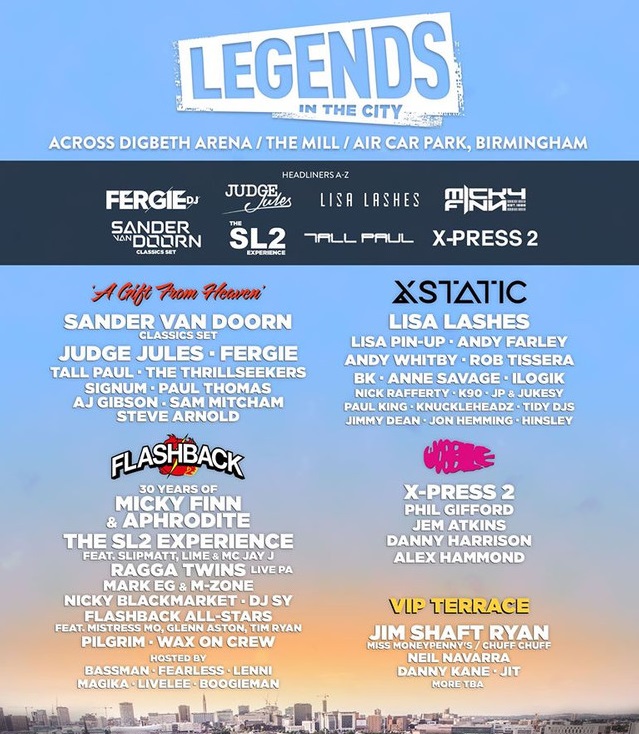 *Line Up prior to postponement. Subject to change.
Curated By
LISA LASHES
FERGIE
JIM SHAFT RYAN
MISTRESS MO
PHIL GIFFORD
A Gift From Heaven
Sander Van Doorn (Classics Set)
Judge Jules
Fergie
Tall Paul
The Thrillseekers
Signum
Paul Thomas
AJ Gibson
Sam Mitcham
Steve Arnold
Xstatic
Lisa Lashes
Lisa Pin-Up
Andy Farley
Andy Whitby
Rob Tissera
BK
Anne Savage
Ilogik
Nick Rafferty
K90
JP & Jukesy
Paul King
Knuckelheadz
Tidy DJs
Jimmy Dean
Jon Hemming
Hinsley
Flashback
Micky Finn & Aphrodite
The SL2 Experience (feat Slipmatt, Lime & MC Jay J
Ragga Twins
Mark EG & M-Zone
Nicky Blackmarket
DJ Sy
Flashback All-Stars (Feat. Mistress Mo, Glenn Aston, Tim Ryan)
Pilgrim
Wax On Crew
Hosted by:
Bassman
Fearless
Lenni
Magika
Livelee
Boogieman
Wobble
X-Press 2
Phil Gifford
Jem Atkins
Danny Harrison
Alex Hammond
VIP Terrace
Jim Shaft Ryan (Miss Moneypenny's / Chuff Chuff)
Neil Navarra
Danny Kane
JIT
& more TBA
Got your Legends In The City tickets yet?
Legends In The City 2020, Birmingham
Saturday 3rd October 2020 tickets:
Last Year's Legends In The City Lineup
 

Main Stage
Eddie Halliwell
Mauro Picotto
Scot Project '25 Years Set'
Fergie
Tall Paul 
Jon O'Bir / Paul Thomas
AJ Gibson / Daniel Soto
Steve Arnold / Sam Mitcham
Special Guest TBA


East Arena
Jeremy Healy
Sonique (Live PA)
Freemasons (Russell Small)
Herd & Fitz (Feat. Abigail Bailey)
Jon Pleased Wimmin 
Lisa Mallett (Live PA)
Amanda Wilson (Live PA)
Jim Shaft Ryan
Neil Navarra / Alan Hartley 

South Arena
DJ Hype 
Randall
Micky Finn
Ratpack
Shades of Rhythm (Live PA)
Top Buzz
Ratty 
Mistress Mo / Pilgrim 
Tim Ryan / Glenn Aston 

Hosted by MC's: GQ, Bassman, Lenni
IC3, Evenson Allen, Magika, Mad P 

West Arena
Fergie
Lisa Lashes
Lisa Pin Up 
Andy Whitby
Andy Farley
Rob Tissera
Anne Savage
K90 (Live) / Ilogik 
Nick Rafferty / JP & Jukesy
Sarah G / Hinsley
Pearce M / Miss April 


Buy Legends In The City Tickets »
« Back to Legends In The City home
« Back to Festivals 2020 guide