Belladrum Tartan Heart 2021 Line up
The lineup for Belladrum Tartan Heart can be found below:
2021 LINE UP ANNOUNCED FOR BELLA FEATURING
HEADLINERS NILE RODGERS & CHIC, VAN MORRISON, & EMELI SANDE, PLUS THE FRATELLIS, PASSENGER, SHED SEVEN & MUCH MORE.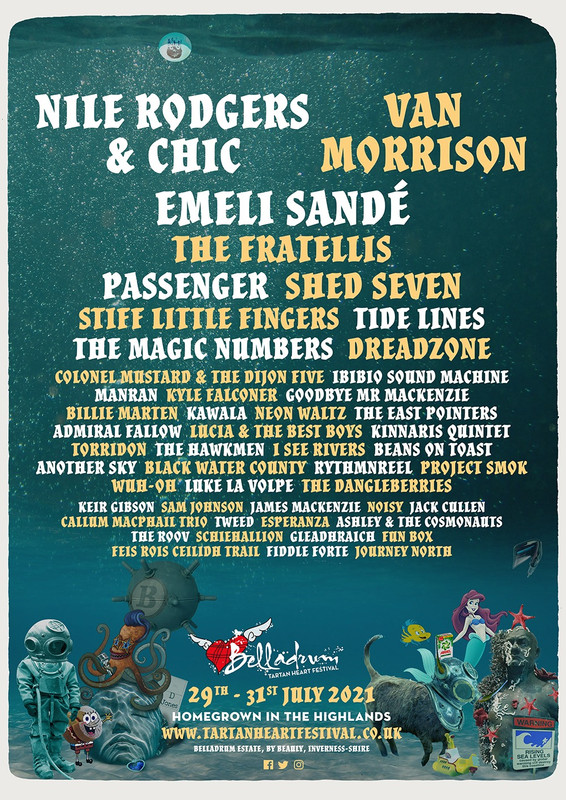 Nile Rogers & Chic

Van Morrison
Emeli Sande
Passenger
Shed Seven
Stiff Little Fingers
Tide Lines
The Magic Numbers
Colonel Mustard & The Dijon Five
Ibibio Sound Machine
Manran
Kyle Falconer
Billie Marten

Kawala

Neon Waltz

The East Pointers
The Hawkmen

Beans on Toast

The Kinaris Quintet
I See Rivers

Black Water County

Another Sky

Project Smok

Wuh Oh

Luke La Volpe

Kier Gibson

Sam Johnson

Noisy

Jack Cullen
Rhythmnreel
The Dangleberries
James Mckenzie
Esperanza
Callum Mcphail Trio
Fun Box
The Roov
Tweed
Schiehallion
Journey North
Got your Belladrum Tartan Heart tickets yet?
Belladrum Tartan Heart Festival, Inverness
Thursday 29th July 2021 - Sunday 1st August 2021 tickets:
Last Year's Belladrum Tartan Heart Lineup
2019 Line Up

Jess Glynne
Elbow
Chvrches
Johnny Marr
Glasvegas
Richard Thompson
Tom Odell
Lewis Capaldi
Hawkwind
The Selecter
Colonel Mustard and the Dijon Five
The Coral
Skerryvore
Sugarhill Gang
Coco & the Butterfields
The Poozies
Torridon
The Dangleberries
Bombskare
Dodies
... and more.
Buy Belladrum Tartan Heart Tickets »
« Back to Belladrum Tartan Heart home
« Back to Festivals 2020 guide