About Metrofest festival 2021
The Metropolitan Festival, or Metrofest for short is a new UK festival taking place in London's Trent Park. The Metrofest lineup will bring some of the finest R&B and hip-hop talent to the UK and will see Fat Joe taking to the stage for his first ever UK performance!
Other names on the bill include the likes of Blackstreet, Fatman Scoop, Mya and Bobby V across an unmissable day of talent. This is one for the oldskool R&B and hip-hop fans, taking place across multiple stages the festival aims to create that signature summer feeling and surely there is no better place to do so than in the luscious surroundings of Trent Park.
To compliment the main stage performers, DJ's will be on duty, such as Collin Francis and Mike Panteli to provide you with R&B classics all day long. With two special guest headliners to be announced, it's recommended that you secure your Metrofest tickets ASAP!
Music genres: R&B, Old Skool, Pop, Hip Hop, Jungle
Metrofest festival line up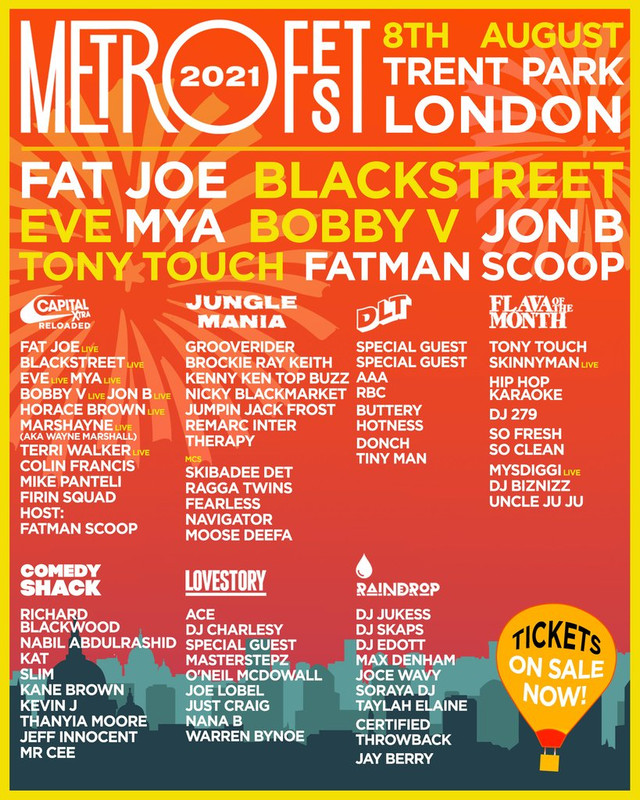 Metrofest festival information & FAQs
Disabled Access Information
Travelling to/from the festival
Map of Hotels near festival site
Explore similar festivals to Metrofest festival
Find similar festivals by exploring the categories and classifications below:
Categories: Dance Music festivals
Type: Music festivals
Size: Small sized festivals
Amenities: Toilets