Whether you're arriving in Leeds for the first time or returning for another year of uni in Leeds, the Yorkshire city is undoubtedly one of the best places in the UK for students - just ask any of the 30,000 plus that currently call Leeds home. It's simply a tremendous city, where the people, the culture, the music and of course the fashion come together to create a unique experience for any resident.
Most of you will be studying at either The University of Leeds or Leeds Metropolitan University, but there's also a scattering of other higher education institutes including Leeds Trinity College, Leeds College of Art and Leeds College of Music, which all create a vibrant, open-minded city that is home to a superb music and social scene with a strong sense of community.
There's plenty to do, see, and explore during your time in the city, so to help you get started we've compiled this handy Leeds freshers' guide.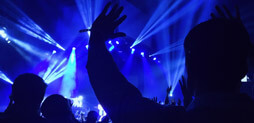 nightlife
Leeds is literally crammed with bars and clubs to suit every kind of student and every sort of night out. You'll find many of these in the student hotspot of Headingley, an area which will no doubt be responsible for the death of many a brain cell during the next three years. …
nightlife
Popular Leeds venues - find out what's on where
Whether you're an avid underground clubber, fashionable funky house head or prefer your live music, check these popular Leeds venues for upcoming events, or view our full what's on guide for loads more...
Get personalised events straight to your inbox
Want to be kept bang up-to-date with what's going on near you? Skiddle's got you covered. Simply click the button below to sign up and every week we'll send you our newsletter packed with events we think you'll like.
Leeds Freshers News
Keep up to date with what's happening your new city. With all the latest tour annoucements and clubbing line ups, our Leeds news has you covered.