With 100,000 students spread between three universities, Manchester boasts one of the largest student populations of any city in Europe. The University of Manchester, is the city's main student hive with the main campus located on Oxford Road and further buildings in the city centre.
A stone's throw away from The University of Manchester, also on Oxford Road, is MMU (Manchester Metropolitan University), while The University of Salford lies a five minute bus ride out of the other side of the city centre.
The city's nightlife caters for all with numerous bars and nightclubs that put on nights dedicated to house, garage, funk, indie, hip hop and loads more. Manchester's clubbing scene is steeped in history and even in the wake of the Hacienda's closure it still boasts some of the country's best-known clubs.
Freshers' week brings with it night after night of partying so keep a keen eye on our Fresher's Guide to find out which of the city's hottest nights you should be heading down to.
After Fresher's Week is done be sure to visit our Manchester What's On Guide and make sure you get the most out of Manchester.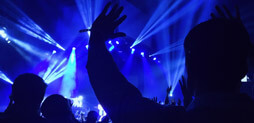 nightlife
Manchester's nightlife is practically as busy as its daylife, with one of the strongest music clubbing scenes in the country. And with one of the UK's largest student populations, there's no end to cheap student nights. In fact, you'll be completely spoilt for choice. Take
nightlife
Popular Manchester venues - find out what's on where
Whether you're an avid underground clubber, fashionable funky house head or prefer your live music, check these popular Manchester venues for upcoming events, or view our full what's on guide for loads more...
Kano
-

Fri 4th Oct 2019 at 6:00pm
Get personalised events straight to your inbox
Want to be kept bang up-to-date with what's going on near you? Skiddle's got you covered. Simply click the button below to sign up and every week we'll send you our newsletter packed with events we think you'll like.
Manchester Freshers News
Keep up to date with what's happening your new city. With all the latest tour annoucements and clubbing line ups, our Manchester news has you covered.