Welcome to Edinburgh! The capital of Scotland will be your home from home for the next few years, and what a great place to live. Edinburgh is positively brimming with some of the finest nightlife in Scotland, whilst the university, the sixth oldest in the English speaking world, is one of the most respected institutions for higher education in the UK - Charles Darwin, Arthur Conan Doyle, and Robert Louis Stevenson make up just a few of its alumni.
Sneaky Pete's, The Liquid Room, and La Belle Angele always host great club nights and live gigs, with the occasional mammoth festival taking place at the Royal Highland Centre. Keep and eye on Colours and Nightvision for some of the biggest rave ups in the city.
After Freshers' Week has passed, you might want to check out our comprehensive guide to What's On In Edinburgh for all the latest listings in clubbing, comedy, gigs and more. You can also check out our guide to Edinburgh here.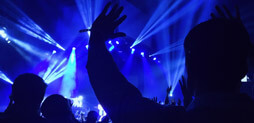 nightlife
With so much in the way of clubbing in Edinburgh, Freshers' season boasts an enormous selection of places primed for you academics. The city bulges with great clubs and live music venues, whilst the endless cocktail bars, pubs, and restaurants mean your evenings will be more than catered for ov…
nightlife
Popular Edinburgh venues - find out what's on where
Whether you're an avid underground clubber, fashionable funky house head or prefer your live music, check these popular Edinburgh venues for upcoming events, or view our full what's on guide for loads more...
Get personalised events straight to your inbox
Want to be kept bang up-to-date with what's going on near you? Skiddle's got you covered. Simply click the button below to sign up and every week we'll send you our newsletter packed with events we think you'll like.
Edinburgh Freshers News
Keep up to date with what's happening your new city. With all the latest tour annoucements and clubbing line ups, our Edinburgh news has you covered.
Other places near Edinburgh
Browse Freshers Guides for these nearby places.