As the UK's second largest city with a booming student population, Birmingham is an excellent place to spend the next few years earning your degree. Outside of the Unis themselves, all the other essential ingredients are in place - from a flourishing nightlife to a shopping paradise, Birmingham has plenty of things to see and do when you're looking for that all important break from all those assignments.
Whether you're looking to get a bite to eat with your course mates or popping for a quick drink with your friends, you're bound to find something that fits your needs both inside and outside of Freshers' Week. In the meantime check out our Birmingham What's On Guide to get a taste for the city and see what's going on in the heart of the Midlands.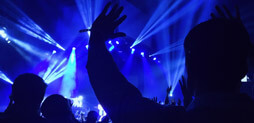 nightlife
There's no denying the fact that one of the fundamental parts of student life is the nightlife, and with plenty of societies, freshers and sports clubs to satisfy, Freshers' Week has got to be spot on to get the ball rolling for the rest of the year. Fortu
nightlife
Popular Birmingham venues - find out what's on where
Whether you're an avid underground clubber, fashionable funky house head or prefer your live music, check these popular Birmingham venues for upcoming events, or view our full what's on guide for loads more...
Get personalised events straight to your inbox
Want to be kept bang up-to-date with what's going on near you? Skiddle's got you covered. Simply click the button below to sign up and every week we'll send you our newsletter packed with events we think you'll like.
Birmingham Freshers News
Keep up to date with what's happening your new city. With all the latest tour annoucements and clubbing line ups, our Birmingham news has you covered.
Other places near Birmingham
Browse Freshers Guides for these nearby places.