At the Playground 18th 19th May 2012 tickets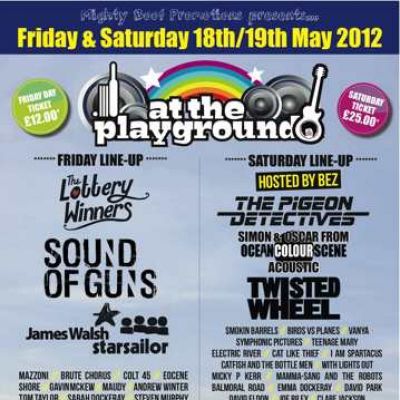 The Playground, Whitehaven Sat 19th May 2012
30 acts 4 stages two days £30.00 Weekend ticket Day Tickets Friday Day Ticket £12 Saturday Day Ticket £25 ( Tickets subject to booking fee )
This event has now passed
Reviews of this event
Be the first to leave your review of this event »
Lineup and Details for
At the Playground 18th 19th May 2012

on Sat 19th May 2012

Mighty Boof promotions Present

AT THE PLAYGROUND 2012

18TH 19TH MAY

Whitehaven Wrufc & Wcc Pitches ( The Playground )

( Subject to licence )

This year we are back bigger and better as promised !!!!


SATURDAY LINE UP

Pigeon Detectives
Simon and Oscar from Ocean Colour scene
Twisted wheel
Smokin Barrels
Birds Vs Planes
Vanya
Symphonic pictures
Teenage mary
Electric river
House Of Three Hands
Cat like thief
I am spartacus
Catfish and the bottle men
With lights out
Mickey p kerr
Mamma-sang and the robots
Balmoral road
Religion Of Tomorrow
Emma dockeray
Clare jackson
David park
David eldon
Anya & Ged
Joe riley

Saturday's main stage hosted by Bez ( Happy mondays )

FRIDAY LINE UP

Lottery winners
Sound of guns
James walsh ( Starsailor )
Brute Chorus
Colt 45
Mazzoni
Eocene
Shore
Sails
Gavin Mckew
Maudy
Proudbone Project
Andrew Winter
Steven Murphy
Tom Taylor
Sarah Dockeray
Ray Mckew
Bella
Arran george

ALL WEEKEND

No alternative Dj's in dance tent
Craig Docherty and Dj Pavarotti & Phil Bridges

Ready Steady Go Northern Soul tent
Djs Chotch & Dob

As last year was our first year we have learned a lot of valuble lessons and acted on them for next year . We got a lot of very postive feedback this year and we thank you for that and hope we have acted on it .

This year we have firstly improved the bars this was our main concern from this year and something we needed to sort out so i can say there will be no repeat of last year . We will have bigger outdoor bars on site and a seperate soft drink bars aswell as shot stations on site.

Well thats that bit explained

2012's At The playground will run across 2 days this year will also feature more stages which means more live acts for your listening pleasure as we said before definitely improved bars a lot more food traders onsite and a new and improved kids area more toilets and a few surprises we wont reveal just yet .


Tickets on sale Friday 10th feb 9am

TICKET PRICES

ADULT WEEKEND TICKET £30
ADULT FRIDAY TICKET £12
ADULT SATURDAY TICKET £25
UNDER 10'S DAY TICKET £5
From

Threads 16 king street Whitehaven 01946690008
Four Play Cycles 25 Market Place Cockermouth, 01900 823377.
S4 3 Lonsdale Street Carlisle 01228 592 373
Beggars Theatre Market Square Millom 0161 408 6389

Online at

www.mightyboofpromotions.com
www.skiddle.com

Booking fees apply

Gates open
Friday 4pm
Saturday 12pm

Sponsors are

The guide media group
Lake District Camper hire

This is a all ages event



INVITE ALL YA FRIENDS TO THIS AND JOIN THE BOOF FANSITE AND AT THE PLAYGROUND PAGE WE WILL BE GIVING AWAY FREE TICKETS RIGHT UP UNTIL THE EVENT IF YOU ARE A MEMBER YOU STAND A CHANCE OF WINNING

WE WILL ALSO BE GIVING A FREE YEARS PASS TO ALL OUR EVENTS FOR 2012 SOMETIME IN THE NEW YEAR

SO MORE REASON TO JOIN

BOOF FAN SITE LINK FOR ALL EVENTS

http://www.facebook.com/pages/Mighty-Boof-Promotions-Events/101883526568063

HERES THE LINK FOR PLAYGROUND EVENT

http://www.facebook.com/events/create/?gid=101883526568063






Please note: The event information above has been added by the organiser. Whilst we try to ensure all details are up-to-date we do not make any warranty or representation as to the accuracy or completeness of the information shown.
Venue Information
Richmond terrace,
Whitehaven,
CA28 7qr
Tel: 01946690008
Discuss At the Playground 18th 19th May 2012