LIMEHOUSE LIZZY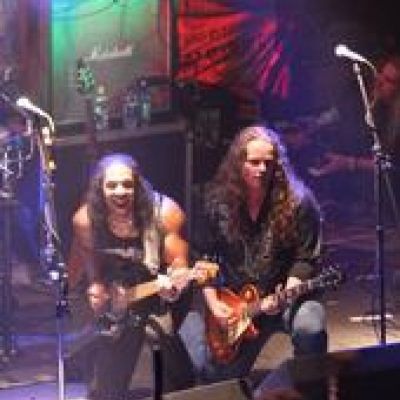 Kirkhamgate Village Hall, Wakefield Sat 28th July 2012
Limehouse Lizzy return by popular demand www.kirkhamgatevillagehall.webs.com
Date: Saturday 28th July 2012
Venue: Kirkhamgate Village Hall »
Location: Wakefield »
Reviews of this event
Be the first to leave your review of this event »
Event photos added by members
Be the first to add your photos of this event »
Lineup and Details for
LIMEHOUSE LIZZY

on Sat 28th July 2012

Armed with some of the most evocative and powerful tracks in rock history, 'Limehouse Lizzy' are an outstanding outfit who perform a stirring and detailed tribute act to the great 'Philip Lynott' and 'Thin Lizzy'.

With the tragic and premature death of 'Philo' in 1986, the music world mourned the passing of one of its most original and exciting stars. It would take a very special band indeed to honour such a talent in a way that original fans of Thin Lizzy could appreciate, and in a way that would properly evoke the spirit of such a legendary performer to a whole host of new fans who never had the chance to share the experience.

Limehouse Lizzy are such a band. Formed in Limehouse, East London, in early 1993, they have accomplished a staggering amount in a short space of time. Extensive touring in the UK and all over the world, has earned Limehouse a fiercely loyal collection of fans globally, as their now international mailing list of over 4000 will attribute. Not that surprising a fact when the band are regularly hailed as the best Thin Lizzy tribute around by press and admirers alike.

Such praise has not been lightly earned by Limehouse Lizzy.

For a start, they have a natural advantage over any would-be Lizzy tribute, in a front-man who is uncannily similar in appearance to the unforgettable Lynott, without the need of wigs, or stage props. From the sleepy eyed intensity that was such a trademark of Lynott, to the mirrored bass guitar, Wayne Ellis sings note perfect renditions of Lizzy classics, recreating that distinctive Lynott vocal delivery with breathtaking accuracy.

Secondly, Limehouse Lizzy deliver an irresistible blend of energy and passion in a show that is immaculately choreographed and polished. Complete with mirrored Lizzy backdrop, police lights, smoke and sirens. The choice of tracks displays an extensive 'in depth knowledge' and affection of the works of Philip Lynott by all four band members, fans are treated to renditions of not only the classics like "The boys are back in town", "Whiskey" and "Rosalie", but they also get to hear lesser known album tracks like "Opium trail", "Borderline", "Got to give it up" and "Genocide" to name a few. These are always appreciated by the 'Lizzy diehards'.

The torrent of plaudits that the group regularly receive from local and national press alike, pays tribute to their technical ability, attention to detail and uncanny ability to recreate the spirit, as well as the sound and appearance of Philips' 'Thin Lizzy'.

These factors contributed to Limehouse Lizzy being voted "third top tribute act in the News of The World, two sell out shows at the famous 'Marquee Club' in London, three Irish tours, and a TV appearance on 'Pebble Mill'. All this within one year!

Best of all however, was the teaming up with none other than Lizzy guitarist 'Brian Robertson' to storm a through a 14 date tour of Sweden, culminating with Wayne and drummer Andy Fox, joining 'Robbo's' band 'The Clan' as rhythm section to record his E.P... .they even managed to get a mention in the book 'Philip Lynott - The Rocker'

A truly remarkable achievement for a 'tribute' band.

New year 1996 saw the boys headline an 'MTV broadcast' at the point depot in Dublin in front of a sell-out audience of 8,000. With a star studded cast all paying their respect, and own interpretations of Lizzy favourites. The ultimate accolade however, was the honour of headlining the '11th. Annual Vibe for Philo concert' a spot normally reserved for original Thin Lizzy members only.

The Limehouse live show continues to 'roll on' at an exhausting rate, averaging 200 live shows each, and every year, bringing the house down time after time, gig after gig, and at last the long awaited debut CD from 'Limehouse Lizzy' featuring the 'cream' of Thin Lizzys' catalogue is due for release soon.

Wayne, Andy, and founder member and guitarist 'Greg Alcock' have recently been joined by Lizzy 'diehard' guitar slinger 'Greg Hart', and 2000 has already seen a memorable show with the 'Levellers' at the Derby rock and blues festival, and a triumphant gig at the 'Olympia theatre' in Dublin in front of a packed crowd of Thin Lizzy fanatics.

The final words about 'Limehouse Lizzy' should go to Philips' mother - Philomena Lynott. Before making her speech after the bands' performance, visibly moved, her opening comment was

"How can you follow that?"...

And original Thin Lizzy guitarist "Scott Gorham", who on seeing one of the earlier shows, was impressed enough to comment

"Phil would have approved"

" 'til the next time....thank you..."

Please note: The event information above has been added by the organiser. Whilst we try to ensure all details are up-to-date we do not make any warranty or representation as to the accuracy or completeness of the information shown.
Venue Information
Brandy Carr Rd, Kirkhamgate,
Wakefield,
WF2 0RS
Tel: 01924 366804
Discuss LIMEHOUSE LIZZY