Unbroken Presents: Darling Farah + Adapted Notion Label Launch tickets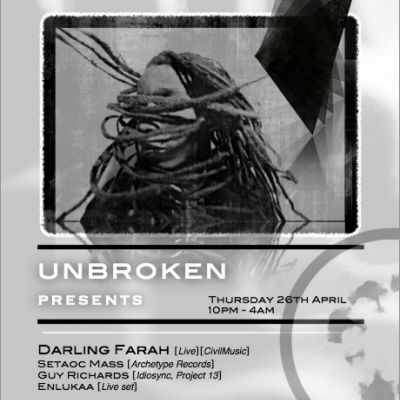 The Attic, Manchester Thu 26th April 2012
Unbroken is a new Manchester club night looking to push new and fresh music within the House//Techno//Bass world
Date: Thursday 26th April 2012
Venue: The Attic »
Location: Manchester »
Reviews of this event
Be the first to leave your review of this event »
Event photos added by members
Be the first to add your photos of this event »
Lineup and Details for
Unbroken Presents: Darling Farah + Adapted Notion Label Launch

on Thu 26th April 2012

Unbroken is the brain child of Ben Marsden via his university 3rd year project. With his past experience within promoting Unbroken looks to bring some fresh sounds and ethos to Manchesters healthy club scene.

With a keen ear for up and coming music we aim to bring some not so obvious artists that will hopefully go onto bigger things in the future.

First up we bring you someone who's ben bubbling under the bastard sound that is Bass music and more recently provided us with the division ep which turned a lot of heads. So much so that Resident Advisor decided he was worth a spot in there breaking through series:

you can check out the article here:
http://www.residentadvisor.net/feature.aspx?1520

and here's some cuts of the Division EP:

Division:
http://www.youtube.com/watch?v=KPmLFlZpo2c

Grace:
http://www.youtube.com/watch?v=1ZmNk-i5Ovw&feature=relmfu

DARLING FARAH

--------------------------------------------

Darling Farah's home, the United Arab Emirates is one of the most club baron countries in the world and living in a city that actually prohibits live music to be played in public, the talented eighteen year old has managed to master the art of production and therein spawn an underground scene all on his own.

Originally from Detroit, Farah was born into this world with techno already sewn into his DNA, something that despite his reclocation, came to the forefront of his mind as early as sixteen. Now regarded as the leader of a new, curious underground scene that resists the lock-down of the the UAEs mainstream culture, Farah has truly positioned himself as the ultimate innovator.


ADAPTED NOTION LABEL LAUNCH:

-------------------------------------------

Adapted Notion is an underground record label based in Manchester that aims to give producers who have minimal or no exposure an opportunity to release their own music.

Focusing on quality underground sounds with a mix of Techno, Dub-Techno, House and Experimental, it is a fresh new label which will work towards hosting nights in Manchester, Berlin and Poland.

In the coming months, Adapted Notion plans to expand its radar by teaming up with Polish Producer, Dj and Promoter Paul Domanski. Renowned for hosting events across Poland and packing out venues, Paul plans to deliver the best sounds from himself and other artists from around Eastern Europe.


CARLO RIBEIRO

-----------------------------------------


Hailing from the north east with a passion for all things Techno Unbroken will see Carlo Ribeiro take on a special live performance in which he plans to utilise MIDI in a special way. His performance will include future Adapted Notion releases!


CALLUM PLANT

----------------------------------------

After years of sat behind Logic Callum Plant's hard work paid off with a release on Eklero Records. With a release lined up for Adapted Notion Records the future looks bright for the multi talented young producer.

http://soundcloud.com/call

SETAOC MASS

----------------------------------------

Manchester born producer Sam Coates AKA Setaoc Mass is part of that wave. Part of a burgeoning Techno scene building again within the city, his sound is one which draws upon vast reserves of teutonic dissonance and dread and fuses it with tangible elements of UK influences. With upcoming releases on Archetype Records [IT] and vinyl releases in the latter of this year.

http://soundcloud.com/setaoc_mass


GUY RICHARDS

----------------------------------------

Guy's sets are an elegant fusion of house, bass and techno from which one only can achieve through a wide range of musical knowledge and a rich musical background. Having played at some of the biggest venues/parties around such as The Warehouse Project, Space Ibiza, Mono_Cult and Louche he has become one of the most sought after residents Manchester has to offer.

He may be best known for co founding and playing resident for the ever popular house night that is iDiOSYNC, a night which for two years has pushed Manchester's electronic music scene's boundaries booking artists such as Levon Vincent, Faulty DL, Kowton and Marcel Dettmann. Guy is also a part of the Project 13 family a future bass/techno night who have brought acts such as DJ Rum, Commodo and Sully to the city proving his versatility and knowledge when it comes to electronic music.

Lately we have seen Guy start his own record label iDiOSYNC MUSIC along with the rest of the iDiOSYNC crew. Already the label has gained huge support through it's first release and with many more exciting releases in the pipe line this is truly one to keep an eye on.


ENLUKAA

----------------------------------------

With the 3rd year of university nearly at end this event will see Ben showcase some of his own material in a live setting using both analogue and digital elements combined with some impressive 3D visual mapping.


The Attic
50 New Wakefield Street
Manchester

Tickets - £5 adv £6 OTD
Available through:
Music Genres:
Electronic, House, Techno
Please note: The event information above has been added by the organiser. Whilst we try to ensure all details are up-to-date we do not make any warranty or representation as to the accuracy or completeness of the information shown.
Venue Information
Discuss Unbroken Presents: Darling Farah + Adapted Notion Label Launch