Cherry Valentine Presents An Alternative Rock Night tickets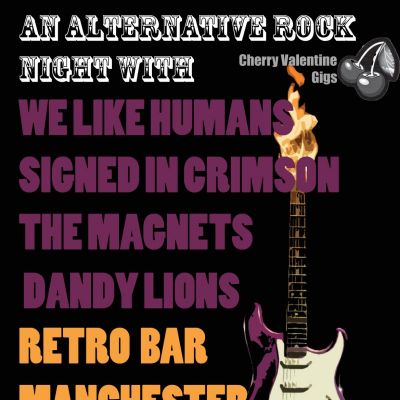 Retro Bar, Manchester Fri 4th October 2013
A night of live alternative rock music. 4 bands for just £5!
This event has now passed
Reviews of this event
Be the first to leave your review of this event »
Lineup and Details for
Cherry Valentine Presents An Alternative Rock Night

on Fri 4th October 2013

A full night of live alternative rock music! 4 bands for just £5!

We Like Humans - http://www.welikehumans.co.uk/

The fierce We Like Humans embrace the Alternative side of Rock with a clear vision, TUNES with no bullshit! Based in Preston, UK since April 2012, they haven't been making music together for long.

Signed In Crimson - http://www.signedincrimson.com/

Signed In Crimson are a female fronted rock band from the North-West of England. Micki (vocals), Kyle (guitar), Ant (bass) & Tim (Drums)

The Magnets - http://therealmagnets.com/

An alternative original band, check out their website for more info.

The Dandy Lions

Indie Rock band from Manchester
Music Genres:
Alternative, Indie, Pop/Commercial, Rock

Please note: The event information above has been added by the organiser. Whilst we try to ensure all details are up-to-date we do not make any warranty or representation as to the accuracy or completeness of the information shown.
Venue Information
Discuss Cherry Valentine Presents An Alternative Rock Night