BMT vs DEPTHCUTS tickets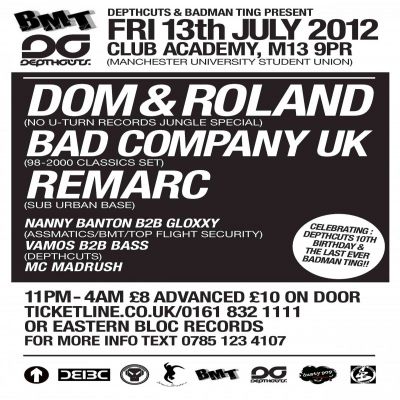 Manchester Club Academy, Manchester Fri 13th July 2012
Celebrating the last ever BMT and 10 years of Depthcuts
Date: Friday 13th July 2012
Venue: Manchester Club Academy »
Location: Manchester »
Reviews of this event
Be the first to leave your review of this event »
Event photos added by members
Be the first to add your photos of this event »
Lineup and Details for
BMT vs DEPTHCUTS

on Fri 13th July 2012

BMT has been bringing you the finest in authentic old skool jungle and pre 2000 dnb since May 2011 earning such accolades as top 5 nights in the country by The Guardian Club Guide. The night has showcased a number of high profile jungle legends as well as hosting the best in Manchesters established and up and coming talent. After many successful events we are sorry to say that this will be the last ever BMT and we couldnt think of a better send off than a vs night with our Yorkshire homeboys Depthcuts.

Depthcuts is Yorkshire's longest running drum'n'bass and hip-hop night. Starting in 2002, it has since run club events, free parties and festival stages around the country. Now celebrating its 10th year, along with London-based sister night LDN DC, it has showcased many of the biggest names in dnb, bass music and hip-hop.

line up...

DOM & ROLAND (NO U-TURN RECORDS JUNGLE SPECIAL)

Dom started out releasing tunes through No-U-Turn records in 1994, a small independent label that at the time was gaining a large amount of respect from the then famous radio DJs of the day including the now highly credited Grooverider, who helped him out immensely at this time providing almost blanket coverage of Doms music on his shows. Dom remains to this day at the forefront of music technology and has always found himself happiest in the studio. He is proud to have never sold out to produce the more pop-orientated, moneymaking coffee table drum and bass, and remains at the pinnacle of the underground scene. When we originally approached Dom we asked for a jungle set and he came back saying hed play a No-U-Turn records showcase so hes bang up it. Sets like this dont come round often so get your tickets well in advance.


BAD COMPANY UK (CLASSICS SET)

Bad Company UK have been largely responsible for shaping the sounds of drum and bass that we hear today. Since bursting onto the scene they have played the world over, leaving a trail of devastation in their path. With too many tunes to mention and precision mixing we invite Maldini to step up and perform a classics set from the era that defined the group.


REMARC

Remarc is widely proclaimed to be "king of the Amen" and a pioneer of ragga jungle due to his chopped up tracks for legendary labels such as Dollar, White House, Kemet, labbello blanco and Suburban Base. The majority of these tunes were compiled alongside previously unreleased dubplates for a two volume retrospective released by Planet Mu. The re-releases of these classics soon moved as many units if not more than a successful drum n bass release proving that Remarc and the Jungle sound is still an unstoppable force in the game. It also introduced him to the world of other electronic music and a new generation of Junglists and amen mashers, ultimately steering him away from the "typical" drum n bass scene and building a dedicated 2nd fan base.

Nanny Banton B2B Gloxxy
(Assmatics/BMT/Top Flight Security)

Vamos B2B Bass
(Depthcuts)

MC Madrush

13th July 2012
Club Academy, M13 9PR
(Manchester University Student Union)
13th July 2012
11pm - 4am
18+ ROAR
£8 advance £10 on the door
Advance tickets are highly recommended

www.Ticketine.co.uk

0161 832 1111or Eastern Bloc Records

For tickets and more info including press and guest list text 07851234107 and expect a call back

Please note: The event information above has been added by the organiser. Whilst we try to ensure all details are up-to-date we do not make any warranty or representation as to the accuracy or completeness of the information shown.
Venue Information
University Union, Oxford Road,
Manchester,
M13 9PR
Tel: 0161 275 4278
Discuss BMT vs DEPTHCUTS