Planet Trance - John OO Fleming & Daniel Kandi tickets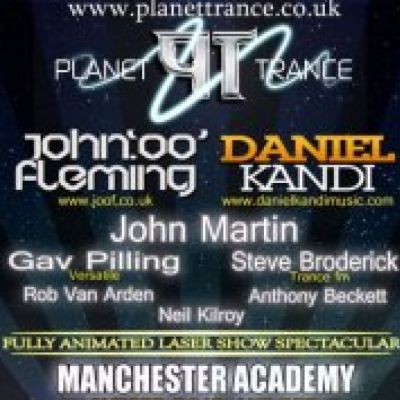 Manchester Academy , Manchester Fri 21st September 2012
Planet Trance - John OO Fleming & Daniel Kandi
Date: Friday 21st September 2012
Venue: Manchester Academy »
Location: Manchester »
Reviews of this event
Click here to view all reviews or add your own »
Event photos added by members
Be the first to add your photos of this event »
Lineup and Details for
Planet Trance - John OO Fleming & Daniel Kandi

on Fri 21st September 2012

MIXMAG Big 3 Club Nights June 2012 http://www.mixmag.net/words/reviews/clubs/planet-trance

"Thick darkness and static bodies create a nocturnal assault course like something out of a game of Tron. Its this high spec, high intensity environment that Planet Trance hopes will set it apart from the pack. By midnight, the no-holds-barred production has stepped up a gear. The crowd, a mixture of long-time trancers and fresh-faced newbies, stare hypnotised at the evolving images projected in front of the stage."

Manchester Evening News

http://www.citylife.co.uk/news_and_reviews/news/10020572_biggest_trance_night_on_planet
Biggest trance night on Planet

In May 2012 Planet Trance had its Launch party in Manchester to great success showcasing the most spectacular full colour animated laser shows accompanied by some of the finest electronic, progressive and trance music. Headlining at the first event was BBC Radio 1 DJ Jordan Suckley, Trance Arts (AWOT), John Martin and more.
This event was featured in MIXMAG BIG 3 club nights in June 2012 and Manchester Evening News City Life.
The 2nd event will headine the legend John '00' Fleming and Daniel Kandi alongside John Martin (Planet Trance BCM Mallorca), Gav Pilling (Versatile), Steve Broderick (Trance FM), Rob Van Arden, Neil Kilroy and Anthony Beckett at the Manchester Academy on Friday 21st September.
Planet Trance will once again push all the boundaries by taking clubbing to the next level again with the most amazing atmospherics, laser shows and music ranging from Classics, Progressive, Electronic and Trance .
ALL CUSTOMER WHO PURCHASE A VIP TICKET WILL BE ENTERED INTO A DRAW TO BE IN WITH A CHANCE OF WINNING A MEET AND GREET WITH ALL OF THE DJS ALONG WITH SOME FANTASIC PLANET TRANCE MERCHANDISE!

Manchester Academy fri 21st Sept 2012
Line Up

John OO Fleming
Daniel Kandi
John Martin
Gav Pilling
Steve Broderick
Rob Van Arden
Neil Kilroy
Anthony Becket
Music Genres:
Electronic, Trance
Please note: The event information above has been added by the organiser. Whilst we try to ensure all details are up-to-date we do not make any warranty or representation as to the accuracy or completeness of the information shown.
Venue Information
University Union, Oxford Road,
Manchester,
M13 9PR
Tel: 0161 275 2930
Discuss Planet Trance - John OO Fleming & Daniel Kandi