Fat City BBQ tickets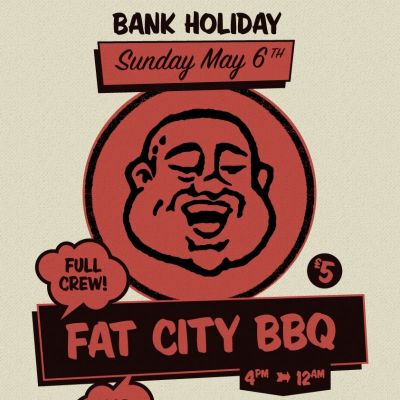 Kro Bar, Manchester Sun 6th May 2012
A one-off charity event bringing together Fat City friends and family at Kro Bar one more time for a return of the infamous Fat City BBQs
Date: Sunday 6th May 2012
Venue: Kro Bar »
Location: Manchester »
Reviews of this event
Be the first to leave your review of this event »
Event photos added by members
Be the first to add your photos of this event »
Lineup and Details for
Fat City BBQ

on Sun 6th May 2012

On bank holiday Sunday May 6th we'll be taking over Kro Bar one more time for a return of the infamous fat city BBQs and then continuing on to The Roadhouse for a free late night session.

Since the record shop opened in 1992 Fat City has been woven into the fabric of Manchester's musical heritage so

we thought it was time for a celebration. We're having a one-off charity event bringing together some of Fat City's friends and family from over the last 20 years.




D.Js through the day are ...

Il Bosco aka Woody ( Red Laser Disco )

Illum Sphere ( Hoya:Hoya )

Mark Rae ( Rae & Christian )

Treva Whateva ( Ninja Vet )

Mark Torkington ( Station Masters )




BBQ & Soundsystem @ Kro Bar - 4.00p.m till 12.00a.m




Session @ The Roadhouse - 12.00a.m till 3.00a.m

All proceeds got to Homes For Humanity www.homeforhumanity.org.uk

Please note: The event information above has been added by the organiser. Whilst we try to ensure all details are up-to-date we do not make any warranty or representation as to the accuracy or completeness of the information shown.
Venue Information
Discuss Fat City BBQ