ORBIT : A show in Seven Parts tickets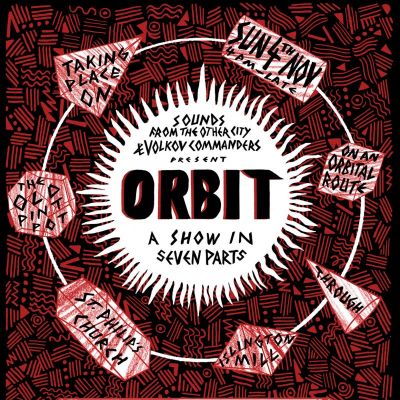 Islington Mill, Manchester Sun 4th November 2012
Sounds from the Other City and Volkov Commanders present ORBIT : A show in Seven Parts
Date: Sunday 4th November 2012
Venue: Islington Mill »
Location: Manchester »
Reviews of this event
Be the first to leave your review of this event »
Event photos added by members
Be the first to add your photos of this event »
Lineup and Details for
ORBIT : A show in Seven Parts

on Sun 4th November 2012

On Sunday November 4th at 4pm, Join the Volkov Commanders and Sounds From the Other City for an experimental live gig that rotates between venues and non-venues, taking you on a continuous journey across changing aural and visual landscapes.

Featuring performances from:

PLANNINGTOROCK
Ed Schrader's Music Beat
Yola Fatoush
Queer'd Science
N. Racker
GNOD

Inverting the festival norm of multiple choice this 'gig' will take you on an orbital route through Islington Mill, St Phillips Church and the Old Pint Pot along Salfords Chapel Street, where each act will perform a specially commissioned set upon your entry.

Salford-based music spectacular, Sounds From The Other City, is unafraid of scale or diversity, hosting more than 100 bands, artists and performers every May in venues up and down Chapel Street. Inspired by this feted mélange of sound and art, Orbit is a one-off co-production between The Volkov Commanders performance group and SFTOC.

Playing with the structure of a festival, the event aims to create a unified, shared experience for Orbit voyagers. Instead of going off and doing your own thing as you would do at a normal festival, the audience is put into a collective orbit through space and time from the start.

Taking in music, art and performance along the way, historic spaces on the orbital path include St Philips Church, Islington Mill and the Old Pint Pot with live events and performances to bring the spaces between to vivid life in this procession and performance in one.

An extremely rare appearance by cult musician, artist, dj and Boltonian, Planningtorock is a highlight. After being hand picked to appear at Antony Hegartys Meltdown Festival on the Southbank (London), this DFA records favourite curates Swedens Curious Festival with the Knife ahead of her session at Orbit. Long-time collaborator with The Knife, Bjork-faves the Soft Pink Truth, and cult porn director, Bruce LaBruce, check her LPs on DFA, including 2011's acclaimed W (10/10 Vice, 5/5 Attitude, 4/5 The Sun) for a taste of what to expect.

According to the Vice magazine, Ed Schraders Music Beat are one of the most engaging artists of our generation." Wild performance and unexpected sounds are guaranteed with elements of old-school TV performances (yes, dry ice) and Perspex cubes integrated into the act. Check out Jazz Mind on Load/Upset the Rhythm for a flavour of what to expect.

Also on the bill, SFTOC is thrilled to present the Manchester debut of Guardian faves, Yola Fatoush. Serving up a feast reconstructed RnB, Orbit re-de-re-constructs their sound, hosting the two band members in separate spaces, re-connected in time and space by streaming technology. The Yola Fatoush EP is out on Parlour now. Check the Guardian profile for more: http://www.guardian.co.uk/music/2012/jun/20/new-band-yola-fatoush.

In the pilots seat, The Volkov Commanders are the conductors of Orbit. Comprised of artists Anna Beam, Mariel Osborn and Aliyah Hussain, they have worked with SFTOC, Manchester International Festival, and cult performance artists like Marina Abramovich (MIF), Trixie Carr & Jeremy Bailey (Abandon Normal Devices Festival). For each mission, they develop bespoke costumes, moves and concepts; they will be Islington Mills artists in residence in the month leading up to the show.

The Volkov Commanders describe their living installations as bombarding people with absurdity, using props to break down inhibitions and help the audience feel entitled to act with wild abandon and have as much fun as we do on stage. For this special show, they wanted to united audience and performer in a cohesive narrative, the aim being for everyone to leave having the same memories and sensations.

This transformative voyage includes Manchester band, Gnod, whose techno soundscapes reveal a transformed band from over a year of constant European touring throughout Europe, plus sets from the rising talents N-Racker and Queerd Science. Boomkat records fave, N-Racker, is mooted to be a big name producer working under a pseudonym, while new project Queerd Science offers headline material with intense punk-infused disco-

Like real life, Orbit is about the journey and each time festival goers leave one venue they will interact with Orbit characters before being led on to the next venue. Guests will explore the stars and planets through wild costumes, ballroom dancing, mysterious choirs, ancient rituals, hypnotising sounds, glittering trophies and automated drones.

Tickets £12.50 advance. Ltd early bird tickets £10.00

Available from seetickets.com, skiddle.com & Piccadilly Records

www.soundsfromtheothercity.com

Please note: The event information above has been added by the organiser. Whilst we try to ensure all details are up-to-date we do not make any warranty or representation as to the accuracy or completeness of the information shown.
Venue Information
Discuss ORBIT : A show in Seven Parts