This event has now passed
Reviews of this event
Be the first to leave your review of this event »
Naughty Panda ... 4th Birthday w/ Lee Coombs & Mafia Kiss

on Fri 8th June 2012

In addition to the usual Naughty Panda madness, Dry Live will have a bit of a jungle makeover courtesy of Illuminaughty's 'Visual Architects'. We will also be streaming the event live across the globe for our admittedly small, but well worthy fan base in Ibiza and Australia, and of course for Lee's massive following back in the USA!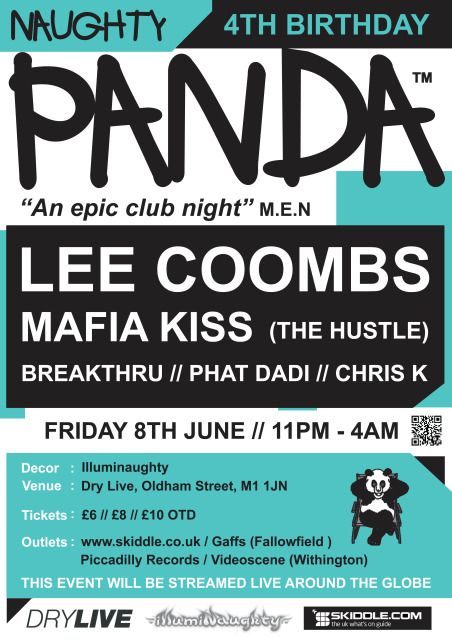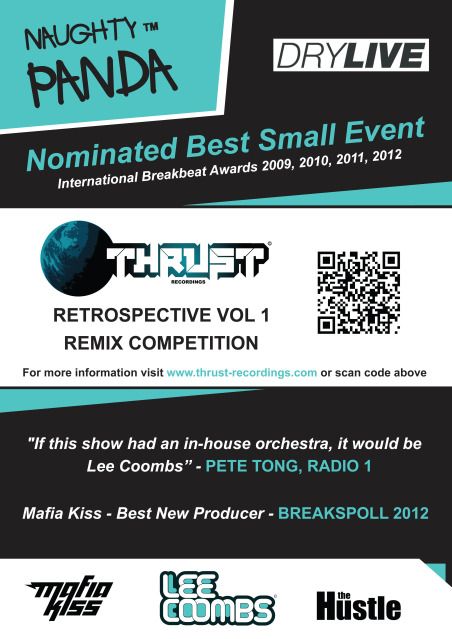 Yes, were four years in this! To help us celebrate we bring some of our favourite guests of the moment, one of whom will be visiting us for the fourth time (a third in Manchester). Whenever Lee Coombs graces our decks you can guarantee the style is always going to have a slightly different slant than on the previous occasion. Having remixed for most of the worlds most acclaimed artists, such as Moby, Lamb and New Order, destroying the dance floors of festivals and clubs all over globe for two decades, Lee remains top of his game. In 2010 he added new strings to his bow. Absolut Vodka asked him to produce the soundtrack for their Absolut Night campaign. So impressed were they by Lees work they then requested him to provide further music for their 2011 campaign, Absolut Blank.
The guy is such a legend he was even in a higher chart position than the fictional DJ and producer, Frankie Wilde, when his life was depicted in the award winning and truly inspired movie, Its All Gone Pete Tong!
Lee is now based in the USA, so UK performances are fairly few and far between Make sure you get down to Dry Live to witness this pioneering artist. You wont be disappointed!
Our other guests are DJ duo, The Hustle. You may be a little bit more familiar with one of half of the duo, in his production guise, Mafia Kiss. Possibly the fastest growing newcomer to the scene, his sound has being championed all over the globe, and with fans such as US legend, DJ Icey and Krafty Kuts, we will be hearing much more from him over the next few years. His work over the past twelve months has been held in such high regard that he recently won the Best New Producer award at Breakspoll International Breakbeat Awards.
In support will be a guy who is becoming a bit of a legend on the Manchester circuit. Whatever event Breakthru is playing at, he is sure to crucify dance floors with his huge energetic sets. Jungle, old skool house, nu skool breaks whatever he plays, the place goes off the hook.
Phat Dadi makes his Naughty Panda debut, almost three years to the day since his first visit to our humble party. Looking forward to seeing him cook the place up nicely alongside our very own, Chris K!
Music Genres:
Acid House, Breaks, Drum n Bass, Dubstep, House, Old Skool, Techno

Please note: The event information above has been added by the organiser. Whilst we try to ensure all details are up-to-date we do not make any warranty or representation as to the accuracy or completeness of the information shown.