Mancunia Promotions presents SlyDigs & special guests tickets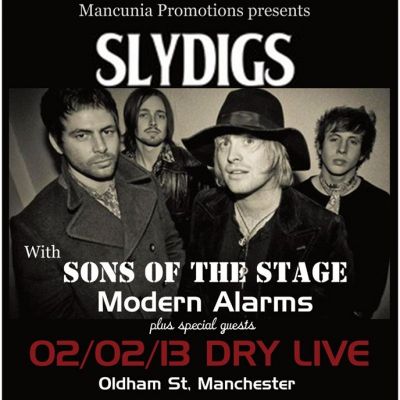 Dry Bar And Dry Live, Manchester Sat 2nd February 2013
Mancunia Promotions presents SlyDigs plus very special guests for a night of pure unadulterated rock n roll
Date: Saturday 2nd February 2013
Venue: Dry Bar And Dry Live »
Location: Manchester »
Reviews of this event
Click here to view all reviews or add your own »
Event photos added by members
Be the first to add your photos of this event »
Lineup and Details for
Mancunia Promotions presents SlyDigs & special guests

on Sat 2nd February 2013

SlyDigs headline their home town show for a night of the very best in new indie music.

With a set list featuring all the tracks from the bands recently released debut album 'Never To Be Tamed'

As usual with a Mancunia Promotions night we are hand picking supports of the highest quality and this nights are special, its all about Manchester as 'Sons of the stage', 'Modern Alarms' and 'Beats & Cheats' complete an impressive line up.
Music Genres:
Alternative, Indie, Rock
Please note: The event information above has been added by the organiser. Whilst we try to ensure all details are up-to-date we do not make any warranty or representation as to the accuracy or completeness of the information shown.
Venue Information
28-30 Oldham Street,
Manchester,
M1 1JN
Tel: 016123849840
Discuss Mancunia Promotions presents SlyDigs & special guests