Uaná Duo - Brazilian Music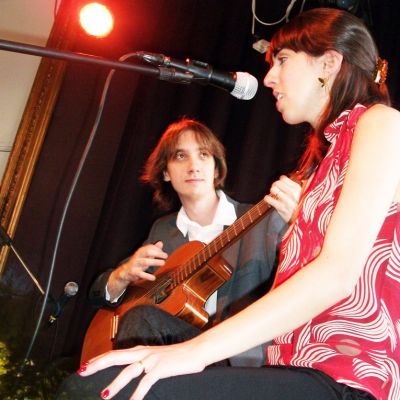 Bem Brasil (Northern Quarter), Manchester Tue 7th August 2012
Uaná Duo plays Samba, Bossa Nova and other Brazilian music styles! You can have a drink or eat in the restaurant while enjoying Brazilian culture and live music
Date: Tuesday 7th August 2012
Venue: Bem Brasil (Northern Quarter) »
Location: Manchester »
Reviews of this event
Be the first to leave your review of this event »
Event photos added by members
Be the first to add your photos of this event »
Lineup and Details for
Uaná Duo - Brazilian Music

on Tue 7th August 2012

Gigs:

- every Wednesday from 7pm at Bem Brasil Restaurant in Liverpool (Hannover St.).

- every Tuesday from 7pm at Bem Brasil Restaurant in Manchester (Lever St., please call the restaurant before to confirm)

About:

Uaná Duo is an acoustic project which brings Ian Costabile on guitars and Raquel Costabile on vocals, violins, recorders and percussions. Uaná means firefly in an Indian-Brazilian language (Tupi-Guarani) and have been chosen by the duo as their own song\'s lyrics are based on Brazilian folk tales. In Liverpool (UK) they have played weekly at Magnet Bar and at Blackburne Arms Hotel in 2009. From 2010 they have been playing in places as Mello Mello Bar and in many private events around the UK\'s North West. In July 2011 they played with a full band called Akel in the Brazilica Festival. Currently they perform weekly at Bem Brasil Restaurant (Liverpool and Manchester).

Their repertoire includes a huge selection of Brazilian music styles, such as Bossa Nova, Samba, Choro, Baião and others. Evoking different atmospheres they perform differently for special occasions like playing softly for background music (restaurants, events) or loudly for pubs, bars and clubs.

Ian Costabile is a BA graduated in Music Composition and has been performing, producing and teaching music. In 2010 and 2011 he also performed Jazz and Latin music with an instrumental duo called Lylium Guitar Duo in several places in the UK.

Raquel Costabile has a degree in Music and Education and has already performed in Flamenco groups as a violinist and in Baroque music groups as a recorder player. She teaches music for children in schools as well.

Please note: The event information above has been added by the organiser. Whilst we try to ensure all details are up-to-date we do not make any warranty or representation as to the accuracy or completeness of the information shown.
Venue Information
58 Lever Street,
Manchester,
M1 1FJ
Tel: 0161 923 6888
Discuss Uaná Duo - Brazilian Music