EVACUEES + STRAW DOGS + THE PHANTOM RUNNERS + JOHNNY RAE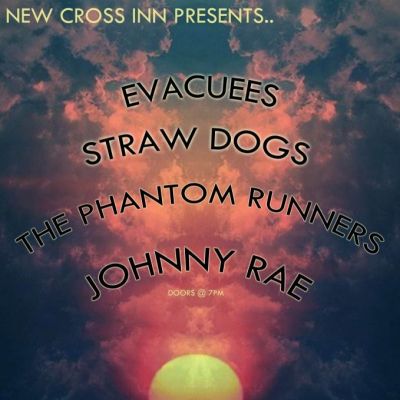 New Cross Inn, London Wed 8th August 2012
Live Indie/Pop/Rock music in London!
Date: Wednesday 8th August 2012
Venue: New Cross Inn »
Location: London »
Reviews of this event
Be the first to leave your review of this event »
Event photos added by members
Be the first to add your photos of this event »
Lineup and Details for
EVACUEES + STRAW DOGS + THE PHANTOM RUNNERS + JOHNNY RAE

on Wed 8th August 2012

New Cross Inn presents...

EVACUEES
STRAW DOGS
THE PHANTOM RUNNERS
JOHNNY RAE

PLUS DJ'S UNTIL 2AM!

20% off all drinks before 8pm
£3 entry tickets available from www.newcrossinn.com


EVACUEES
www.evacueesband.co.uk
www.facebook.com/pages/Evacuees/186952978001644

So its April 2011, the embers are burning bright in the hearts and souls of Joe, Dean, Mark and Will. Rising up from the ashes of their previous ventures, they come together in The Bunker & begin to brainstorm. Past/recent losses and disruptions ultimately gave the songs (and indeed the performers) the lyrical and musical direction they were searching for. What was previously half hearted and forced now became heartfelt and natural. The intricate and yet pulsing, thundering engine room, the soaring decorative wall of noise guitars, the sincere throat wrenching vocals drenched with harmony....EVACUEES were born..

----

STRAW DOGS
www.facebook.com/ukstrawdogs

Straw Dogs are a Rock/Indie band based in London and Manchester. They have been active since 2007, and are influenced by a range of artists, such as: Bob Dylan, The Smiths,John Lennon, Oasis, Jimi Hendrix, Marilyn Manson, Radiohead, The Libertines, The Sex Pistols, Lou Reed, David Bowie, The Who, The Rolling Stones, Neil Young, The Cure, Blur, The Stone Roses etc.

----

THE PHANTOM RUNNERS
https://www.facebook.com/pages/The-Phantom-Runners/154237097969570

"Phantom Runners make well written, catchy pop tunes which will leave you humming their tracks for days after. Their love-lorn, nostalgic sound.is lo-fi/dream pop at its best."

----

JOHNNY RAE

Please note: The event information above has been added by the organiser. Whilst we try to ensure all details are up-to-date we do not make any warranty or representation as to the accuracy or completeness of the information shown.
Venue Information
323 New Cross Road, New Cross,
London,
SE14 6AS
Tel: 020 8694 156
Discuss EVACUEES + STRAW DOGS + THE PHANTOM RUNNERS + JOHNNY RAE