Frantic HDS, Hidden Hard And Encoded Nrg Present Encoded Nrg 3rd Birthday tickets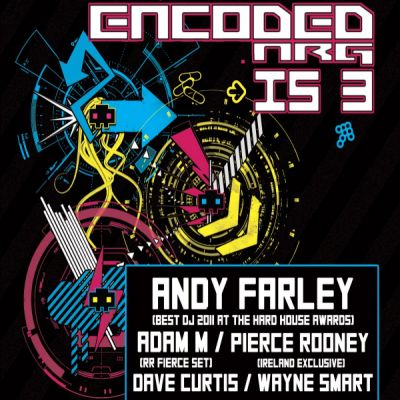 Hidden - Vauxhall, Vauxhall Fri 27th July 2012
Encoded NRG 3rd Birthday Happy Hours, Free Mix, DJ Comp To Win a Set at Frantic Timeless 11th Birthday!
Date: Friday 27th July 2012
Venue: Hidden - Vauxhall »
Location: London »
Reviews of this event
Be the first to leave your review of this event »
Event photos added by members
Be the first to add your photos of this event »
Lineup and Details for
Frantic HDS, Hidden Hard And Encoded Nrg Present Encoded Nrg 3rd Birthday

on Fri 27th July 2012

Friday 27th July 2012 (10PM 7AM)
Arch 3, Hidden, 100 Tinworth St, London, SE11 5EQ

Hidden Hard DJ Competition Winner Announced!
New DJ Competition - Win A Set At Frantic Timeless 11th Birthday!
2 For 1 Drinks Deals! Free Wayne Smart Mix!

Encoded Nrg has been running big events in Southend for many years now and have loved every minute of it. On NYD of 2012 Encoded Nrg hosted the Hard House Arena for Frantic. The whole room was rammed from start to finish so we thought there was no better choice than for Encoded to host our 3rd Birthday with Frantic again.


100% Hard House Line Up

Andy Farley (Best DJ @ HHA)
Adam M (RR Fierce Set)
Pierce Rooney (Ireland Exclusive)
Dave Curtis
Wayne Smart
Jake Martin
Gary O'Connor (Best Newcomer @ HHA)
Boca Byrne (Ireland Exclusive)
Gary Byrne (Ireland Exclusive)

HIDDEN HARD DJ COMPETITION WINNER

Thanks to everyone who came down and handed in a demo at Hidden Hard On Easter Saturday, there were lots of quality mixes to listen to, the winner is GAV IT aka FILTHY PLASTIC. Who wins a set at Shelter Me 2013 Charity event at Hidden in January 2013.

WIN A SET AT FRANTIC TIMELESS 11th BIRTHDAY!

Frantic are always on the lookout for fresh exciting new DJs and HDS has always been about supporting the Nu Breed DJs. For your chance to win a set at a Frantic Timeless 11th Birthday all you have to do is come down to Encoded NRG 3rd Birthday on Friday 27th July and hand your demo CD to the people on the reception. As Timeless is 100% classics event, we are looking for DJs that play classic Hard House and Hard Trance please. All demos will be listened to and the winner will be announced on the Frantic Fan Page: http://www.facebook.com/FranticUK

WAYNE SMART ENCODED NRG 3rd BIRTHDAY PROMO MIX

http://soundcloud.com/waynesmart/wayne-smart-encoded-3rd

Track List

1. Andy Farley & Ross Homson - BMF
2. Pixiee - Lipstick
3. Danny Harris - Good Intentions
4. Wizard - Turn It Up
5. Wizard - Databass
6. Pierce Rooney - Our House
7. Hilly - Go Crazy
8. Cortina - Higher (Boca Byrne Bootleg)
9. James Nardi - Alpha 99
10. Nogger & Ben Townsend - Dead Or Alive
11. Wayne Smart - Underground
12. Karim - Reich (On Fire Mix)
13. Mike Taylor - Subatomic
14. Danny James - Delirious
15. Whoredrey Roberts - Just Pay Hoes 2012

ENCODED NRG 3rd BIRTHDAY FREE ENTRY AND A DRINK IF ITS YOUR BIRTHDAY IN JULY!

Happy Birthday to Encoded NRG and Happy Birthday to you! As its Encoded NRGs 3rd Birthday we feel like celebrating with you at Frantic HDS, Hidden Hard And Encoded Nrg Present Encoded Nrg 3rd Birthday on Friday 27th July.
Please email GORDY@USETHEGFORCE.COM if YOUR BIRTHDAY is between 1st and 31st July and we will give you a FREE TICKET and a FREE DRINK.

HAPPY HOURS - 2 FOR 1 DRINKS FIRST AND LAST HOUR!

2 For 1 on Selected Drinks 10PM to 11PM and 6AM to 7AM!

We are adding extra lighting and lasers for this event and full decor

Ticket Info

£5 Early Birds (SOLD OUT)
£8 Savers (SOLD OUT)
1st Release £10 Standard (SOLD OUT)
2nd Release £10 Standard (SELLING OUT FAST)
£12 Advanced
More On The Door

Ticket Outlets

http://moreonthedoor.com/Event/Encoded-NRG-3rd-Birthday.aspx
http://www.ticketweb.co.uk/user/?region=gb_london&query=detail&event=516799&interface
http://www.hiddenclub.co.uk/events/?id=23558
http://www.skiddle.com/events/11636886/
http://www.trackitdown.net/event/frantic-hds-hidden-hard-and-encoded-nrg-present-encoded-nrg-3rd-birthday/70.html

FACEBOOK EVENT PAGE:
http://www.facebook.com/events/367095303313204/

More Info? GORDY@UESETHEGFORCE.COM

Facebook Pages
http://www.facebook.com/FranticUK
http://www.facebook.com/FranticHDS
http://www.facebook.com/encodednrg
http://www.facebook.com/groups/encodednrg/

****************************************
Birthdays

Also Simon Gordon BIG 30th Birthday and we have 5 other birthday celebration.

****************************************

Please note: The event information above has been added by the organiser. Whilst we try to ensure all details are up-to-date we do not make any warranty or representation as to the accuracy or completeness of the information shown.
Venue Information
100 Tinworth Street,
Vauxhall,
SE11 5eq
Tel: 020 7820 6613
Discuss Frantic HDS, Hidden Hard And Encoded Nrg Present Encoded Nrg 3rd Birthday