FOUND: A Red Bull Music Academy Special tickets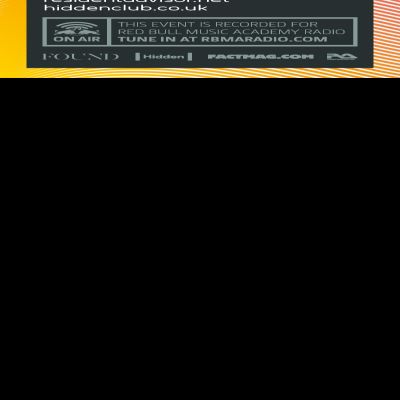 Hidden - Vauxhall, Vauxhall Fri 8th June 2012
Red Bull Music Academy and cutting-edge London club series FOUND showcase some of the most forward-thinking minds in progressive electronic music.
Date: Friday 8th June 2012
Venue: Hidden - Vauxhall »
Location: London »
Reviews of this event
Be the first to leave your review of this event »
Event photos added by members
Be the first to add your photos of this event »
Lineup and Details for
FOUND: A Red Bull Music Academy Special

on Fri 8th June 2012

On Friday 8th June Red Bull Music Academy joins forces with cutting-edge London club series FOUND to bring together some of the most forward-thinking minds in progressive electronic music for a very special showcase at Vauxhalls Hidden! RBMA has gained a fierce reputation for uncovering some of the finest up-and-coming talent through their annual music workshops, from Flying Lotus to Hudson Mohawke to Nina Kraviz. Showcasing artists as varied as Major Lazer, Erykah Badu and DJ Harvey, the Academy also regularly hosts arenas at some of the best festivals in the world, including Sónar, Movement, Mutek, and the Montreux Jazz Festival.

Heading the bill is LA beatsmith Daedelus. With a string of releases on Plug Research, Hefty, Alpha Pup, and most recently Ninja Tune, Daedelus has refined a style that has no imitators. Crafting forward thinking electronic sounds with playful arrangements, fusing influences from house, electronica and hip-hop, having collaborated with the likes of Busdriver, MF Doom and TTC to create a sound that is entirely unique. As one of the first artists to pioneer the Monome, along with custom designed software into his live sets, Daedelus has amazed audiences the world-over and firmly cemented his reputation as one of the most exciting producers in electronic music.

Joining Daedelus is Austrian producer and Red Bull Music Academy graduate, Dorian Concept, interested in exploring the interface between digital and analogue, musical performance, and improvisation. His productions range from experimental electronic sounds to hip-hop, funk and jazz, with off-the-cuff improvisations and quirky keyboard breakdowns mixed with scattered drums and piercing synth-laced hooks. His recent releases on Ninja Tune, Kindred Spirits and Vienna's Affine label have gained hefty support from the likes of Gilles Peterson, Mary Anne Hobbs and Benji B.

Producer Cooly G describes her sound as deep house tribal dubstep. Putting together abstract post-garage beats that shuffle into life dubbed out with her own cut- up vocal snippets. Her debut Narst / Love Dub EP released on Hyperdub was met with rapturous excitement, earning her Single Of The Week in The Guardian and One To Watch in The Independent.

Having recently created waves of excitement, another alumnus of the Red Bull Music Academy steps-up to complete the line-up: former Rinse FM host: Braiden. Celebrated for blowing up dubstep's limitations with his inventive selection and super-tight, technical mixing, Braiden has become a staple on Londons underground circuit. Described by FACT Magazine as absurdly talented, he lives up to the hype with a mixing style that thrives on the element of surprise, fusing together house, techno, garage and dubstep and fabricating his vision for the future of London music.

This event will be recorded for Red Bull Music Academy Radio

Please note: The event information above has been added by the organiser. Whilst we try to ensure all details are up-to-date we do not make any warranty or representation as to the accuracy or completeness of the information shown.
Venue Information
100 Tinworth Street,
Vauxhall,
SE11 5eq
Tel: 020 7820 6613
Discuss FOUND: A Red Bull Music Academy Special