Rumpus Vol.11: A Rather Big Adventure! tickets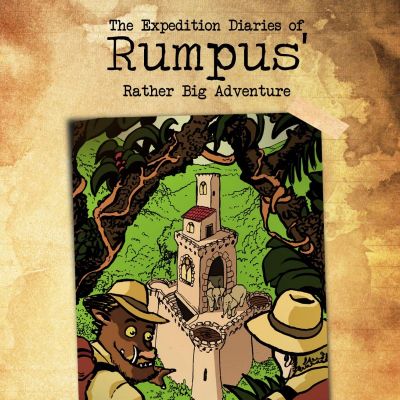 Coronet Theatre, London Fri 5th October 2012
Rumpus, London's biggest, shiniest and favouritest indoor festival is stepping out the front door and setting off on a Rather Big Adventure!
Date: Friday 5th October 2012
Venue: Coronet Theatre »
Location: London »
Reviews of this event
Be the first to leave your review of this event »
Event photos added by members
Be the first to add your photos of this event »
Lineup and Details for
Rumpus Vol.11: A Rather Big Adventure!

on Fri 5th October 2012

For tickets, go to www.rumpusparty.co.uk

Rumours abound of a mystical river far to the South, beyond which tharr be Elephants and Castles! Rumpus has donned his pith helmet, packed a compass, and is taking you along on the greatest adventure there ever was, in search of the fabled Dia De Las Criaturas Muertas.

Come and explore 11 strange and wonderful lands as we go on A Rather Big Adventure!


http://rumpusparty.co.uk/buy-tickets/

October 5th Line Up!
(More acts to be announced weekly!)

Room 1 The Rumpus Arena
A vast coliseum, in which the finest entertainments will be displayed for your elctation! Our old friends Gypsy Hill and Slamboree will lead the musical caravanserai into unknown lands, and following close on their heals will be our brave Djs, lead by the infamous Dr Malaka & Chris Tofu. At the appointed hour the Rubbish Sideshow Circus will unleash a thunderous volley of death-defying aerial circus performances!

Room 2 The Other Stage
Mistery and magic abound in this land of musical Madness! The Great Malarkey and The Turbans will overpower you with their live sets, and a host of upstanding Djs, including DJ CousCous will keep you o your feet!

Room 3 The Fluffy Logic Isle Of Nice
Theyre back, theyre lovely, and their tunes are WONDERFULL! The Fluffy Logic Crew invite you to their secret Isle of Loveliness. Nice stuff to look at, nonsense to talk about, and dancing till dawn.

Room 4 The Travelling Tavern
Step back in time, and step into the bayou on a heaving Saturday night in 1920. The Travelling Taverns Queen of the Night welcomes you onto the dancefloor to let loose with the rowdiest Jazz, Blues and Ragtime, all courtesy of the superlative Dakota Jim and His Family Orchestra.

Room 5 The Jungle Is Massive Ball Pit
Be wary of stepping into the Jungle is Massive Ball Pit many enter, and many are lost to its nostalgic silliness for hours.

Room 6 The Alleyway Of Broken Dreams
She was just a small town girl, living in a lonely world, and he was just a city boy, born and raised in South Detroit. They met in the Alleyway of Broken Dreams, and they never stopped believing.

Room 7 The Suck My Rock Forest
Is it a photobooth? Is it an interactive theatre set? Is a party with cameras and professional photographers waiting to snap you in your fineries? Its all three and much, much more, thanks the wildly creative minds of Suck My Rock. Prizes to those that manage to capture The Dreaded Bobmonster.

Room 8 The Rumpus Marketplace
Wander through our old time emporium, showcasing the finest wares by makers, crafters and merchants from our community. Grab yourself a tail, some threads, have your hair done up at the Hairy Poppins Pop Up Hair Salon.

Room 9 - The Happy Slap Boutiques Dia De Las Criaturas Muertas
The Happy Slap Boutique brings you over the top DJs, aerial Circus acts and more colourful magic than you could imagine possible. Join the live body painting and join the ranks of the Dia De Las Criaturas Muertas procession.

Room 10 The Rumpus Mega Cinema
Never before will you have beheld a cinema screen this large. VJ Harper will astound your eyes, enthrall your mind and feed your soul!

Room 11 The Lost Room of Doom
Will you find the Magical Mystery Room? Will you solve the mightily mysterious mystery of the Room of Doom? WILL YOU?!



Dress Code Suggestions:
Explorers; Far Away Lands; Exotic Wonders; Marco Polo; Merchants; Sinbad the Sailor; Caravanserais; Boldly Going Where No Creature Has Gone Before; Conquistadors; Thar Be Dragons; Terra Incognita; The Odyssey & The Argonauts; Amazons; Corsairs; Sirens & Nymphs; Xanadu; The Silk Road; Trade Winds; Lost Tribes; The Fountain Of Wasted Youth; A Long Time Ago, In A Party Far, Far Way; Gulliver v. Alice; Childhood Nursery Rhymes & Grown Up Fables; Time Bandits & Time Lords; Somewhere Over the Rainbow; Where The Wild Things Roam.
Music Genres:
Dubstep, Jazz, Techno
Please note: The event information above has been added by the organiser. Whilst we try to ensure all details are up-to-date we do not make any warranty or representation as to the accuracy or completeness of the information shown.
Venue Information
Discuss Rumpus Vol.11: A Rather Big Adventure!